Holy Cow: An Indian Adventure
This lighthearted combination of travelog and memoir recalls two-years in Delhi told with humor and self-assured zest.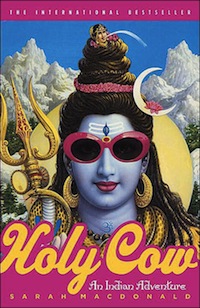 A lighthearted combination of travelog and memoir, Holy Cow: An Indian Adventure by Sarah MacDonald recalls her two-years in Delhi told with humor and self-assured zest. Her journalistic background may have contributed to her penchant for trying to find out more about everything and everyone she encounters. This results in the unusual insights MacDonald has gleaned from her exertions. She is not satisfied to just observe life as an expat, but wants to savor Indian culture from an insider's point of view. To this end she attends weddings, takes a dip in the Ganges, and studies at a Vipassana meditation camp. Her efforts are both comical and inspiring.
The book begins with a lot of whining about how she detests India and everything Indian. She gripes about leaving her exhilarating career as an Australian radio talk show hostess to join her boyfriend—later husband—Jonathan Harley assigned to India by his company, Australian Broadcasting Company. If you can endure the first 80 or so pages of her constant patter about how wonderful Australia is and how she hates being in India, you will be in for a treat. Fortunately she changes her tune and delves into the who, what, why, when, where and how of her new country.
Razoo's three cousins turn to me, and the eldest announces proudly, "We are all studying to be dentists."
"Why?"
"It's a very honorable profession."
The room murmurs in agreement.
"But everyone is scared of dentists," I declare rather undiplomatically.
They all look at each other stunned. "Why?"
"Because they hurt."
"Oh no, we won't hurt," the eldest smiles comfortingly.
"Doesn't your dentist hurt?"
Blank looks all around.
"We've never been."
"Never?"
"No, most definitely no. We eat food that's good for health and our teeth are perfect. Isn't it?"
It is. I've never met such good, dutiful and successful children with such good teeth in my life.
MacDonald's unorthodox approach to her temporary homeland makes for entertaining reading. She delves into studying religion with an enthusiasm one might normally reserve for real passions. MacDonald is passionate about it, but about other things too. She does not restrain herself like many of us, but goes off on one tangent after another as she explores Hinduism, Islam, Jainism, Sikhism and Christianity. Along the way she does much soul searching and comes to realize that she is really not much different from the Indians she meets and she can learn from them. Although the educational and cultural gap appear to be insurmountable, they are not.
Although MacDonald gives vibrant descriptions, one cannot help but yearn for photographs. There are none. At least the cover for the book is a feast for the eyes. It features a collage of Indian motifs on a bright neon pink background. Another negative is her coarse language, especially in the first chapters. We could have done without that.
Flippant at times, MacDonald paints a picture of the variety of life in India and goes beyond the tourist viewpoint to communicate more about who the Indians she met really are, what they think, how they cope. In the end, MacDonald comes to respect India and Indians, but she still would not want to live there permanently.
She has privileges and opportunities most Indians do not. She travels freely without worry of expense or inconvenience to loved ones. She immerses herself in experiences unavailable to most of us. Fortunately she chose to write about them so we could enjoy her savvy recollections of two years spent in New Delhi. This book is so much better than the immensely popular Eat Pray Love: One Woman's Search for Everything Across Italy, India and Indonesia by Elizabeth Gilbert because unlike Gilbert, MacDonald learns something new about herself and we can see her evolution as a person. Read Holy Cow for an enjoyable, irreverent look at one expat's experiences in the land of India. It is a fun read, plus you will learn more about Indian culture and society.
J.S. Maverick
Get "Holy Cow" from Amazon.com
(See also my review of Lost in Transmission by Jonathan Harley, Sarah MacDonald's husband. He gives a completely different view of the same time that he and Sarah lived in Delhi.)