The Catcher Was a Spy
The United states entered World War II about the time his MLB career began fizzling out. So Moe turned to espionage.
The Catcher Was a Spy: The Mysterious Life of Moe Berg by Nicholas Dawidoff (New York, 1994. Pp. 455. Illustrations.
by Nancy Kerstetter
Morris (Moe) Berg was a living anomaly. Born into a Jewish Ukrainian immigrant family living in New Jersey, Moe was a highly motivated achiever from childhood. Astute and intelligent, Moe loved baseball as a youngster. His passion to become a major league player disappointed and frustrated his father Bernard Berg who envisioned a greater calling for his intellectual son. Bernard did not understand the sport or why adults would play it. His idea of success lay in other areas, such as law, medicine, education. Uncharacteristic for that time period and cultural setting, Moe not only became a MLB player, he also completed an undergraduate degree at Princeton, studied for a law degree from Columbia and dabbled in language study at Sorbonne. When the United states entered World War II and his MLB career was fizzling out, Moe turned to espionage.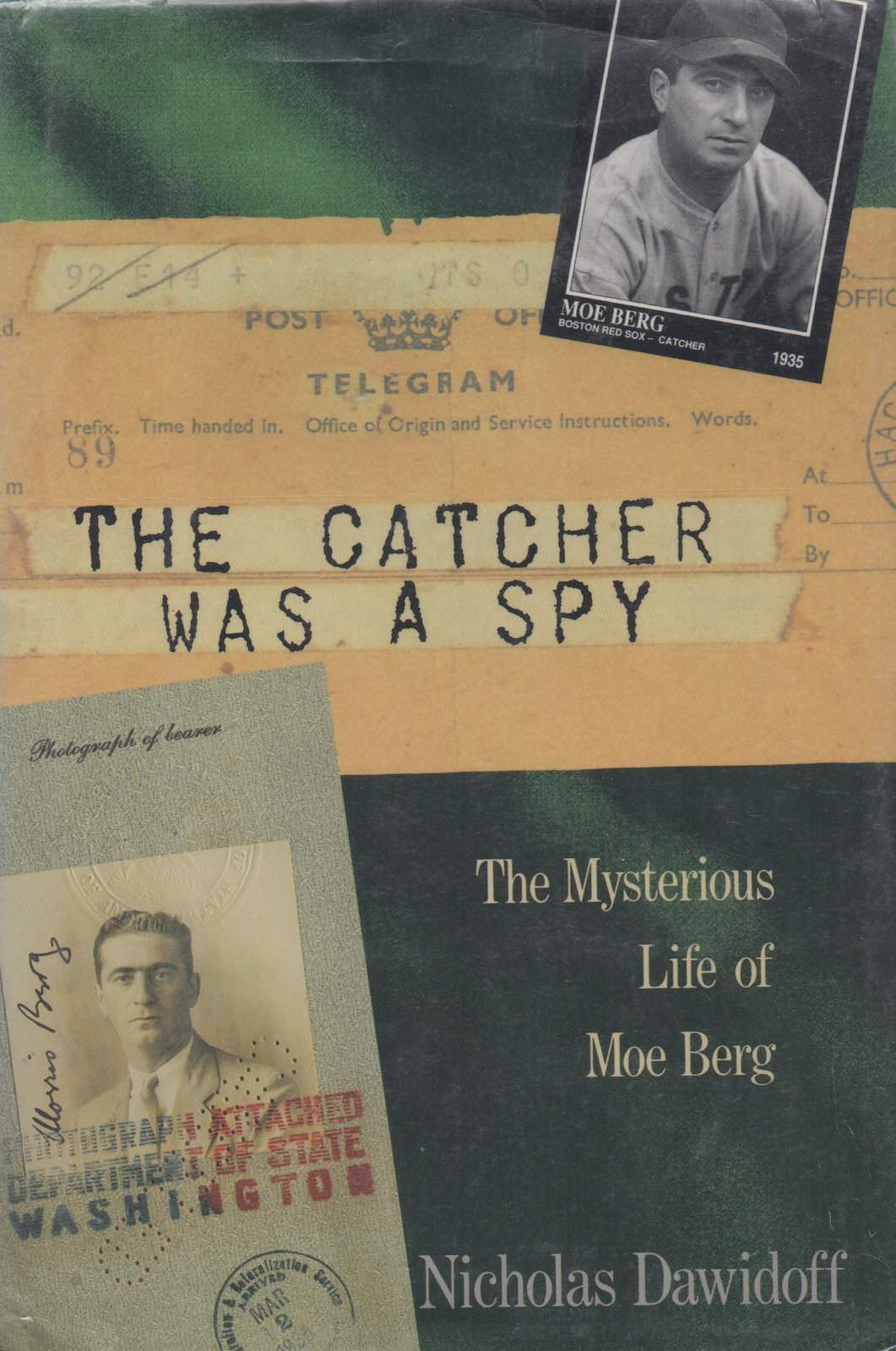 Behind the scenes, Moe spied throughout Europe during the war. His intellect made him a ready companion for leading physicists hoping to leave their turbulent countries for places of intellectual freedom to further pursue research. Of particular interest were those who studied the possibilities of splitting atoms. His nondescript physical appearance and ability to blend in with various people groups added to his success as a spy. Another aspect of his work was helping the U.S. determine how close Germany was to producing an atomic weapon of its own. The the U.S. was working on one, but it wasn't complete until the very end of the war in July 1945).
During with his collegiate days at Princeton, Moe transformed himself into an enigmatic, inscrutable person who no one really knew much about, including his family. He closely guarded personal information masking inquiries by skillfully turning the conversation to subjects of interest to his audience. A fanatic about secrecy throughout his adult life, it started due to ethnic insults hurled at him by neighborhood bullies. Furtiveness emerged as a lifestyle. When joining an organized church baseball team as a kid, he told the boys his name was Runt Wolfe in order to mask his identity as a Jew. Obsession with secrecy was in place from an early age. 
The author unearthed hundreds on contacts who knew Moe, or portions of his life story. Nicholas Dawidoff had a massive undertaking because of the breadth of people Mow knew, the variety of places he traveled, and Moe's of his mania for invisibility, not just privacy. The author adroitly followed up leads to uncover the story of Moe Berg from his Princeton days—where he excelled as a scholar and ballplayer—to his tenure on the Boston Red Sox and Washington Senators—to his wartime espionage for the Office of Strategic Services, the forerunner of the Central Intelligence Agency—finally to his post war life and death. Dawidoff is a researcher who doggedly followed all leads to the end.
Dawidoff notes, "When he got back from the war, there came a gradual shift in Berg, from living to talking about living."
As a lifelong baseball fan, I revel in Dawidoff's description of baseball from Moe's point of view.
"Berg also called baseball 'my theater,' and there are similarities. One of the pleasures of following baseball is that every day its characters participate in an unfolding narrative of events in which there are heroes, clowns, and villains, moments of comedy and tragedy, and plenty of time during the pauses between pitches for daydreaming."
Initially, the book attracted my attention because I love to read biographies and I follow baseball, especially the Red Sox. Moe's career as a spy intrigued me, but I had no real clue who Moe Berg was or what he did. Now that I do know about him, I feel sad for him. He never really accepted who he was or lived life fully. He tried to overcome his disappointment with his father who never attended any baseball game at all and disapproved of Moe's lifestyle as well. Moe was essentially an unhappy, maladjusted person inexperienced in extending or receiving love and acceptance. He had a charming personality that drew people to him, but it was merely a facade. 
Buy this book and related resources -- The Catcher Was a Spy