The Trouble Begins At 8: A Life of Mark Twain in the Wild, Wild West
Written for a middle school age audience, this biography contain plenty of meat to satisfy the Mark Twain appetites of an adult audience.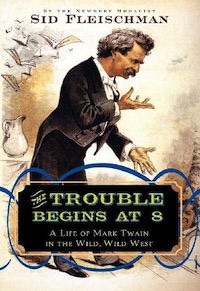 Ambiguity is Samuel Clemens' alter ego. In fact, he is so closely aligned with it that he is known interchangeably as either Mark Twain or Samuel Clemens during his lifetime and now as well. Actually he dropped the Clemens name and started using Mark Twain personally. Many of his friends called him Mark.
Embellishment is synonymous with Mark Twain. It seems he did not feel as though he had properly told a story unless he had exaggerated enough to make it a funny yarn. A whopper. A tall tale.
Twain stretched facts so far they became fiction. Biographers have had to dig deep to distinguish which anecdotes in Twain's autobiography are true. Sid Fleischman is one of those diggers. He researched countless documents and sources to determine the facts he includes in his delightful book The Trouble Begins At 8: A Life of Mark Twain in the Wild, Wild West.
Although The Trouble Begins at 8 was written for a middle school age audience, adults will find plenty of meat in this biography to satisfy their Mark Twain appetites. Why read a dull 350 page text when a light hearted 224 page one packs all the wallop one could desire?
Fleischman entertains the reader with his own witty writing on Twain's story. The book focuses on Twain's life from teenager to his marriage. There are enough details to successfully relate Twain's personality, motivations and writing accomplishments. This book might be over the head of many middle schoolers as Fleischman delves into such intricacies as Twain's many varied and failed business ventures.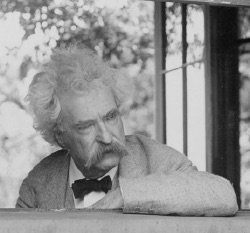 From riverboat captain to frontier town reporter, Twain's adventures and misadventures make great reading.
Twain and newspaper crony Sam Gillis headed for the the bright lights of San Francisco: "Staying in the best hotel, the Occidental, he and Gillis descended on San Francisco like heirs to a great fortune. They embraced the six theaters and shed silver dollars like wet dogs shaking themselves dry. In evening dress, young Sam danced the evenings away 'with a step peculiar to myself–and the kangaroo.'"
Twain persuaded the Sacramento Union to underwrite a journey to the Sandwich Islands (Hawaii) where he would write articles describing the culture including surfing.
"He was soon to discover the amazing spectacle of islanders pressing wooden boards to their chests and riding waves to shore with the speed of an ocean wave itself. Mark sampled this curious sport for himself. He borrowed a primitive surfboard, caught a wave, and took off. 'The board struck the shore…without any cargo.'"
Twain was quite the scamp: "On another occasion, he came upon native girls bathing in the sea and confessed that he 'went and sat down on their clothes to keep them from being stolen.'"
His stories were wildly popular and other newspapers picked up the articles. His popularity had begun.
The layout and page designs are whimsical. The book is filled with charming black and white photos and etchings with descriptive captions that tell stories of their own. Add to this, Fleischman's light and humorous touch with words.
The Trouble Begins at 8 would make a great family read-aloud book. There's something here for all ages. Don't pass this up because of it's intended middle school age audience. This delightful volume is a treasured ticket into the life of one of America's best known and best loved authors.
Fran "Twainite" Gilmore
Get The Trouble Begins at 8 from Amazon.com