Passage to Freedom: The Sugihara Story and Baseball Saved Us
Passage to Freedom: The Sugihara Story and Baseball Saved Us by Ken Mochizuki
by Nancy Kerstetter
Passage to Freedom: The Sugihara Story is told through the eyes of five-year-old Hiroki, son of Chiune Sugihara, Japanese consul to Lithuania in 1940. The Nazis are coming. Polish refugees clamor outside their home seeking visas allowing them to travel to a safe country where Jewish people can be free from persecution. Years later, author Ken Mochizuki works closely with the Sugihara family to record the facts.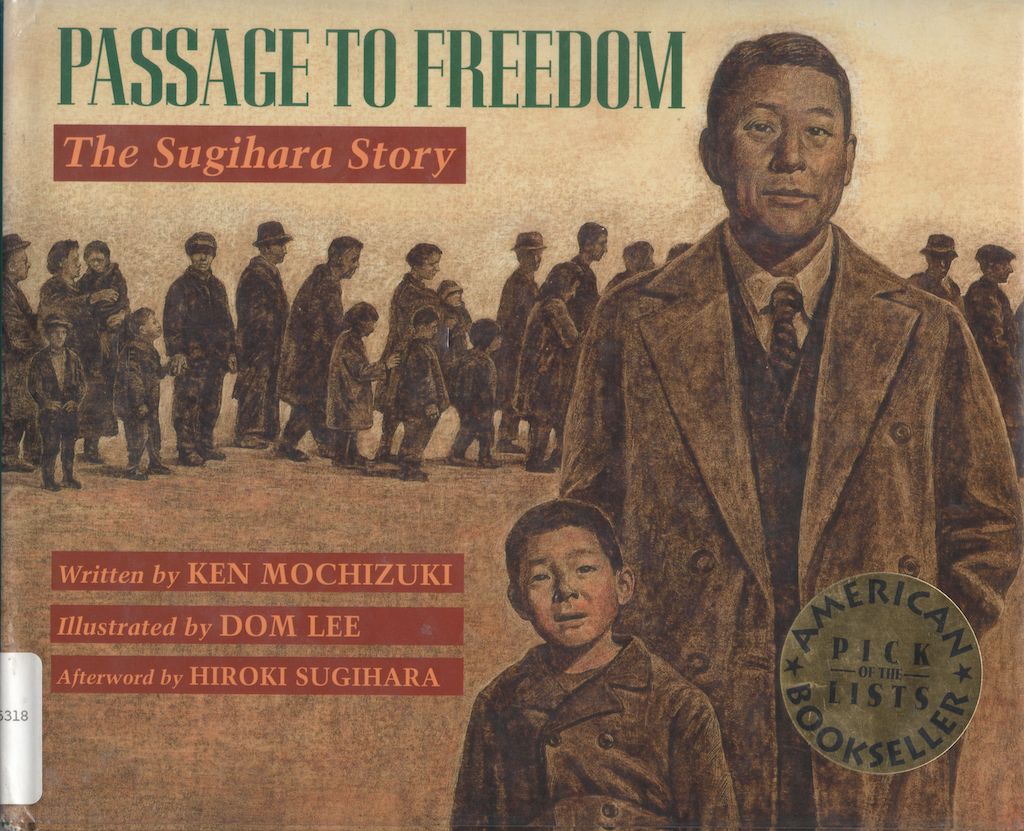 Hiroki relates how his father seeks official permission from his superiors but is denied, yet decides to issue the essential paperwork to thousands and thousands of Jews while there is still time for them to escape.
Using a unique artistic method of drawing images on beeswax that has been applied to paper, artist Dom Lee applies oil paint and colored pencil to render dark, old-looking images for the story that are somewhat reminiscent of carved woodblock prints. The eyes of the Jewish boy on the opening page are particularly haunting. Lee's work adds greatly to the telling of this story.
Mochizuki records the story briefly without graphic details that are unneeded for the target audience of elementary age children. Notes on the inside back cover fill in details that parents or teachers can use for additional background material.
Mochizuki's first foray into children's literature is Baseball Saved Us published 10 years earlier than Passage to Freedom. In comparing the baseball book with his later work, he matures as a children's author. He becomes more sensitive to viewing situations from a child's perspective as seen in his compassionate treatment of Hiroki's confusion of his father's role in providing visas for Jewish refugees. In Baseball Saved Us, the author overlooks the opportunity to delve into the conflicting emotions of the main character, Shorty, as he endures bullying from classmates and peers. Shorty's problems and solutions are a little too pat. But the overall story is a good one that needs to be told.
In 1942, the U. S. Government rounds up many West Coast people of Japanese descent. They send them to internment camps in remote, barren areas of Idaho, California, Wyoming, Utah, Arkansas, Colorado and Arizona. Based on the unfounded fear that the Japanese-Americans might spy in the U.S. for Japan, some 110,000 are detained. Over 60% of those interned are American citizens. Mochizuki addresses this ugly period of history with the delicacy suited for his young elementary age audience.
Shorty's father initiates building a baseball field and forming baseball teams to help with morale at their desert camp.
Artist Lee illustrates this book using the same unique method he employed in Passage to Freedom. The picture book features large drawings which help narrate the story. Some of these were inspired by Ansel Adam's photographs of the Manzanar internment camp.
Although the author was born after World War II, he has a strong interest in Asian American history in part because his parents were interned in Idaho. As a print journalist, Mochizuki professionally delved into this story prior to the 1988 U.S. government apology for the internment of Japanese-Americans.
Mochizuki states, "I traveled around the U.S. in the early '80s, gathering testimony about the World War II incarceration of Americans of Japanese descent. It concluded that the World War II forced expulsion and incarceration was a result of war hysteria, race prejudice, and a failure of political leadership. This conclusion led to the U.S. Congress and President Reagan officially declaring that what the U.S. government did to those of Japanese descent during that time was wrong."
Both Passage to Freedom and Baseball Saved Us address difficult incidents in history in an age appropriate manner for elementary age children. Mochizuki helps bring to light stories involving Japanese people that would otherwise be forgotten. Enjoy the short picture books and fascinating artwork with children you love.
You can obtain these books from your local library, interlibrary loan or Amazon: Passage to Freedom: The Sugihara Story
and Baseball Saved Us