JFK Assassination Reporters Notes
Dallas Morning News staff members record details from their reporting of November 22, 1963 events in JFK Assassination: The Reporters Notes.
by Nancy Kerstetter
DALLAS, TEXAS, November 22, 1963 — The world suddenly comes to a standstill as news spreads that President John F. Kennedy is dead. What starts as a momentous occasion for Dallas becomes a horrifying nightmare. For months the city plans to welcome the President and First Lady with a show of gracious hospitality, but as students of American history and culture, we know Kennedy was assassinated riding in a motorcade in downtown Dallas.
Dallas Morning News reporters and photographers record details from their on- the-scene reporting of the November 22, 1963 events in JFK Assassination: The Reporters' Notes.
JFK Assassination: The Reporters' Notes by Dallas Morning News relives the ordeal in minute detail. This book differs from others because it is a compilation of notes and recollections from newspaper reporters and photographs who probe for the facts of a fast-breaking story in an age of landline phones, film cameras and limited resources while putting in long hours matched by super human endurance to meet newspaper deadlines. These men and women are there as the story unfolds. The book contains their notes, not interviews conducted decades later. The thread of immediacy dominates the text.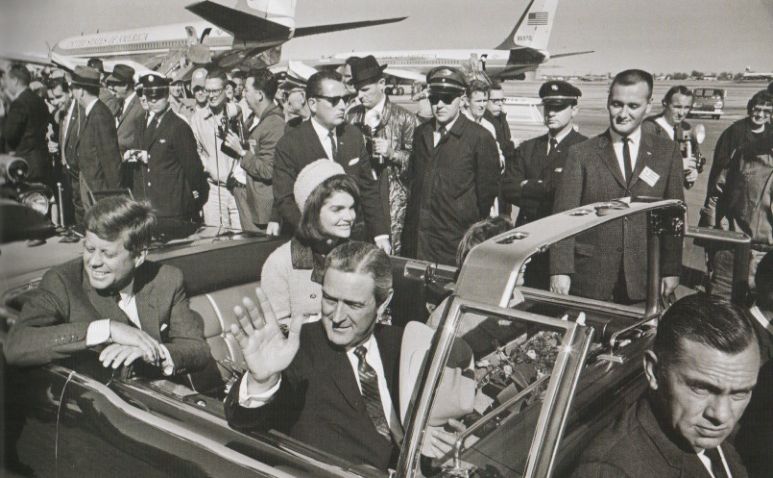 President John F. Kennedy, First Lady Jacqueline Kennedy and Texas Governor John Connally and his wife ride together in an open limousine. Photo by Tom Dillard.
The President and First Lady make a brief swing through Texas with stops at Houston, San Antonio, Fort Worth and Dallas in part as a goodwill gesture, but also to garner support for the 1964 election. They breakfast in Fort Worth, then fly to Love Field for a Dallas parade followed by an invitation-only luncheon at the Trade Mart.
The Kennedys are true celebrities. Even hardened media people are not immune. They want the opportunity to see the motorcade. Off-duty reporters and photographers mingle with thousands of people lining the streets to catch a glimpse of the presidential party. When the unthinkable occurs, the Morning News has staff within steps of the Texas School Book Depository across from Dealey Plaza and the triple underpass.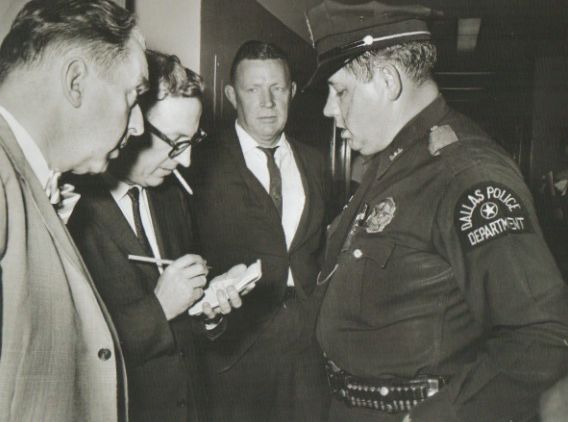 Reporters interview an officer who apprehended Lee Harvey Oswald in the Texas Theatre after he killed Dallas Police Officer J. D. Tippit. Photo by Tom Dillard.
The format of JFK Assassination: The Reporters' Notes lies in placing the reporters comments side by side in chronological order to give a more complete story of what happens and indicate how confusing things are. No Secret Service agents ride on the running boards of the presidential vehicle. The anticipated warm welcome lulls the security forces into a false feeling of safety. It is difficult to perceive the direction of the shots, or even that they are shots, not a motorcycle backfire or celebratory firecrackers. This book lines up the unfolding story moment-by-moment using eyewitnesses to history—reporters and photographers who scour the city for information and answers starting instantly.
The book has the feel of a Jack Bauer day in the television series "24" where every moment something happens to propel the story forward. While Bauer's non-stop day is fiction, November 22nd is actual.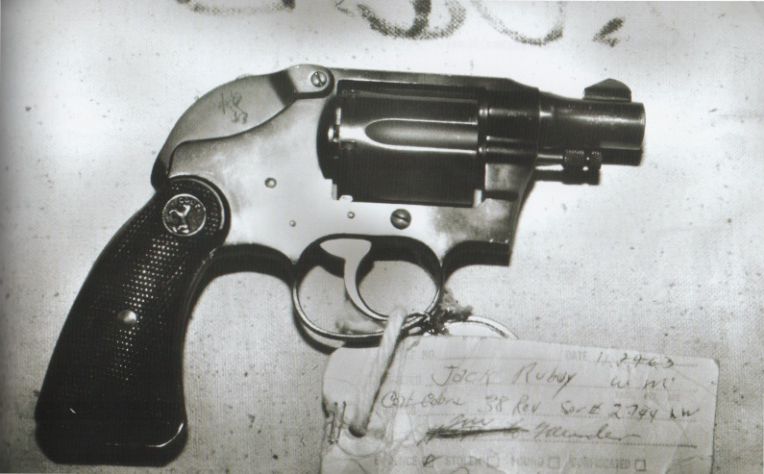 Using this revolver, local nightclub owner Jack Ruby shot Lee Harvey Oswald while Oswald was being moved to the county jail. Photo by David Woo.
The book uses the reports collected from all involved personnel by Morning News editors in May 1964. Assistant managing editor Bill Rives instructs, "Include anecdotes, personal observation and anything else that will reflect the tone of the time as well as indicate the thoroughness of our coverage." Accompanying photographs are clear black and white prints made by a number of photographers who blanket the motorcade, city hall, county jail, Love Field, Texas School Book Depository, Parkland Hospital, Texas Theatre and courtroom. The first half of the book is a digest of compiled notes. The second half features each individual's report as they were typed on newsprint copy paper.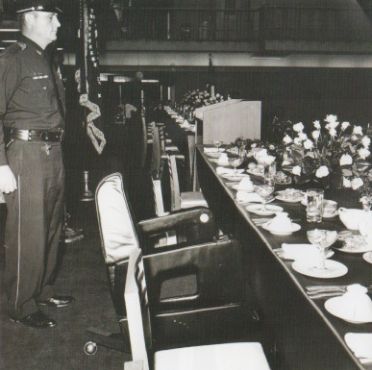 Hours after the shooting, the head table at the Dallas Trade Mart remains in readiness for the presidential luncheon that was not to take place. Photo by Doris Jacoby.
JFK Assassination: The Reporters' Notes is a loving tribute to an arduous time when we as a country lost some of our innocence and trust. This is not a coffee table book, although it is handsome. This is a book to pore over, remember and reflect.
You can obtain this book from your local library, interlibrary loan or from Pediment Publishing at www.jfk50.pictorialbook.com.
All photos in this review come from the book and are copyrighted 1963 and 2013 Dallas Morning News. The Dallas News website contains historical coverage of the JFK assassination.