Moving Around Japan on Trains, Buses, Taxis
Choose from trains, taxis, buses, bicycles, rental cars or even domestic air travel if you are going further afield.
By Nancy Kerstetter
Is it okay to eat while using public transportation in Japan? How do you communicate with a Japanese taxi driver (運転士)?
Getting around in Japan is an amazing experience. Choose from trains, taxis, buses, bicycles, rental cars or even domestic air travel if you are going further afield. I prefer trains. They are the heartbeat of the country. Absolutely everyone rides trains. Japan's large cities have comprehensive webs of local train routes. But even far flung towns have train service. Buses are everywhere, too. Also, before you head to Japan, read our article on the benefits and uses of Japanese maps.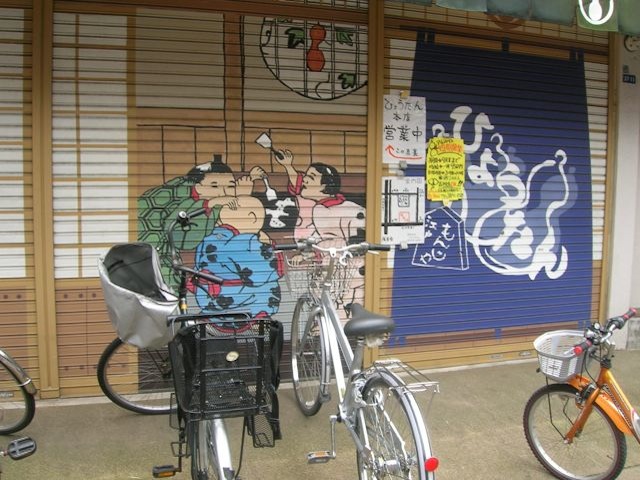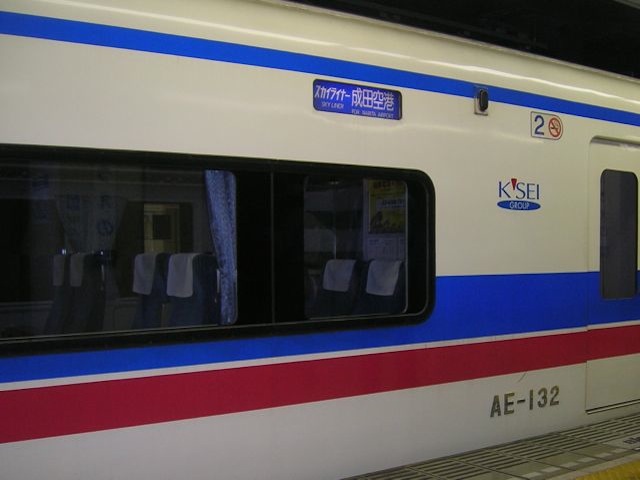 Rent a bike for a leisurely tour of a neighborhood — they are readily available at hotels, ryokans and even some rail stations. The Japan Rail (JR) Narita Express and K'sei Express delivere riders from the airport to main Tokyo train stations in about 70 minutes.
Taxis (タクシー)
For the foreign traveler Taxi (タクシー) service can be at first a hit or miss experience, especially in smaller cities where lack of language skills may create a communications barrier. Even so, taxi can be usable and very helpful.
Always have your destination written out neatly on a card you can hand the driver of your taxi. Having this in your hand helps when hailing a cab. You can use the back of your business card, or carry index cards for this purpose. Also, carry a business card or piece of paper containing the name, address and phone number of where you are staying for your return cab driver.
When leaving a hotel, the concierge may procure a cab for you and give the driver instructions using your written destination. Have cash available, but you may be able to use a credit card. 
Credit Card Note: Each time you use a credit card you may be charged an international transaction fee as well as a conversion fee by the issuing bank. I recommend using ATMs to get cash for most of your expenses. Japan is largely a cash society.
Hailing a cab on your own may be tricky since most Japanese speak little or no English, or are too shy to try their English skills on a native speaker. Drivers in small cities may be reluctant to pick you up as you probably look like a foreigner who speaks no Japanese. Surprise the drivers with written instructions, a 15-degree bow to the driver when entering and leaving the cab, and a polite thank you. In larger cities, you may have more success hailing a cab on your own as drivers are accustom to foreigners.
While there is no tipping in Japan, being polite when you leave the cab is very much appreciated. You can say, "Dōmo arigatōgo," meaning, "Thank you very much."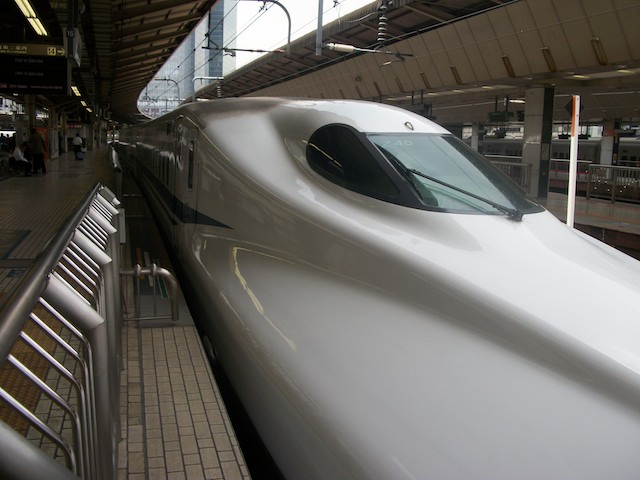 A local train waits for departure from shin-Osaka in western Japan. Shinkansen bullet trains transport people at very high speeds in comfort and safety. Visitors can obtain rail passes before they arrive in Japan. Rail passes are available in Japan. If you are going to be traveling around, the passes help control your costs. Both of these trains are part of the JR service.
Local Trains
Taking local trains is a quick, economical way to get around, however, purchasing a ticket can be confusing. Even in Tokyo, ticket dispensers do not have directions in English. Observe what other commuters do to operate the equipment, if you still cannot figure out how to purchase a ticket, see if you can ask a friendly local.  Train route maps are bilingual. You feel more comfortable and confident traveling on Japanese trains when you understand some of the train etiquette.
Shinkansen (新幹線)
Shinkansen are the bullet trains that travel longer distances at rapid speeds, sometimes approaching 200 mph. Like other Japanese rail systems, Shinkansen are punctual, clean and comfortable. There are several categories of trains plus reserved and non-reserved seating arrangements. 
Buses (バス)
Hopping a bus in Japan can be intimidating as the route is not as easily identifiable as the trains, however, it can be a rewarding experience and an inexpensive means of transportation. Show the driver your destination address (written on a card as suggested for taxi use). He may not speak English, but he understands where you want to go and will probably motion to you when it is your stop. Pay as you exit the bus. 
Taking a bus cross-country is another invigorating experience. Seats are assigned so be certain you are in the correct seat (seat designation is above as on airplanes). As buses travel the main roads, you are likely to see sights and landscapes you would miss by trains which often travel along the backside of town, neighborhoods and so forth.
Personal: Even though my husband and I were traveling together and purchased our tickets together, the clerk sold me a ticket in the women's seating area and my husband a seat in the general seats! We laughed about it later, but as you do when traveling—we just went with the flow.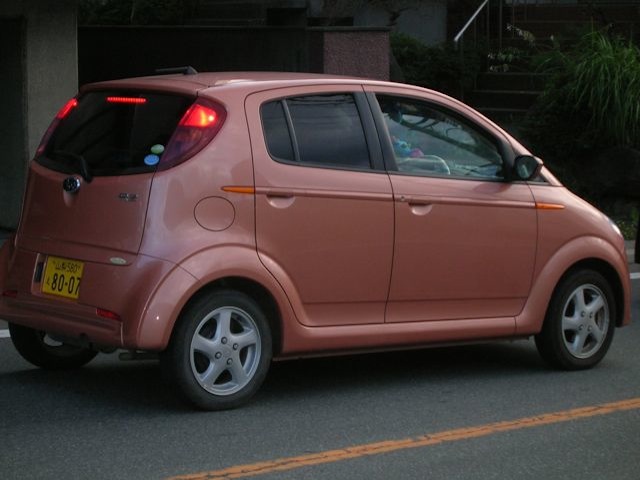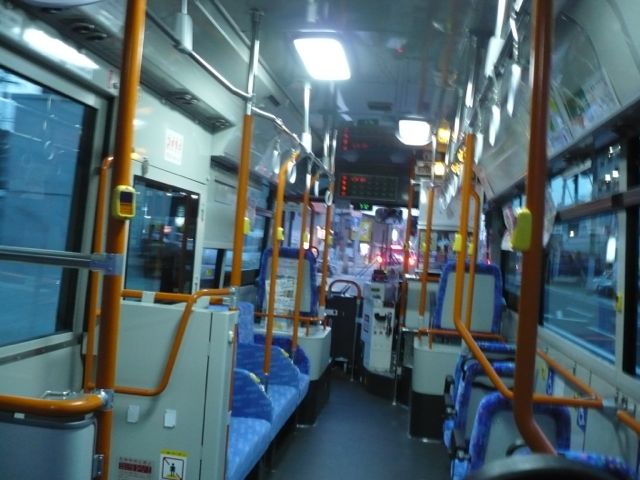 Driving in Japan is expensive, confusing and congested, plus it isolates you from the locals — visitors should consider public transportation to travel like the locals do. The last run of the night in smaller city route found this bus empty except for the foreign travelers. Pay as you exit from city buses.
Food on Public Transportation
When traveling cross-country on the bus or train, riders often bring a snack or meal along. This is permissible and acceptable on long distance trips, but would be frowned on in the city. You will find convenience stores, fast food restaurants or department store food shops in cities of any size. Grab an apple, bottled water or green tea for a pick-me-up. Trains such as the shinkansen (bullet train - 新幹線) offer food service. An attendant will appear with a snack and beverage cart. On longer trips, patronize the train or bus station eateries. Obento boxes are plentiful and varied at train stations. Join in when fellow passengers pull out their obento boxes. I like to follow the lead of local citizens, so I wait until they get food out before I start on mine. 
Note: Everywhere in Japan it is still considered bad manners to walk and eat or drink at the same time. Finish your meal sitting down. 
Maps
Obtain and study some maps before you travel. When in Japan, tourists receive the best information from local maps—the maps created and maintained by local communities. Governments, tourist bureaus, business associations and even hotels, inns and ryokans generate these maps. Local maps provide you with the most colorful, accurate and useful information. You find these maps in large cities, small towns and most places in between. You pick them up at rail stations, airports and tourism offices. Read our article on using Japanese language maps in Japan.