Finding Your Way in Japan With Japanese Language Maps
Local maps made in each community usually provide the most colorful, accurate and useful information.
by Bob Kerstetter
Finding Our Apartment In Shinjuku
Written directions to find our residence-for-a-week start at the Southern Terrace Entrance of Shinjuku Station. In summary, you navigate a plaza toward the west, cross a street, pass through a high-rise office complex, cross another street and there you are. Finding it should be easy. We usually do fairly well at independently traveling around Japan.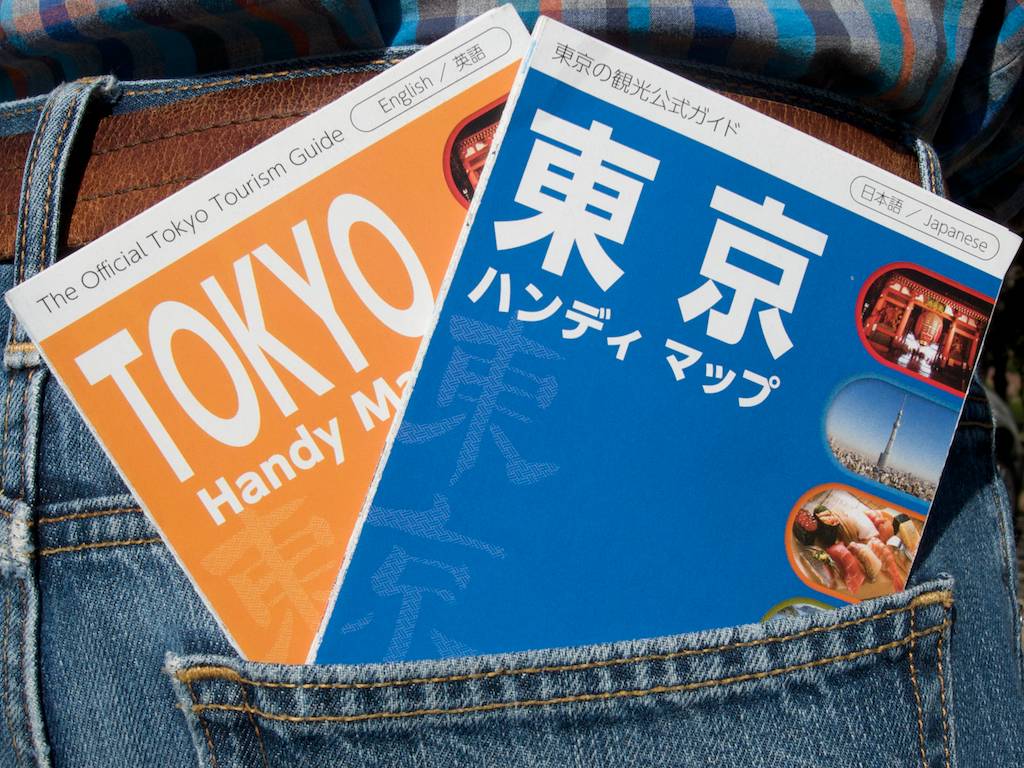 We carry Japanese language maps, plus ones in English.
Welcome to Shinjuku Station
The busiest transit hub in the world, Shinjuku Station serves 3.5 million passengers daily from three dozen train platforms spread out across multiple levels, plus levels between those levels—at least this is our first impression. The station stretches about eight-tenths of a kilometer—one-half mile—more or less north and south. It spreads at least two city blocks east and west. An 11-floor department store spans and merges into the complex at its mid-point. Arcades and shopping attract people to the lower levels of the station. Two hundred or so entrances and exits can create confusion for first-time travelers, occasionally raising the question, "So, where are we?"
We arrive someplace in Shinjuku Station in the late afternoon, exit to its west side and head south using the compass God put into my head. No Southern Terrace Entrance becomes obvious before we reach the south end. Heading back north, we return to our starting point and unfold a map of Tokyo.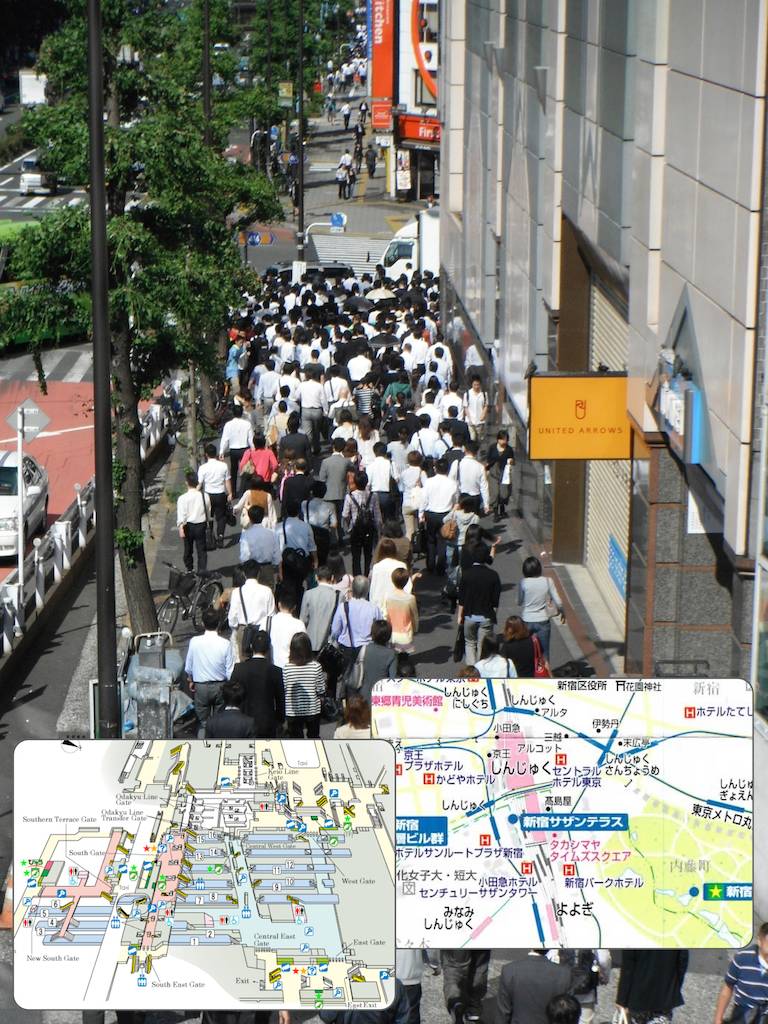 A large group of Japanese commuters exits Shinjuku Station in under 30 seconds. While very efficient, this transit station appears complex and confusing to first-time visitors. Local maps help.
Using Our English Map of Tokyo
Published by the Tokyo Convention and Visitors Bureau (TCVB), the map shows streets, parks, gardens, buildings and train stations. All labels display in beautifully typeset and nicely translated English. While the map provides accurate guidance, its level of detail stops someplace short of the Southern Terrace Entrance.
When we approach a uniformed man to ask for assistance he seems pleased when we bow and speak a few words of understandable Japanese—not great Japanese, but understandable. Supplementing our basic Japanese language skills with hand motions, we soon make our situation transparent. He accepts the map, begins to look it over and stops. We immediately realize our mistake. He reads no English.
This situation becomes an Aha! moment for us—totally changing the way we ask for assistance while we learn to better speak and understand Japanese. Perhaps we should discern this earlier because of our prior travels in Japan.
Avoiding Embarrassment Because of Failure to Help
Two years earlier we exit the train in Wakayama Station, four hours by Shinkansen and local rails to the west. When she falls short of helping us because of language barriers—really our problem—the young concierge repeatedly bows to us, expressing her apology. While we feel somewhat embarrassed because the problem starts and stops with us, apparently in Japan someone who begins to help you deeply desires to succeed. Apologies can continue for a long time.
Hoping to prevent a similar embarrassment for our helper outside Shinjuku Station, I signal with my hand to wait a moment. Reaching into my bag, I pass the man a nearly identical map exchanging it for the other. The difference being the Japanese labels throughout. He understands using the Japanese map is fine.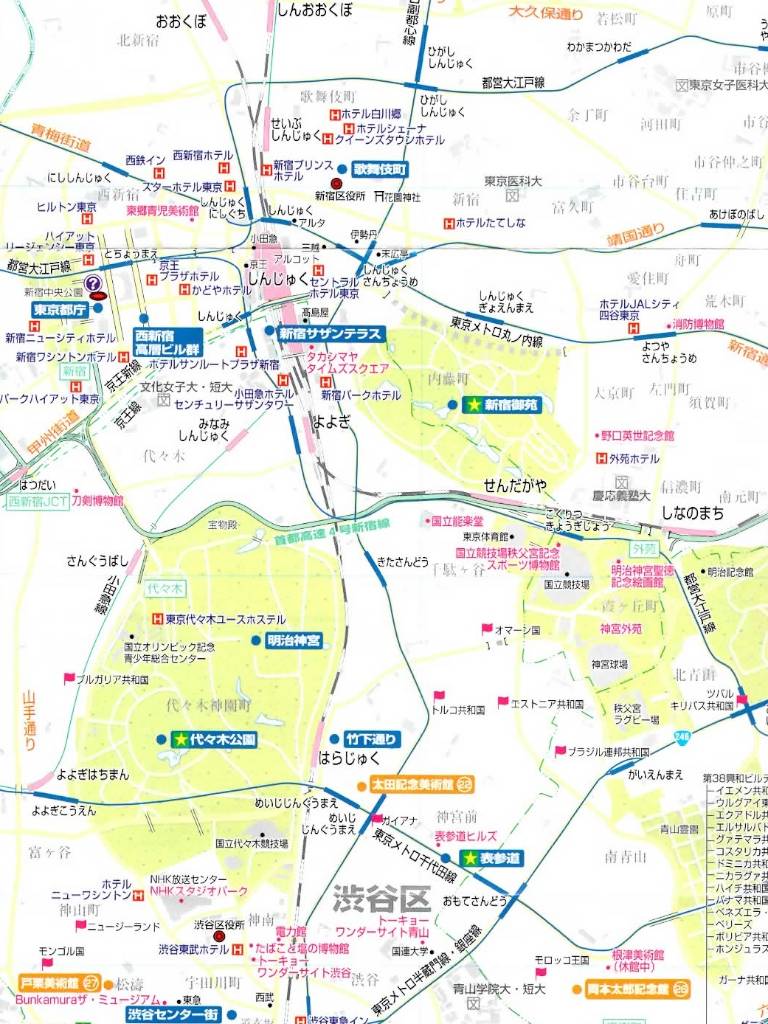 A Japanese language map is useful when asking for guidance from people who speak little or no English.
Local Japanese Maps Provide the Most Colorful, Accurate and Useful Information
Using the Japanese maps works well, even without speaking or understanding the language. We find the best maps for tourists in Japan are the local ones—the maps created and maintained by local communities. Governments, tourist bureaus, business associations and even hotels, inns and ryokans generate these maps. Local maps usually provide you with the most colorful, accurate and useful information. You can find these maps in large cities, small towns and most places in between.
At the large end, the Tokyo Convention and Visitors Bureau publishes maps in multiple languages. Tourism offices in Tokyo, plus Narita airport provide these maps free of charge. Wakayama City—an urban area with a population of 400,000—also publishes maps in Japanese and English. You can find these maps at Wakayama Station and the tourism office. Even some small cities such as Kitakami in Eastern Japan—population under 100,000—publish tourist maps in at least two languages, again available at the train stations. But some communities produce their maps in Japanese only.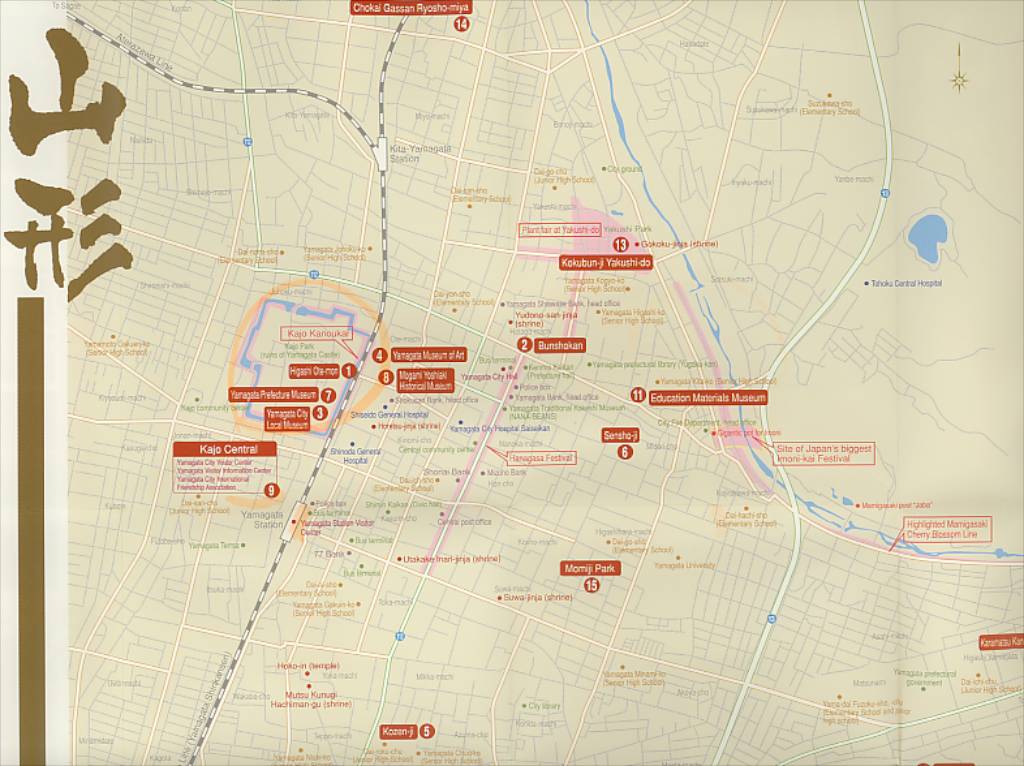 Japanese often mark your map with highlighters, after asking permission. This map is from Yamagata City in the mountains of eastern Japan.
Using Japanese Maps with English Map Supplements
We use two copies of local maps when available—English and Japanese. Where no English maps exist, we supplement the Japanese maps with our own resources, typically an atlas for overviews and a mobile device map app for street-level details. Although we speak very little Japanese, we use the Japanese language maps as our primary references, reverting to English language maps only when absolutely necessary. We study the maps.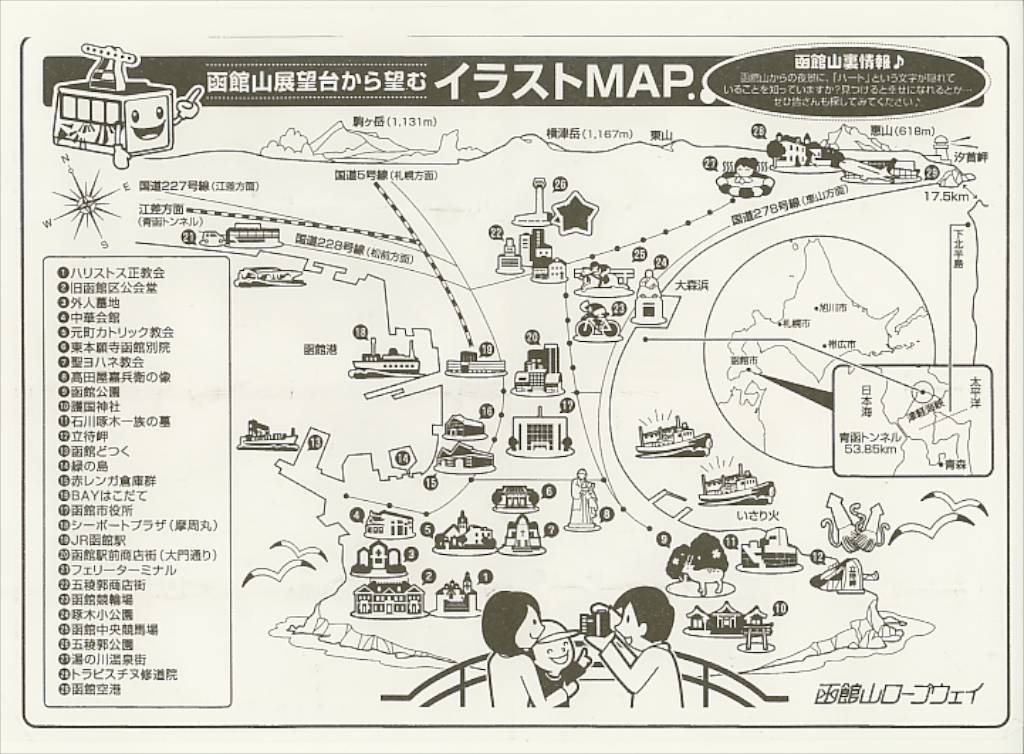 This stylized map in Japanese identifies popular tourist destinations in Hakodate City located on the south coast of Hokkaido.
We do this for practical reasons—learning the Japanese language and asking for assistance when necessary. Pattern matching of Japanese words printed on the maps to the same words on signs in the real world helps us learn to understand the language. Also, the Japanese maps provide much more useful information when asking for directions from someone who speaks and reads little or no English. Becoming familiar with the Japanese language maps makes communicating easier with the people helping us.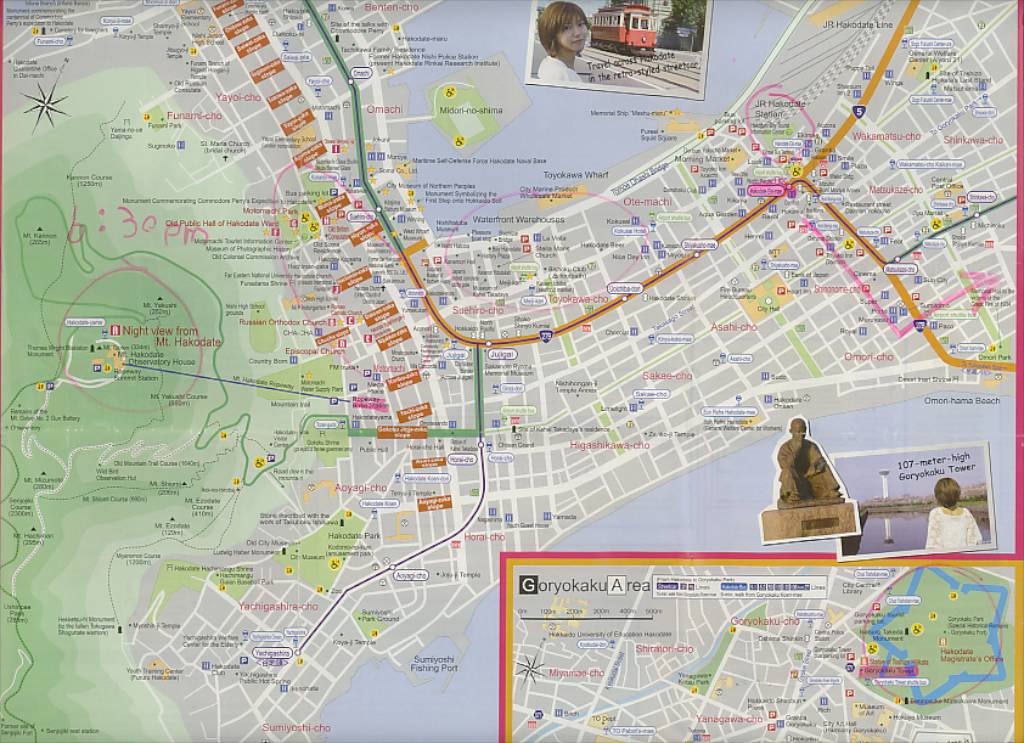 A person marked this local map with instructions for reaching the summit of Mt. Hakodate, a favorite nighttime viewing location high above the city.
If you need assistance ask someone on the street. Start with people wearing uniforms. These may be police officers or security guards. They may be people watching the traffic around a construction site. They may be bus drivers or train operators. You can also ask people in street clothes who may make eye contact with you. While this is somewhat unusual among the shy Japanese, many people do this simply because you stand out in the otherwise homogenous Japanese society. In our experience, the Japanese people are willing and able to provide assistance if you ask. Often someone approaches you to offer help just because you look a bit lost.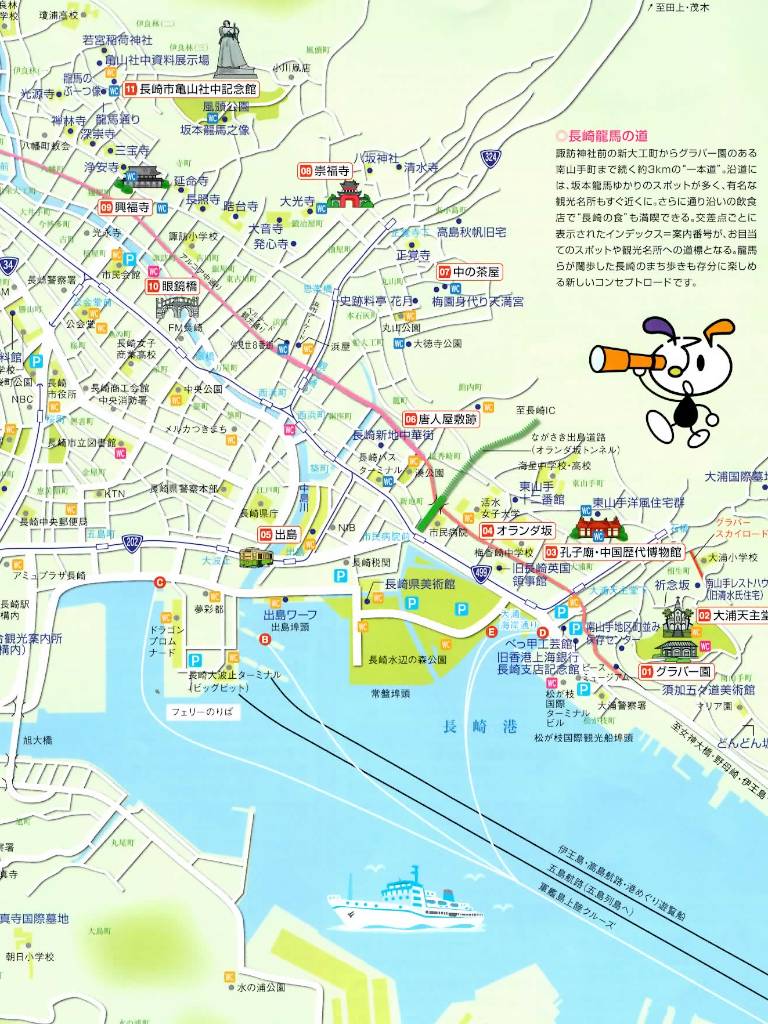 Nagasaki provides colorful and accurate information about herself through this local map.
Using Web and Smartphone Maps as Supplements
In the era of online maps, smartphones and tablet computers you might think about using a search engine map or a map app as your primary resource. While you can use them for free when near a wifi connection, online maps can become very expensive because of international roaming charges for cellular data. Also their accuracy sometimes fails to provide what you actually need.
"Finding a good map online can be very difficult," says a Japanese friend, born and reared in Tokyo, as she uses her smart phone to search for something in her home city.
In a Tokyo test, one search engine map failed to find a specific convenience store. A logo icon for the store showed up as an ad on the map at its correct location—a service the map publisher sells to the store—but searching the map for the same store yielded no directions—walking, driving or using public transportation. Of course, this is a relatively minor problem—but one you need to know exists.
Also, the small viewing windows and outdoor screen reflections associated with mobile devices can create communication bumps when using your map to ask for directions.
Yet, despite their limitations—data costs, inaccuracies, small viewing windows and screen reflections—mobile online apps can provide good supplemental information to help you find public locations, such as castles, shopping areas, train stations and parks. These maps also can offer helpful overviews—as supplements to the local maps—when planning your destinations.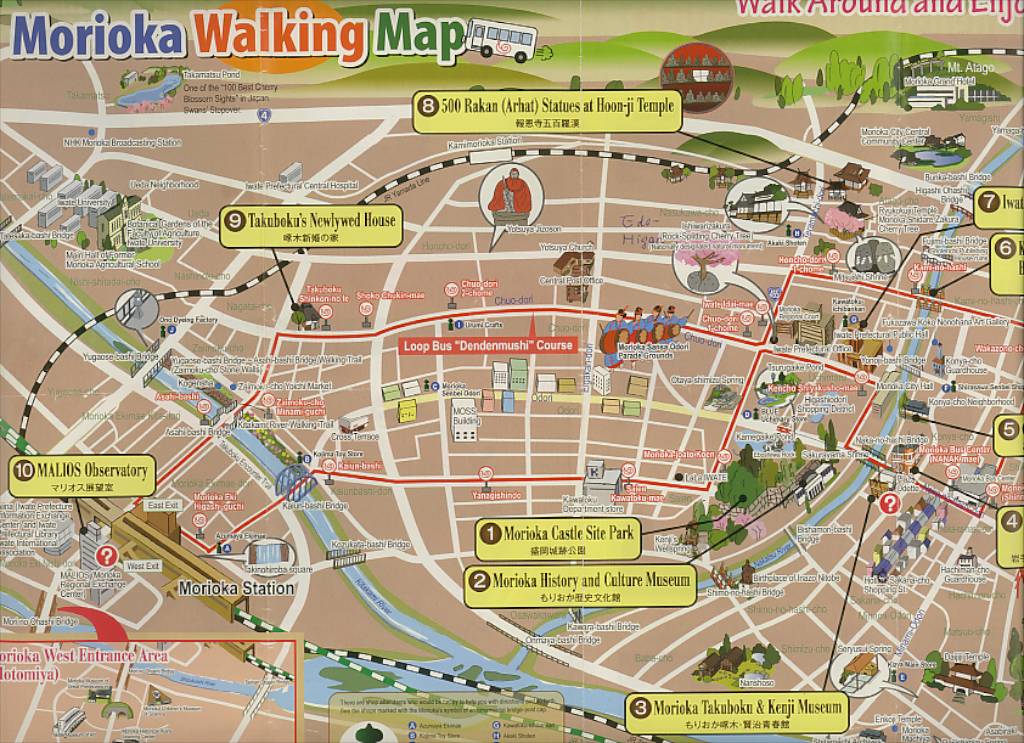 This map of Morioka City in eastern Japan shows walking tours with sites labeled in English.
Japan Atlas
Atlases offer general maps of Japanese prefectures and—sometimes—cities. They give you excellent overviews of the entire country of Japan, including its regions, prefectures and largest urban areas.
A broad overview set of maps we like and carry in our suitcase—but leave in our room during the day—is Atlas Japan
. Created and published in Japan, it uses English throughout. It also includes details of the extensive Japanese rail system connecting cities and towns.
The Conclusion of the Shinjuku Apartment Search
As it turns out, the man in uniform manages foot traffic near a construction site, guiding pedestrians away from possible injury. He points us in the direction of the Southern Terrace—a plaza bridging the rails and roads of Shinjuku Station. The concierge at a stylish shop bordering the plaza walks us to the Southern Terrace Entrance, hidden by a construction barrier.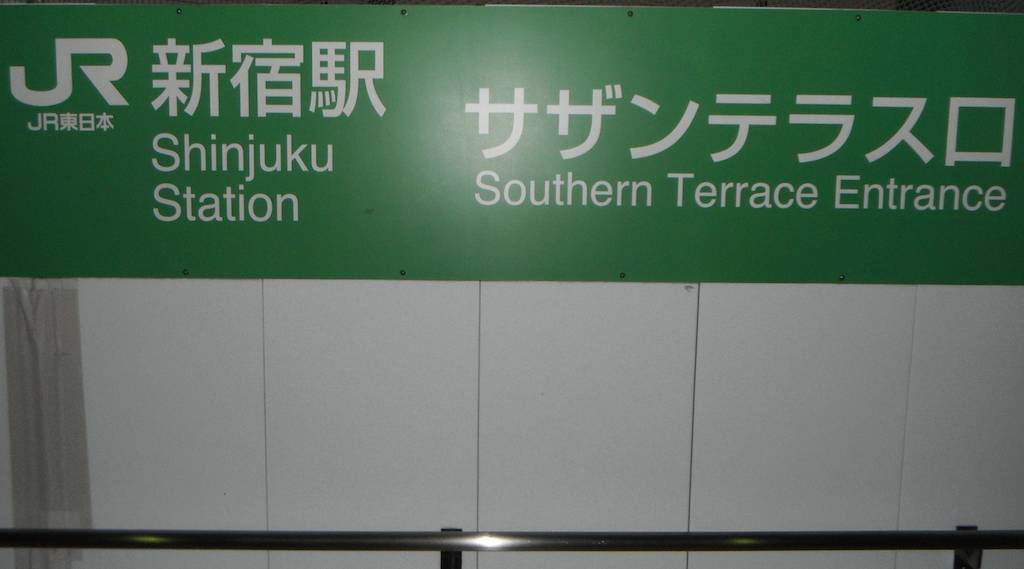 The concierge at a stylish shop bordering the South Terrace plaza walks us to the Southern Terrace Entrance, hidden by a construction barrier.