Cruising Sumida River - A Leisurely Way to See the Heart of Tokyo
Escape the crowds of Tokyo. Take to the river for a serene view of the city in a relaxed setting.
by Nancy Kerstetter
Sumidagawa is Tokyo's main river. It slices through central Tokyo on its route to the bay, as it has done for centuries. In days of old, the river served as a major mode for transporting cargo. Now visitors ply the waters in glass-topped boats seeking a unique perspective of the world's largest city.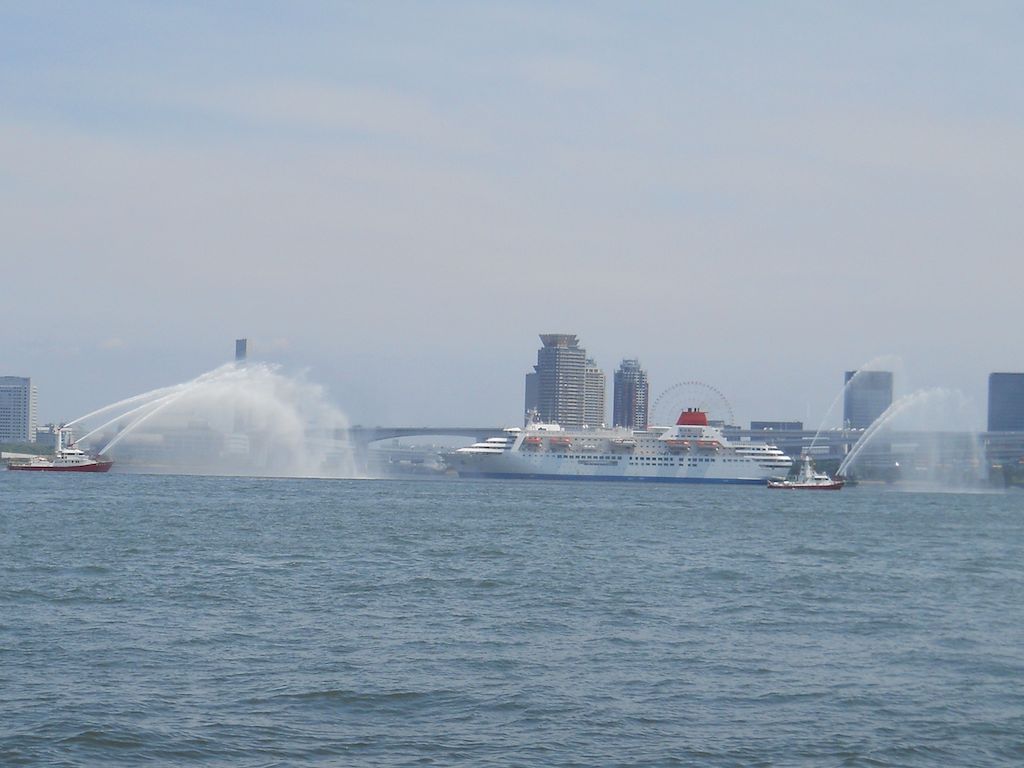 Tugboats discharge water cannons to welcome a cruise ship into Tokyo Bay. The giant ferris wheel at Odaiba, a popular entertainment area, is visible on the far side of the ship.
The river cruise departs from three spots, Hinode Pier on Tokyo Bay, Hamarikyu Garden and Asakusa for an approximately 40-minute cruise between Hinode and Asakusa. We board at Hamarikyu Garden. We leave the protection behind the sea wall to pass through large water gates that slowly open onto the Sumida River, then close again behind us. We head south on the river to Hinode Pier where we drop off some passengers and pick up others. The captain takes a wide turn through Tokyo Bay before starting north for Asakusa. Southward we catch a glimpse of Odaiba with the huge ferris wheel and Rainbow Bridge. The bridge resembles San Francisco Golden Gate Bridge but this one is gray. At night it lights up in a palette of rich colors, the inspiration behind the name rainbow. A cruise ship steams under the bridge in search of its berth.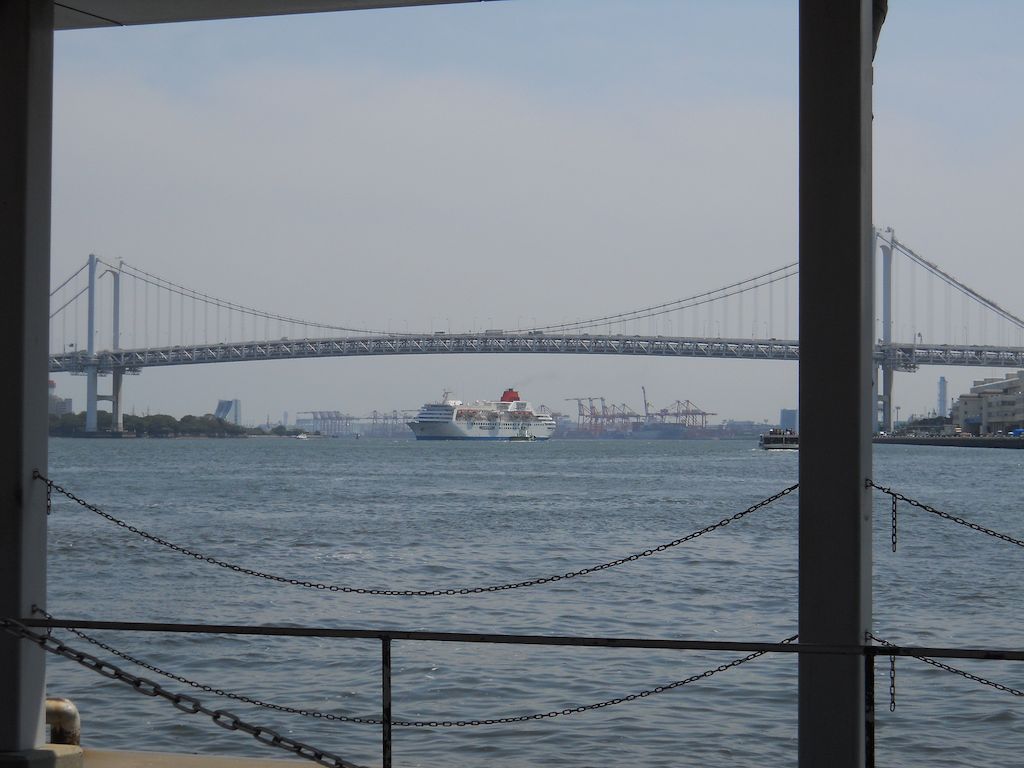 Rainbow Bridge lives up to its name at night when it is bathed in colored lights. In the daytime the expanse resembles a gray version of San Francisco's Golden Gate Bridge.
Upstream we glide by Hamarikyu Garden, then Tsukiji Fish Market wharves. Tsukiji is an early morning fish market featuring some 450 types of fish. Merchants arrive in the dark to make purchases for their shops and restaurants from the 1,700 stalls. Visitors who come after the 5-8 a.m. rush can mosey through the market at their leisure. We see the backside of Tsukiji where fishing boats unload their catch.
Frenzied Tsukiji Fish Market quiets down after the predawn rush of fishermen, restauranteurs and shop owners. Visit the market after 8 a.m. to avoid the stampede.
We pass mid-rise apartments with kakebuton–futon comforters–airing on the balconies. Greenbelts and flower gardens lined with walkways situated along the riverfront peer out at us. Businesses of all shapes and sizes butt up against the watery right of way. Fishing boats and barges for hauling cargo line portions of the river. This is not the most scenic view in spots, but it tells a story of its own regarding how a mega city lives in harmony with its rivers and and its residents in unity with neighboring businesses. Commercial and residential real estate mingle throughout Tokyo's wards. We ride below no less that twelve bridges on our trip upstream, each bridge painted a distinctively different color than the last.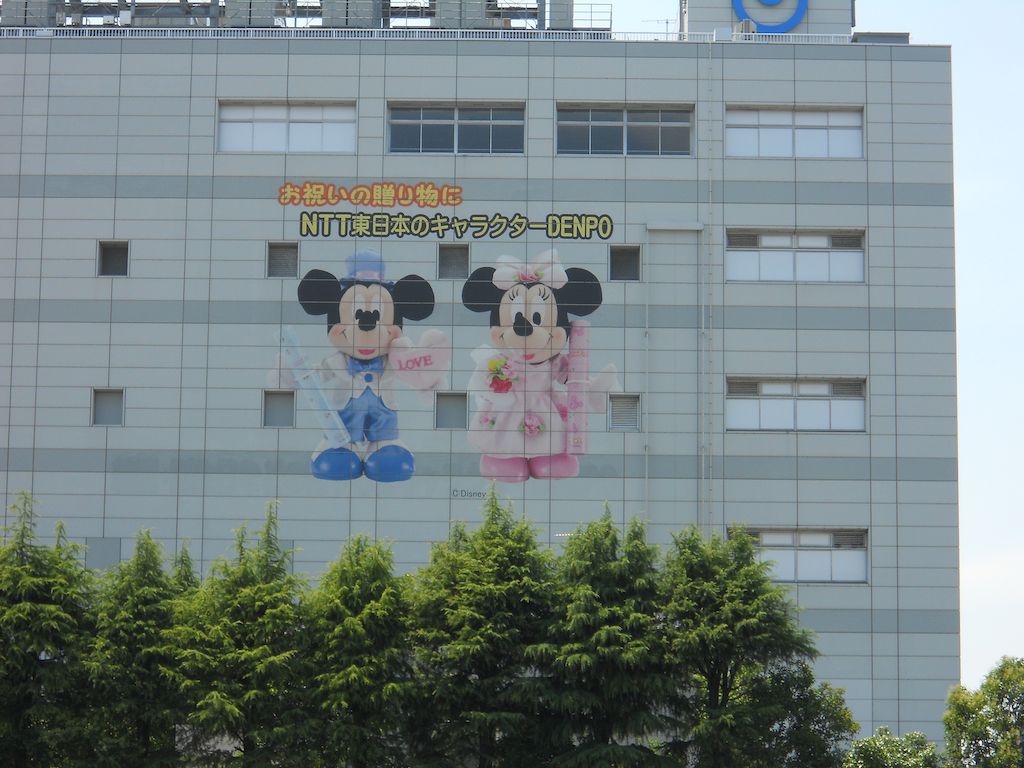 Likenesses of Mickey Mouse and Minnie Mouse adorn the backside of a commercial business along the Sumida River. Disney characters are popular in Japan.
A sleek water bus, the streamlined Himiko, approaches from the direction we are heading. Heads crane to study the futuristic-looking vessel featuring 3D windows as it slips by. We are riding in a modest two-level boat with open air windows along the sides and flat glass roof above our heads. We almost hear a wistful sigh from fellow passengers as the gleaming boat hurries past.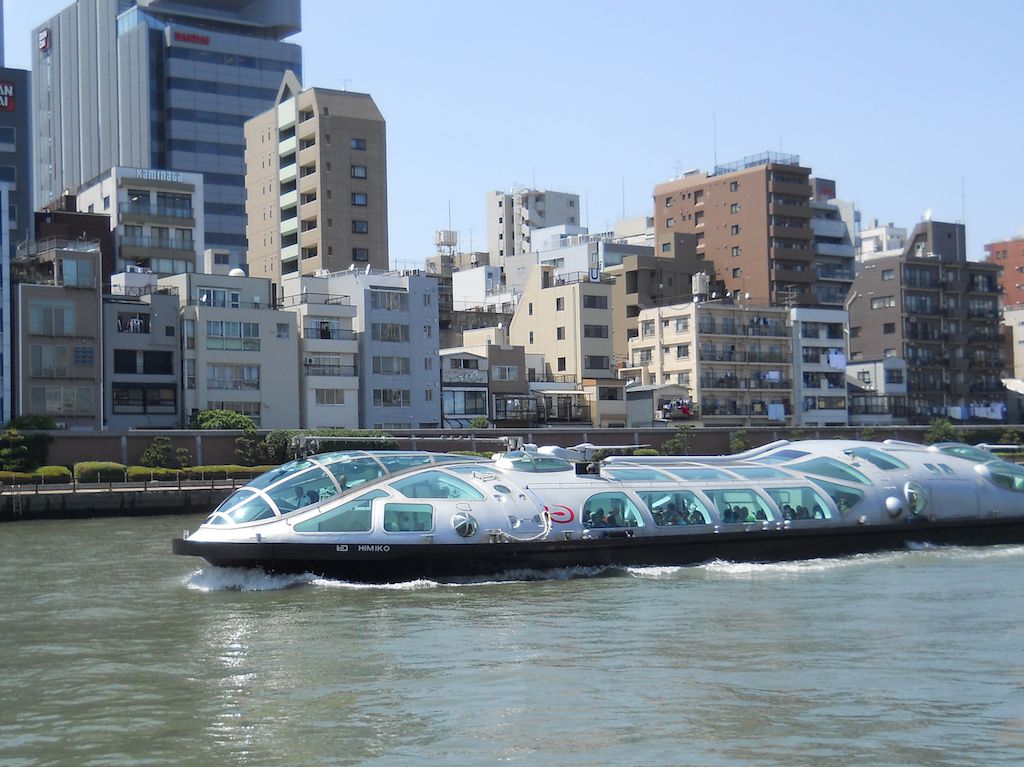 A futuristic water bus attracts attention from envious would-be passengers as it cruises down the Sumida River.
Up ahead we have a perfect view of Tokyo Skytree and the distinctive building of Asahi Brewing Company. We make a u-turn into our port at Tokyo Cruise in Asakusa. Our journey is complete. We wind our way up the ramp to street level, leaving behind our modest water bus. Already the next load of passengers are queued for their trip down to Hinode Pier.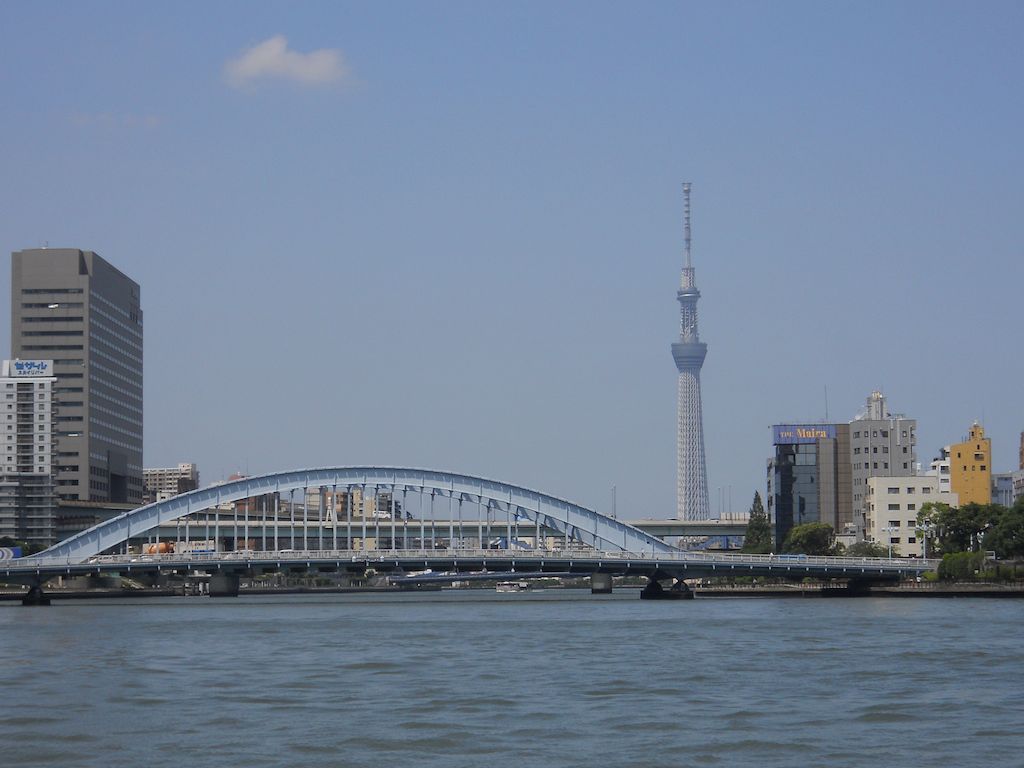 Approaching Asakusa, we spot the hard-to-miss Tokyo Skytree that dominates the cityscape. Hidden from view in this photo, the nearby Asahi Brewing Company building draws your eye to the distinctive design resembling a frothy mug of beer.
If you are fortunate to be in Tokyo on the last Saturday of July, make your way to Asakusa before dark for the biggest fireworks display in the city. Find a riverside spot to view the show, but be prepared to encounter a lot of people—thousands come to experience the centuries old tradition of summertime fireworks beside Sumidagawa.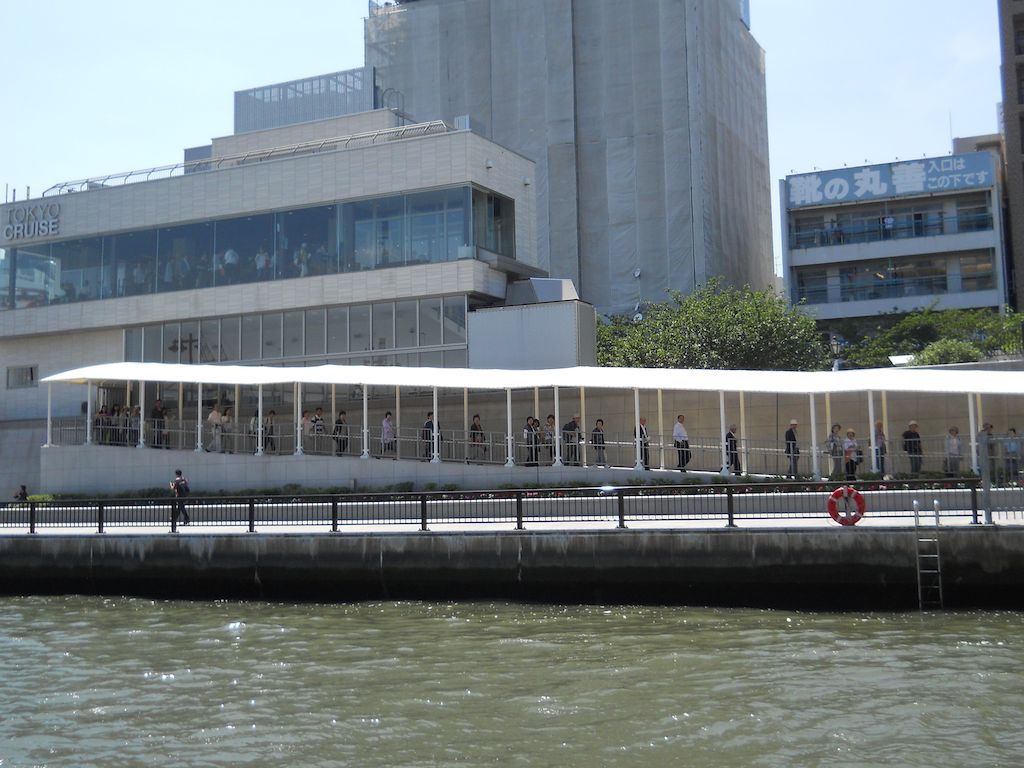 Passengers begin loading on a southbound water bus at the Asakusa boat terminal. Some boat lines offer evening dinner cruises.