Visit Asakusa--Enjoy Authentic Japan on a Human Scale in Metropolitan Tokyo
Walking the sidewalks of Asakusa makes you feel at home in authentic Japan, right in the center of Tokyo.
by Nancy Kerstetter
With its natural charm, cultural attractions and manageable proportions, Asakusa attracts travelers looking for an authentic Japanese experience on a human scale. Asakusa is a small district—a community—within the huge expanse of Tokyo Metropolis, the largest city in the world. As a history-rich neighborhood Asakusa heartily welcomes international visitors.
People love to photograph the enormous Kaminarimon Gate or pose for a photo there. It's the iconic symbol of Asakusa.
Walking the sidewalks of Asakusa is akin to feeling at home. You may not know anyone—it may be your first visit—but the homey feel helps you relax and consider yourself fortunate to join the local color. The pace in Asakusa is completely the opposite of many other Tokyo sections. Here people stroll without hustling. It may even become your favorite spot to begin or conclude your visits to Japan.
Local residents linger for a chat, while others bicycle by running errands.
If you desire a peek into yesteryear—or the ordinary life of traditional folk—Asakusa fills the bill. Many women run their errands wearing traditional kimonos. Small residential homes fill the quiet side streets. Tokyo's oldest temple, Sensō-ji, is a popular destination. Nearby an old-fashioned amusement park reminds you of years gone by.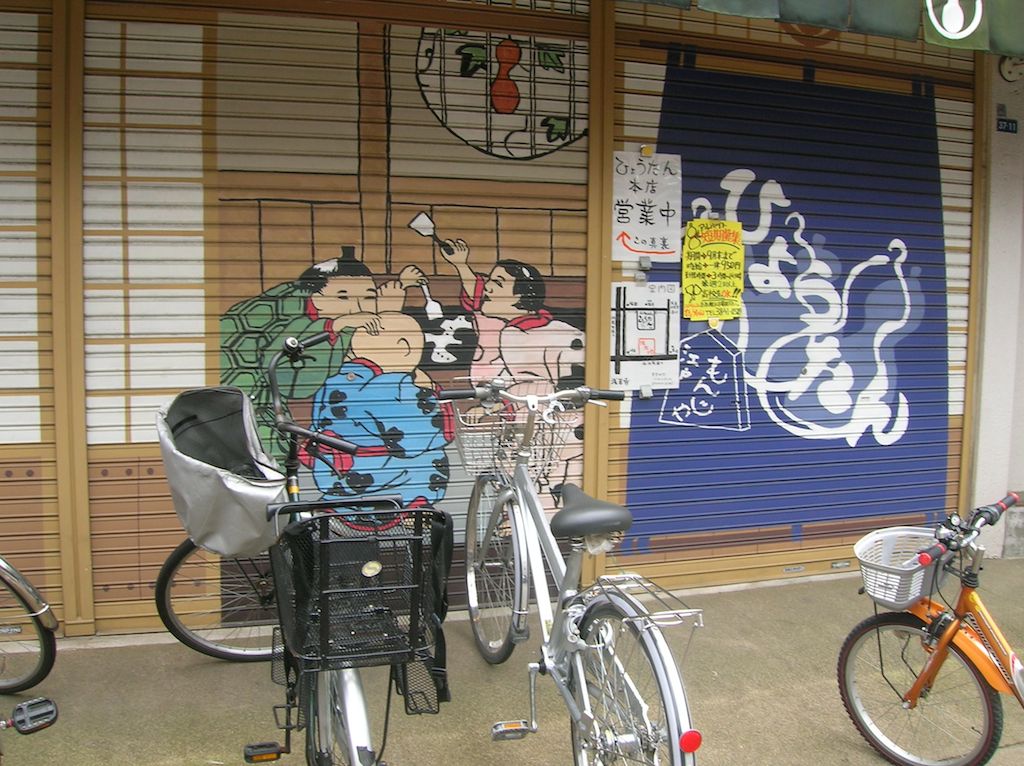 Bikes park in front of small businesses closed for the day on an Asakusa side street.
Traditional shops—catering to both tourists and local residents—feature fans, sweet pastries, noren, kimonos, hachimachis, chopsticks, parasols, dolls, toys, knives, traditional snacks, tea and art. You can also find an assortment of tourist-oriented products such as keychains, phone dangles, tee shirts, hats, totes and collectibles—all housed in the colorful side-by-side shops. One string of stores line Nakamise Dori, the pedestrian shopping street connecting the two major gates of Sensō-ji.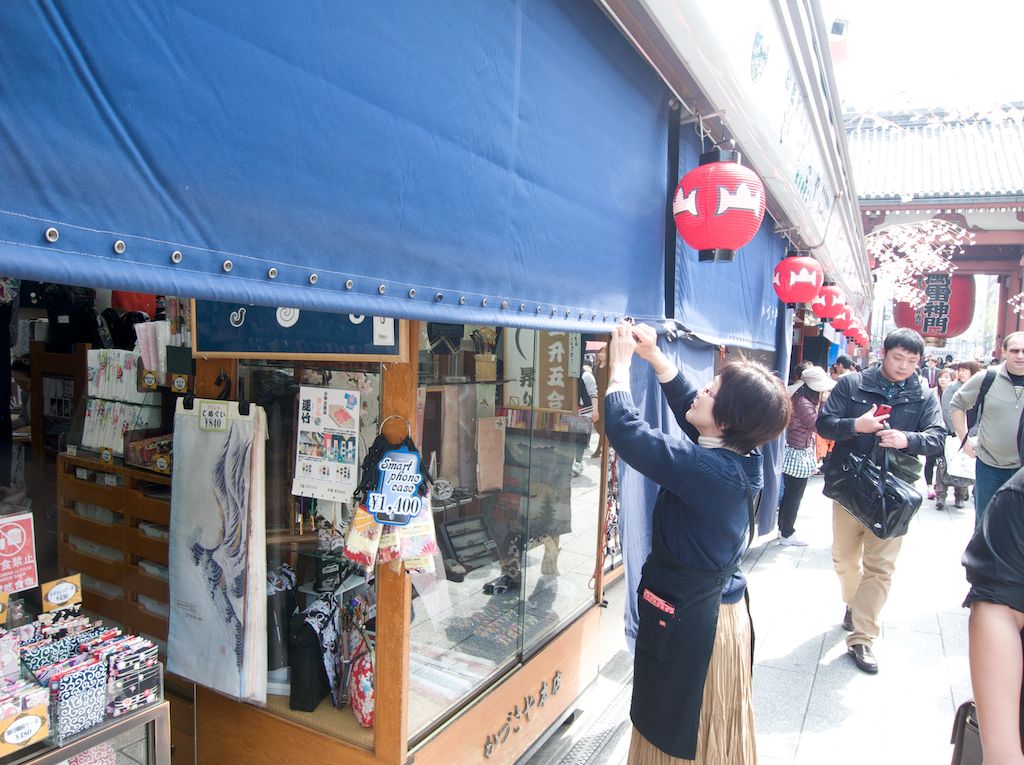 Shopkeepers prepare for another day of business at Nakamise Dori next to Sensō-ji Temple.
The massive red beams of Kaminarimon Gate—with a 220-pound hanging lantern—mark the southern way to the Sensō-ji Temple complex. More than 30 million people each year pass through the gate. It serves as the iconic symbol of Asakusa. The name "Kaminarimon"  means "Gates of Thunder." Every day of the week, thousands of people swarm around the vermilion gate, posing for photos. You can too.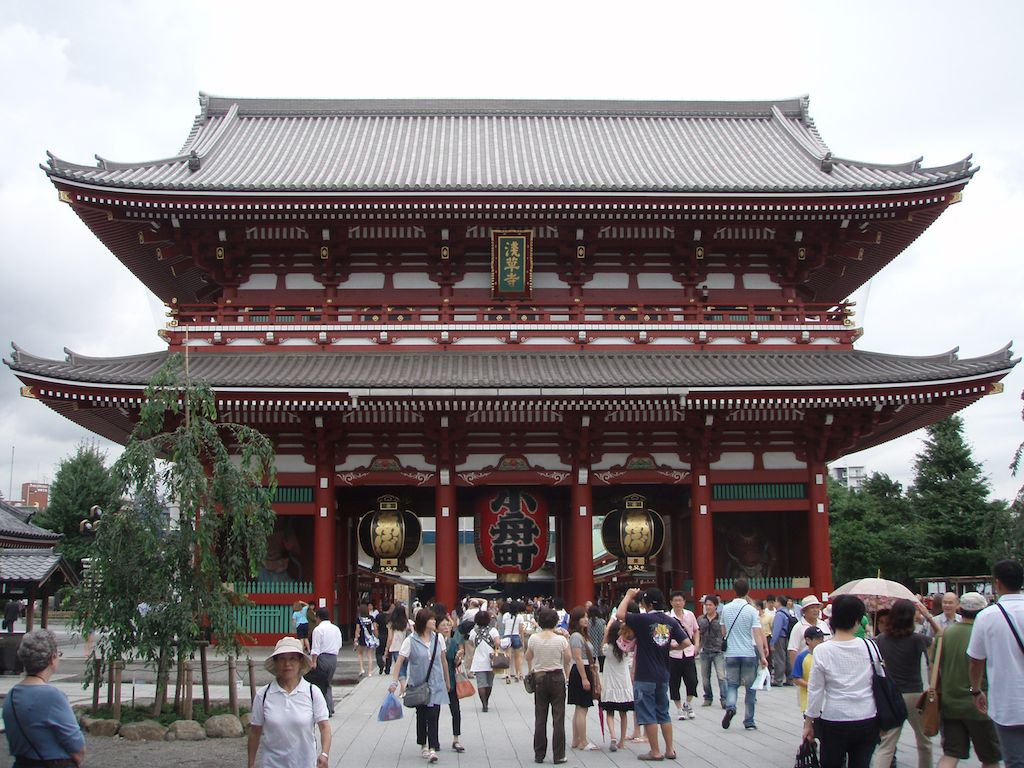 Kaminarimon (雷門) or Thunder Gate stands at the entrance of the pedestrian walkway leading to Sensō-ji Temple (金龍山浅草寺). The large lanterns represent traditional lighting from paper lanterns called chōchin (提灯).
Sensō-ji Temple, founded in 628 A.D., features classic Japanese Buddhist architecture. Besides the temple, the compound holds a five story pagoda, priest residence, library, garden and various other buildings and gates, plus the Main Hall. Most of these are reconstructed as many of their predecessors were destroyed by fire bombs during World War II. The Main Hall looks like its forerunner but this one is made of reinforced concrete with a titanium roof. Adjacent to the Main Hall, a garden and shrine area also merit a visit. Koi swim under the vermilion arched bridges in shady ponds lined with dark green lily pads. Many festivals take place in conjunction with the temple during the year. 
A gigantic sandal adorns the back of Hozomon Gate near the Main Hall of Senso-ji Temple.
The Asakusa Tourist Information Center sits diagonally across Kaminarimon Avenue from the Kaminarimon Gate. Stop in for maps, brochures, and tourist information. Friendly, English-speaking hosts can assist you in making an itinerary or answering questions. The center also has cultural exhibits and clean restrooms.
Free guided tours originate at the tourist center on weekends. Tokyo SGG Club volunteers lead 60-minute tours at 11:00 and 13:15 each Saturday and Sunday. No reservations are required or accepted. It is operated on a first come first served basis. Check in at the first floor SGG desk inside the tourist center about ten minutes prior to the scheduled time.
Traditional eating establishments abound in Asakusa. Ask at your hotel or inn, or ramble through the side streets near Nakamise Dori or your hotel to find one on your own. Many restaurants post their menus outside with life-like plastic food displays looking good enough to eat.
Asakusa's oldest and most popular noodle shop is Namiki Yabusoba. Plan on waiting for a table at the tiny eatery. But the wait is worth it.
There are several museums within walking distance of the Sensō-ji hub. Visitors may play some of the drums on display at the Taikokan Drum Museum. It resides on an upper floor of the Miyamoto Drum Store at the northwest corner of Kaminarimon and Nishi-Asakusa several blocks west of the Kaminarimon Gate. The museum collection includes drums from around the world and Japanese taiko drums. Browse the displays of the store to learn about the costume and equipment of taiko drummers.
The Edo Shitamachi Traditional Crafts Museum is a small gallery spotlighting handicrafts made using traditional methods. On weekends artisans are present demonstrating their skills. The assortment of handiwork varies from Edo-style fishing rods to blinds to woodcarving, prints to lacquerware. This free museum is located in Hisago Dori Arcade. Ask about other area museums at the Asakusa Tourist Information Center.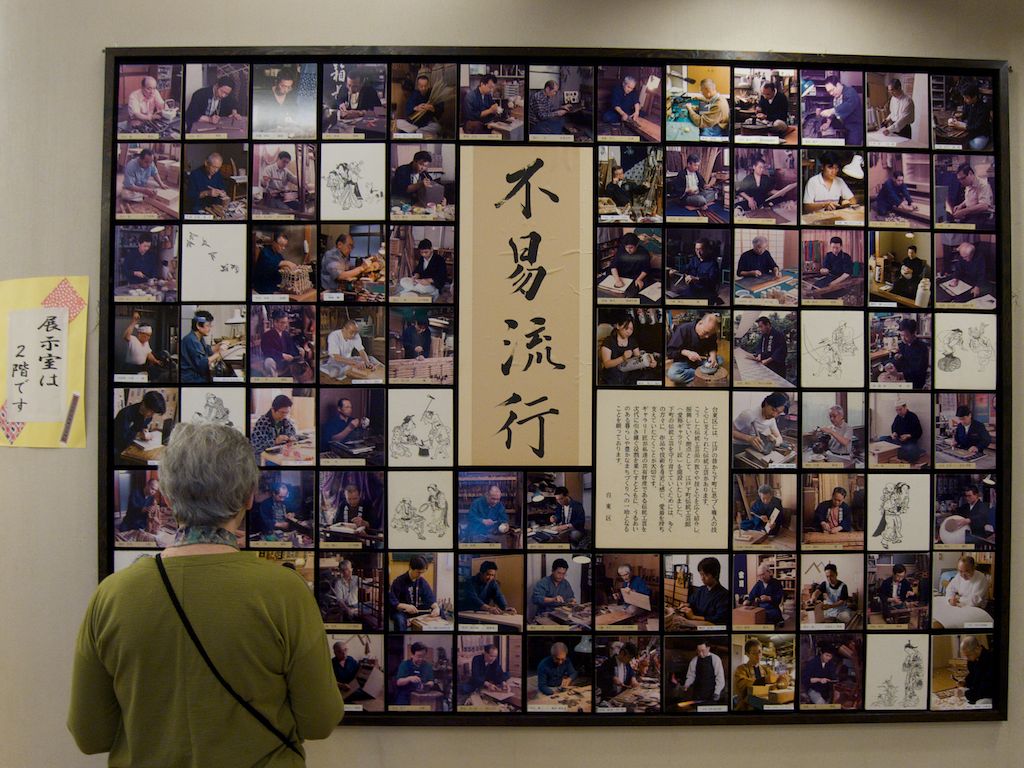 Artisans use traditional methods for making authentic Edo-style handcrafts at Edo Shitamachi Traditional Crafts Museum.
If you're looking for nightlife, this is not the place to find it. Asakusa is a subdued, peaceful precinct in busy Tokyo. You can reach anywhere in Tokyo with a few train rides and a brisk walk. Put Asakusa, with it's two train lines, on your must-see and experience list.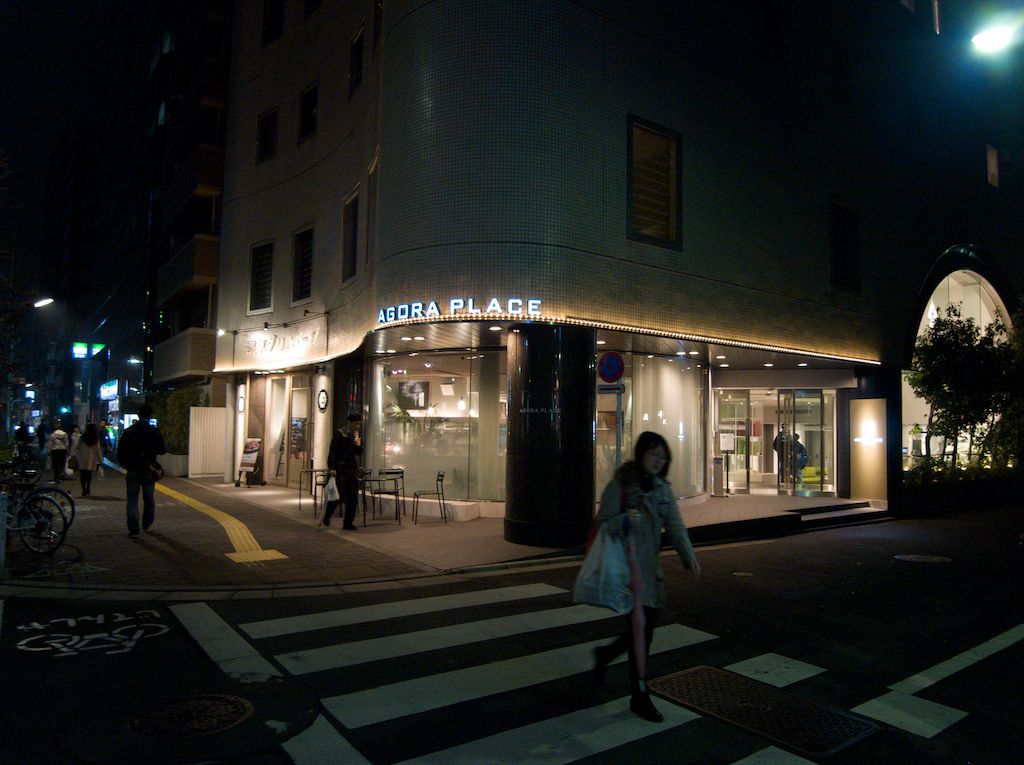 A variety of accommodations styles such as small business hotels, ryokans, hostels and even a capsule hotel are found in Asakusa.
Additional Asakusa Attractions
Sumida River Cruise
Enjoy a cruise on Tokyo's main river, Sumida-gawa, to view the city skyline from the waterway's perspective. Board at the boat terminal on the west side of the river at the north side of Azuma-bashi (red bridge) and cruise southward to Hamarikyu Garden or Odaiba. Dinner cruises are also available.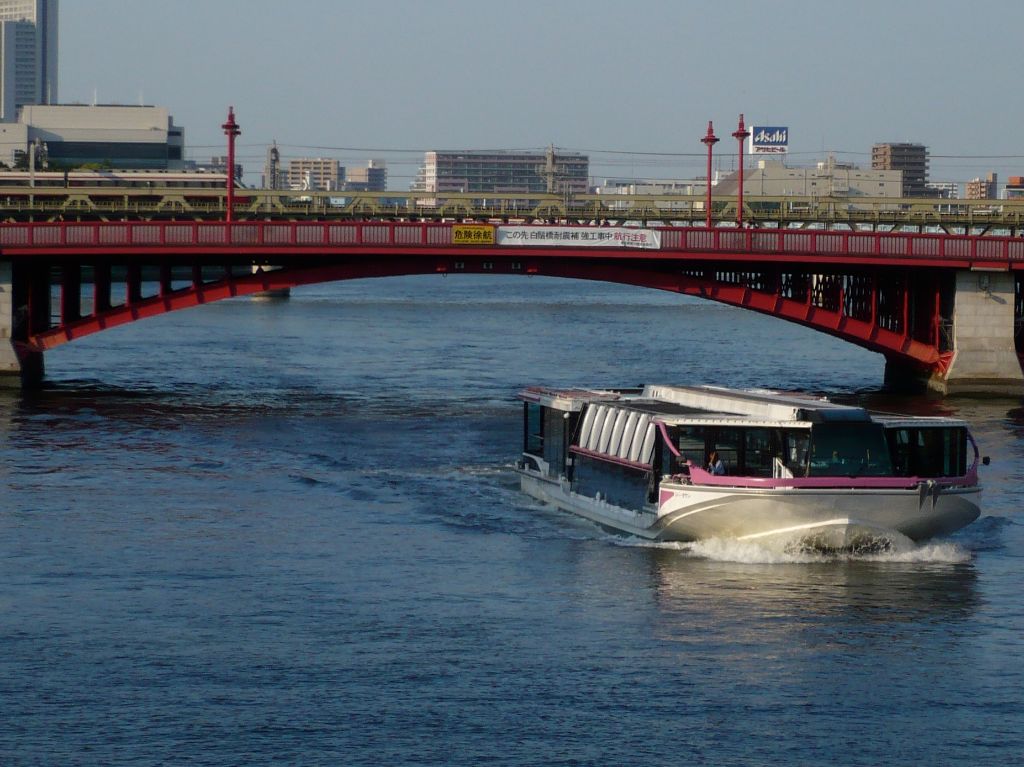 Cruise the Sumida River for a completely different perspective of the city.
Tokyo Skytree
At 2,080 feet, nearby Tokyo Skytree is the tallest structure in Japan. The observation deck opened to the public in May 2012. In addition, the metamodern edifice houses a restaurant and digital television broadcast facilities. Tickets can be purchased in person at the 4th floor counter or from a travel agent. Online tickets are issued through a Japanese-only site that accepts only Japan-issued credit cards for payment.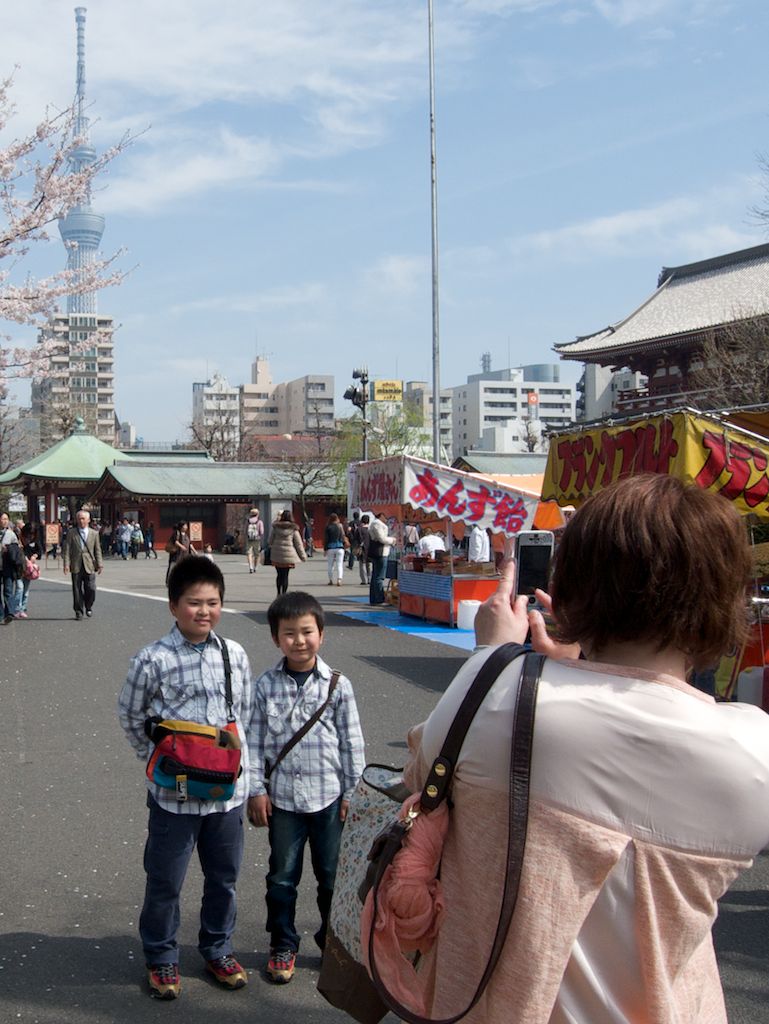 The new Tokyo Skytree pops up as a backdrop to a family photo op at Senso-ji Temple grounds during cherry blossom time.
Kappabashi Street
Browse in the shops along Kappabashi Dougugai-dori for a fun and unique experience. The one kilometer stretch from Kototoi-dori south is "Kitchenware Town" featuring wholesale restaurant items. Modern and traditional kitchen utensils of all types are sold—even plastic food models seen in restaurant displays. Need a mug foaming with beer or a plate of sushi? This is the place to shop.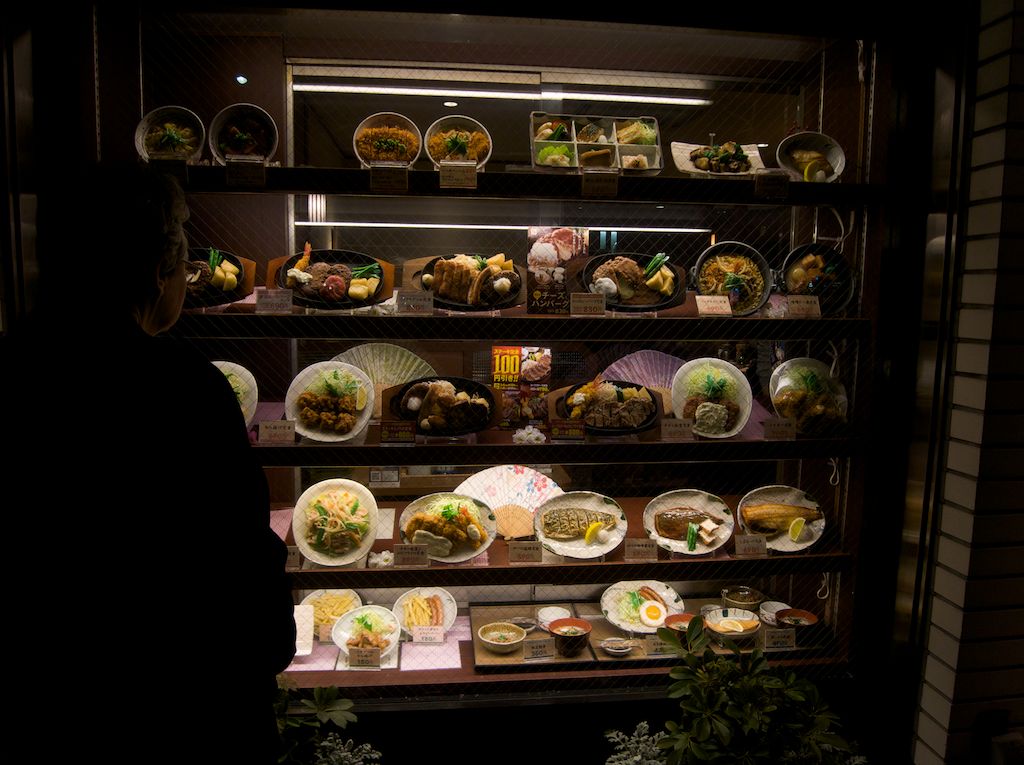 Plastic food models in a restaurant window act as a combination menu and advertisement to passing diners. The fairly accurately represent the real thing. You can purchase these on Kappabashi Street.
Sumida Park
Stroll the waterside walkways for a pleasant interval. Cherry trees, flower beds and statues dot the paths. Pause on a bench or overlook. Rent a bike for a waterfront tour.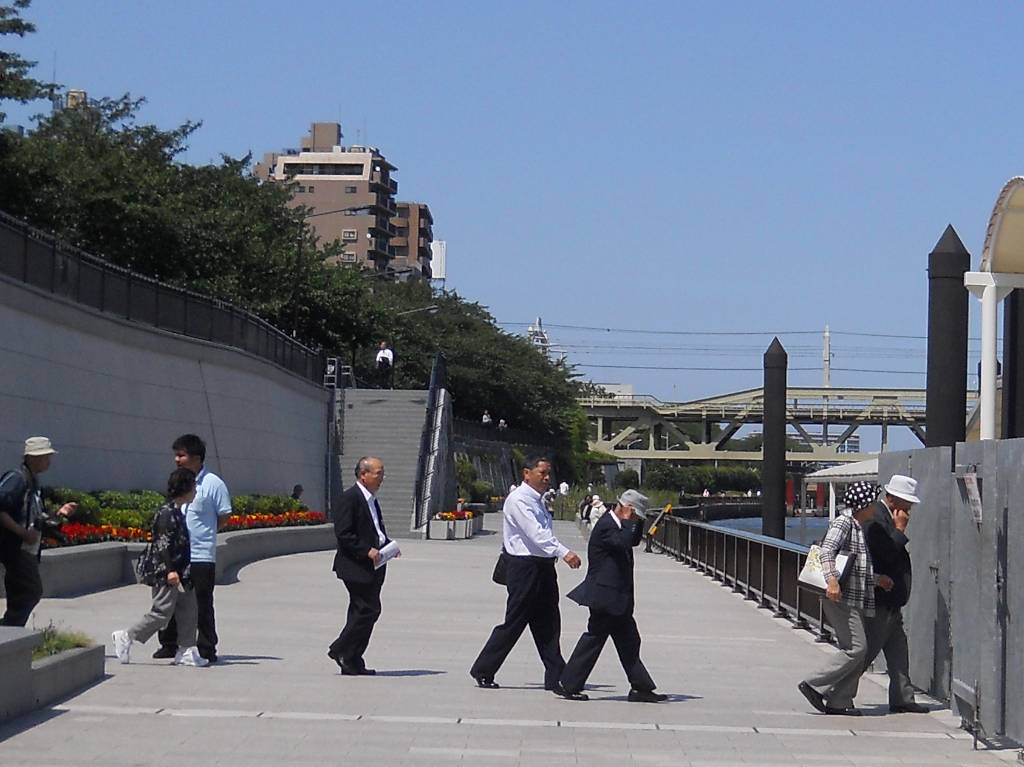 Business men and tourists head toward a Tokyo Cruise water bus at the edge of Sumida Park in Asakusa. You can see the park in the background.