Working for a Future in Vietnam
While we are neither economists nor investment bankers, we know smart work and good quality when we see it.
by Bob Kerstetter
We met a person who works in international trade for the United States government. A few weeks before we left on our trip, this person told us Vietnam is positioning itself to become the next South Korea when it comes to manufacturing high quality products and improving the economic life of its people.
While we are neither economists nor investment bankers, we know smart work and good quality when we see it. On the narrow residential streets in Ho Chi Minh and on its busy boulevards you see enterprise erupting. As one micro example, we watched for several days as a small business welded together on its shop floor the frame for an ornamental door. We then saw it being carried off on a motorbike to their customer—quality work with a practical delivery.
Nha Trang is another possible example. Numerous cranes rise above new high-rises in the city as it becomes a center for rest, relaxation and recuperation. The services at the hotels are excellent, even with the language barrier we carry with us.
Then, there is the case of the dragon fruit. Farmers in the region between Ho Chi Minh City and Nha Trang have switched from growing resin trees to cultivating dragon fruit. With this change, the area has seen an economic uptick as consumers purchase this novel, attractive and lightly flavored specialty product.
Finally, Vietnam appears to be trying to respect its natural resources and its environment as it develops new products and services. The Vinpearl Land park in Nha Trang has worked with the steep slopes of its host island to develop a facility on you barely see until you are at the gate.
Again, these are just surface observations from amateurs, but from what we can see, hear and experience, the Vietnamese people appear to have an industrious, self-help spirit.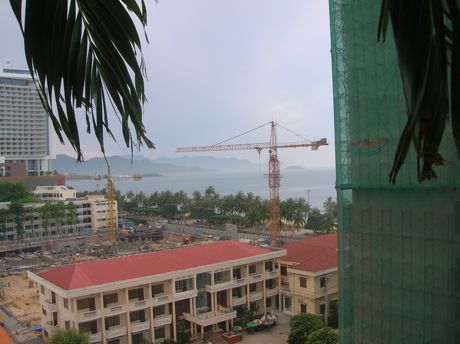 High Rises, Cranes and Undeveloped Islands in Nha Trang, Vietnam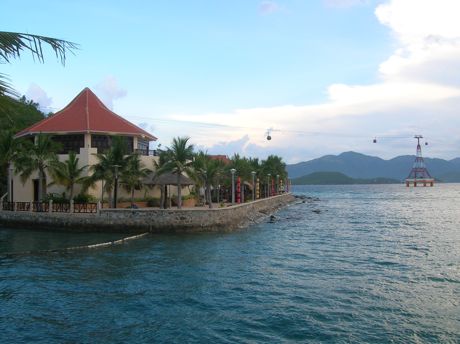 Vinpearl Land Attempts to Enhance its Natural Setting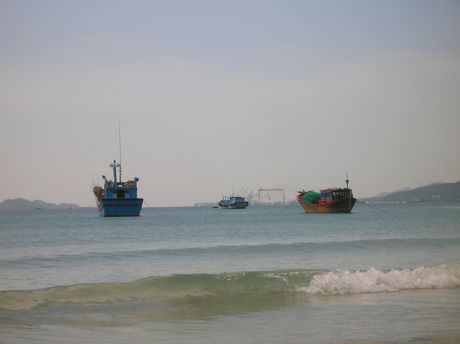 Small Fishing Boats and Modern Shipyard Share Vietnam Coastal Waters
One Response to Working for a Future in Vietnam
cjkd says:
The pictures of Nha Trang are absolutely beautiful. You sure are getting out and about!
The sound ecological use of land for an entertainment park is great. We could certainly learn something here!