Mount Yale Sunrise Hike - Collegiate Peaks
At the crack of dawn with a buddy, catch an awesome high-altitude sunrise on Mount Yale, near Buena Vista, Colorado. You may also see an endangered boreal toad.
by Brad Kerstetter
Hiking Mount Yale is a tiring, fun trip—well worth the effort to catch a high-altitude sunrise. The fifth highest of the Collegiate Peaks, Yale is located west of Buena Vista, Colorado. Though only the 21st highest peak in Colorado it provides some of the most scenic views as it overlooks the Sawatch Range of mountains. 

Sunrise Panorama from Mt Yale. The 21st highest 14er in Colorado, Mt. Yale is known for its beautiful sunrises. It is one of the Collegiate Peaks west of Buena Vista Colorado.
While not a technical climb, you still need to be in good physical condition. The standard route for Yale starts about 12 miles west of Buena Vista on Colorado Road 306. Look for the Denny Creek Trailhead on the northern side of the road. There is a decent sized parking lot. 
To see the sun come up, start hiking about three and one half hours ahead of your expected arrival. Try starting around 2:30 in the morning with the goal of topping out at 6:00 a.m. On a clear day you can snag a few photos of the sun coming up.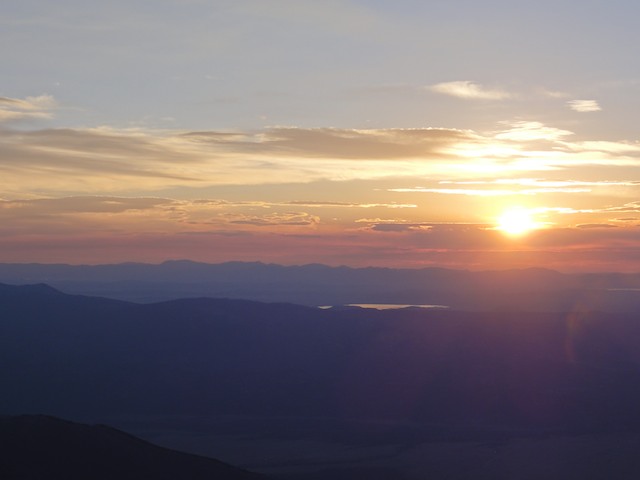 The 21st highest 14er in Colorado, Mt. Yale is popular because of its beautiful vistas.
The standard route for Yale begins with a layer-shedding incline destined to wake up your sleepy muscles. The rapid rise helps you overcome the lethargy of a chilly early start. After a nice little burn, the trail flattens out a bit. If you are lucky, you may find a little amphibian friend.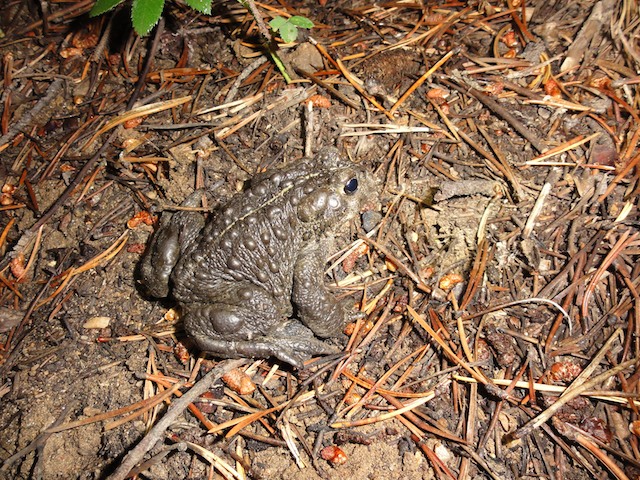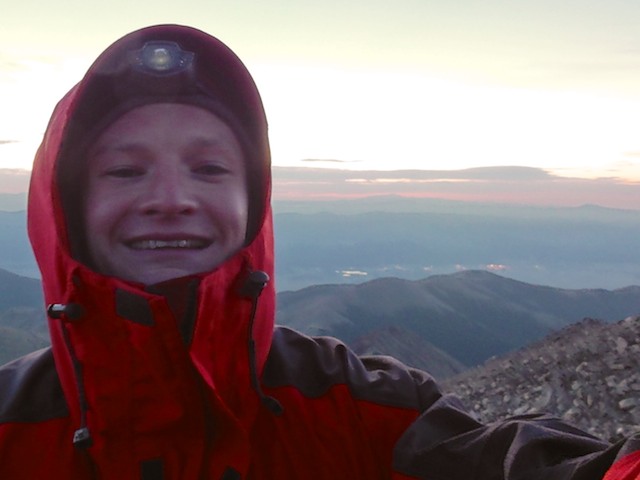 This boreal toad resides on Mt. Yale in Colorado. The author takes a self-portrait just before sunrise.
Later research identified this one as the endangered Boreal Toad.
The trek continues on uneventful  until just above tree-line where the winds pick up. But this should be no surprise. You expect it. After putting back on an extra layer, you push up into the saddle and scramble through the class 3 area along the top of the ridge (or skirt around it on a class 2 ascent).
Moving at a crisp pace, you may hit the summit a bit early—say 5:45 am. So you sit and wait for the sun to rise. It may be a cold and windy wait, but watching the wisps of fog whip past below relaxes you. Bring an extra layer in case you arrive too early to comfortably sit still.
About the Author. Brad Kerstetter lives in Colorado and likes hiking the 14ers.