Martin Luther King Jr. National Historic Site - Atlanta, Georgia
A must-visit, half-day, civil rights history stop in Atlanta, Georgia.
by Bob Kerstetter
The third Monday in January observes the birth, life and legacy of a well-liked, much-hated, widely-respected and suspiciously-eyed Nobel Peace Prize winner.
During his 39 years of living, Martin Luther King, Jr.—his parents named him Michael at birth—diligently taught and pursued skin colorblindness and equal opportunity for people of all ethnic and cultural backgrounds. Using the methods of non-violent engagement, he preached and practiced the American dream of life, liberty and the pursuit of happiness from a predominately Christian point of view. The son of a preacher—and destined to become a Baptist minister himself—Dr. King was born and reared in a financially prosperous, color-segregated neighborhood north of downtown Atlanta, Georgia.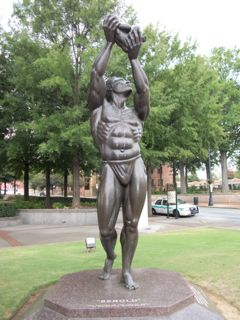 If you must choose only a few places to see when visiting Atlanta—or just passing through—consider spending a least half-a-day at the Martin Luther King, Jr. National Historic Site. This project of the National Park Service resides without fences, gates or entrance fees within the neighborhood where Dr. King was born, grew up, played, attended school, gained his ideals about human relationships and worked as a preacher at the Ebenezer Baptist Church. Here, also, lie his bodily remains interred beside those of his wife, Coretta Scott King, in a white tomb surrounded by a reflecting pool.
There is much to see, consume and digest on the grounds, including several historic and modern structures open to the public. Through a series of audiovisual displays, the Visitor Center traces the life of Dr. King in the context of the politics, economics, religion and general society of his times. It begins with his birth and tracks through his lasting influence following his assassination in Memphis, Tennessee, April 4, 1968.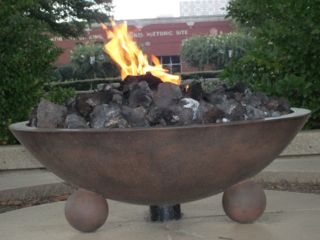 The historic site also contains the birth place and boyhood house of Dr. King. You can visit the house in guided tours limited to approximately 15 persons in size. The house restores the living spaces and shared bedrooms of the King family, including an authentic piano and vintage board games, a favorite pastime of the young Mr. King while growing up. The backyard shows where Dr. King developed his love of baseball. The tour guides tell the story of what his brother and he substituted for baseballs when they could find none. Be sure to ask if your guide forgets this interesting anecdote.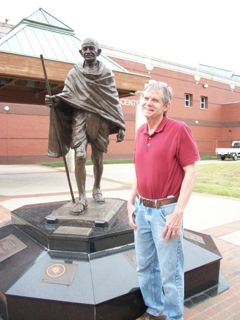 Other attractions of interest include the original Ebenezer Baptist Church, a walk-by historical residential area, Fire Station No. 6, the Freedom Hall, the Peace Plaza and the Freedom Walk, including a life-size statue of Mahatma Gandhi. A larger-than-life sculpture shows an African male celebrating new life by lifting his child toward the heavens and calling out, "Behold!".
Dr. King lived as an oracle of biblical justice, emphasizing the need to treat Black Americans and all other people as equal in the sight of God. The MLK historical site gives you a feel-good view into the background of the man who lead the American Civil Rights Movement for more than a decade. It celebrates his birth, emphasizes his willingness to lead—not send—his followers into protests, demonstrates his sacrifices and illustrates his ability to move the hearts of those who listened.