Ueno Park: Magnet for Museum Aficionados, Zoo Fans and Cherry Blossom Enthusiasts
Ueno Park sits adjacent to one of the busiest train stations in Tokyo, providing easy access to this popular green space.
by Nancy Kerstetter
You can spend a few hours—or all day—exploring the treasures of Ueno Park and still save a lot to do at other times. Located in central Tokyo, Ueno Park provides a grand-scale experience with over 20 museums, several ponds, sports fields, numerous statues, a large fountain, plenty of pathways and more than 1,200 cherry trees on 133 acres. Ueno offers a perfect spot to relax, entertain the family, and meet Japanese people at leisure. Located directly across the street from JR Ueno Station, Ueno Park is easy to get to in a minimal amount of time.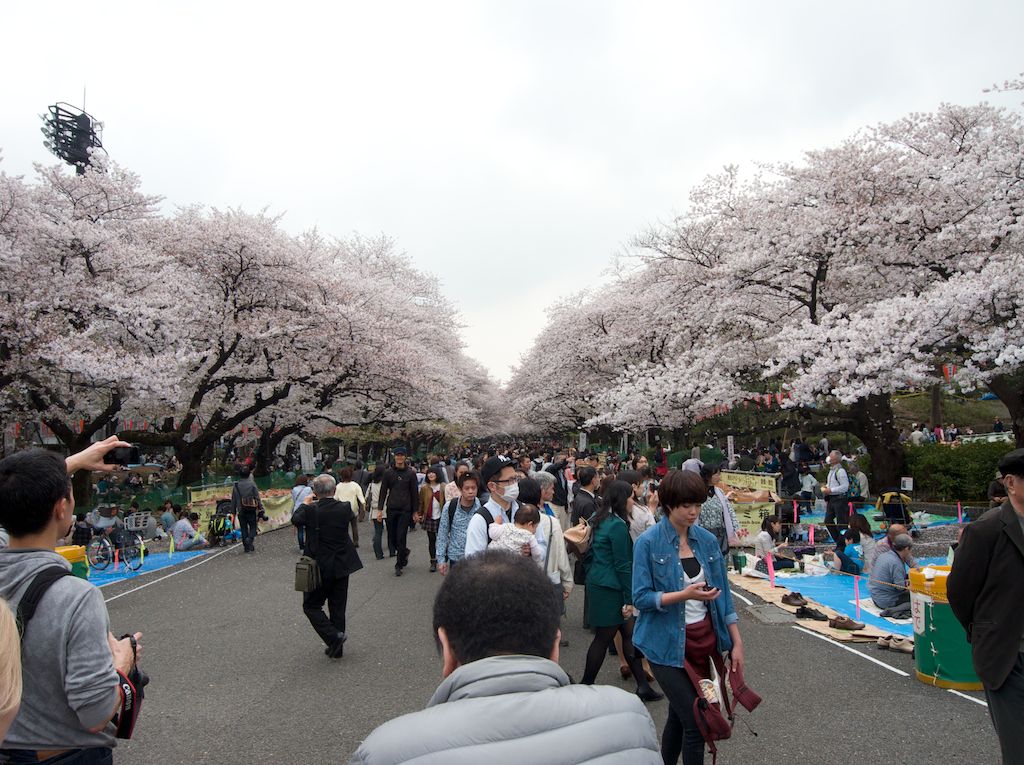 Crowds flock to Ueno Park year round, but especially during the spring cherry blossom time.
Ueno is the oldest public park in Japan dating from 1837. It is on the site of a mighty battle between supporters of the Tokugawa shogunate and those who supported the emperor. Over the years, it served many roles, but now it is set aside exclusively for cultural purposes. Since some of the 20-plus museums are receiving renovations, check online ahead of time to if one in particular appeals to you.
The museums focus on nature and science, Japanese art, Western art, natural history, children's literature, Japanese history, calligraphy, music and sculpture, plus more.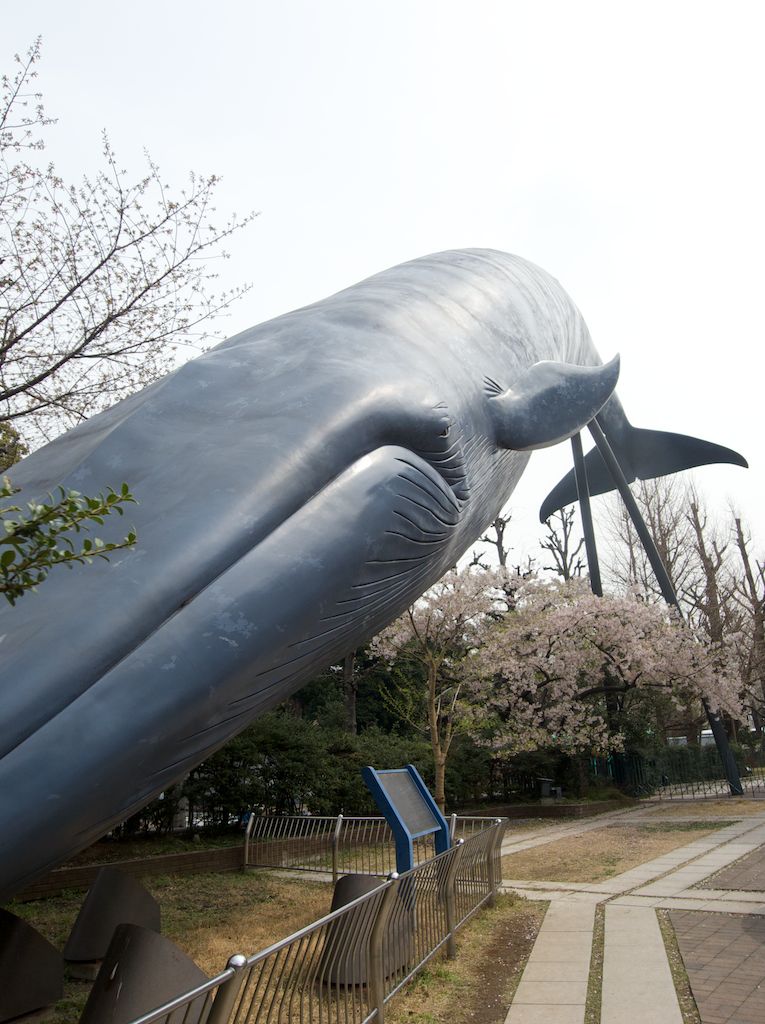 The blue whale, largest mammal on earth, is depicted at full size outside the National Science Museum.
The Ueno Zoological Garden is located inside Ueno Park. Of the more than 2,600 animals calling it home, the giant pandas Ri Ri and Shin Shin are by far the most popular calling cards for the zoo. On weekends, families laden with strollers jam the entrance of this popular destination for children of all ages. The 35-acre zoo is the flagship zoo for all of Japan.  The zoo is closed on Mondays unless Monday is a holiday, then it is closed on Tuesday instead.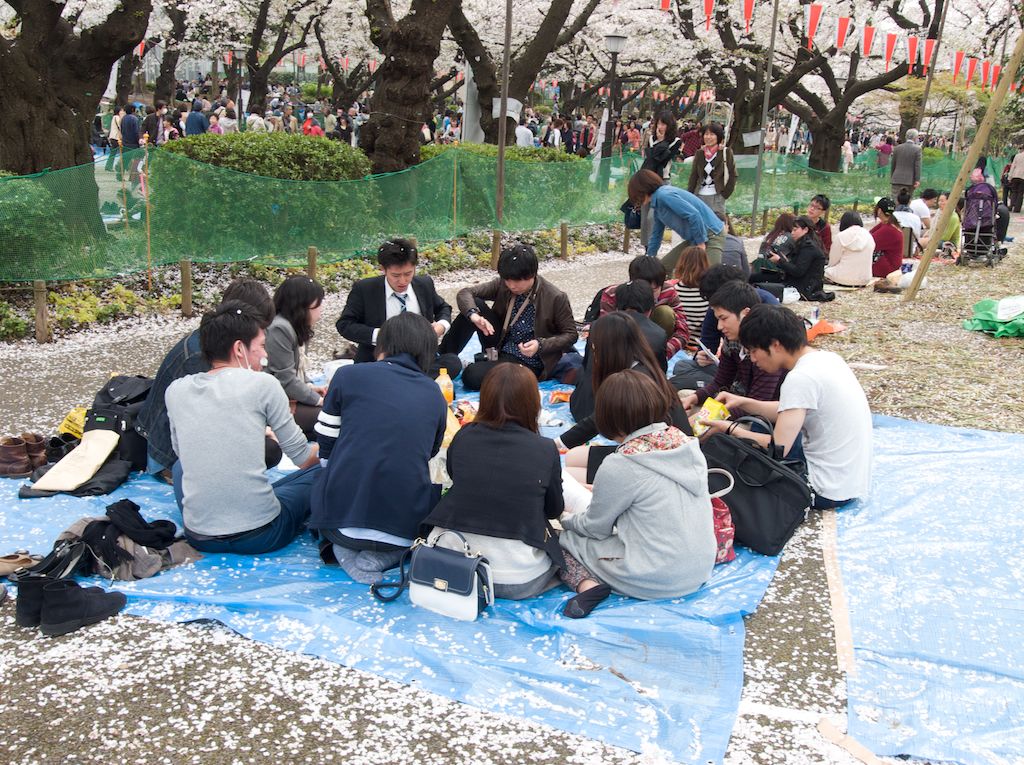 Coworkers enjoy lunch under the cherry trees while petals flutter down from overhead branches and light on their heads.
Originally I was somewhat reluctant to visit Ueno Park due to the fact that some Allied Prisoners of War (POWs) were put on display in animal cages there during World War II. But forgiveness added to the overall attractions of the park prevailed over my reservations, especially during spring cherry blossom season—sakura.
During sakura season, people arrive early in the morning to lay down hundreds of ground-cover tarps, reserving spots for cherry blossom viewing parties called hanami. One person from a group often remains behind to mark the location. Ueno Park boasts more than 50 varieties of cherry trees. Match that with the park's other attractions—plus ease of access—and you find literally thousands of people in the park from early morning to nightfall celebrating spring and the beauty of the sun bloom—fully blossoming—cherry trees.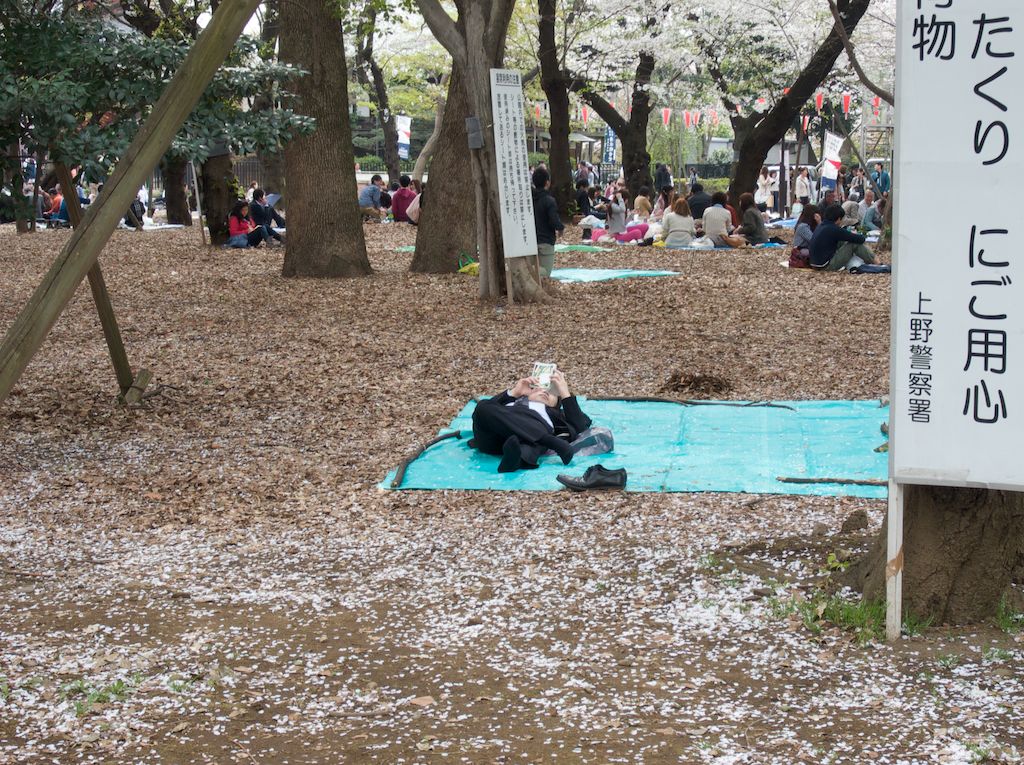 A lone man reclines and reads while holding the spot for a hanami party later in the day at Ueno Park .
From history, an impressive statue of Dr. Noguchi Hideyo stands near the National Science Museum and its imposing full-scale blue whale sculpture. A research physician, Dr. Hideyo studied syphilis and yellow fever—seeking treatments and cures. He contracted yellow fever in Africa and died in 1928 at age 52 . His likeness also marks the commonly used 1,000 yen bill—more or less equivalent to 1,000 pennies or 10 US dollars.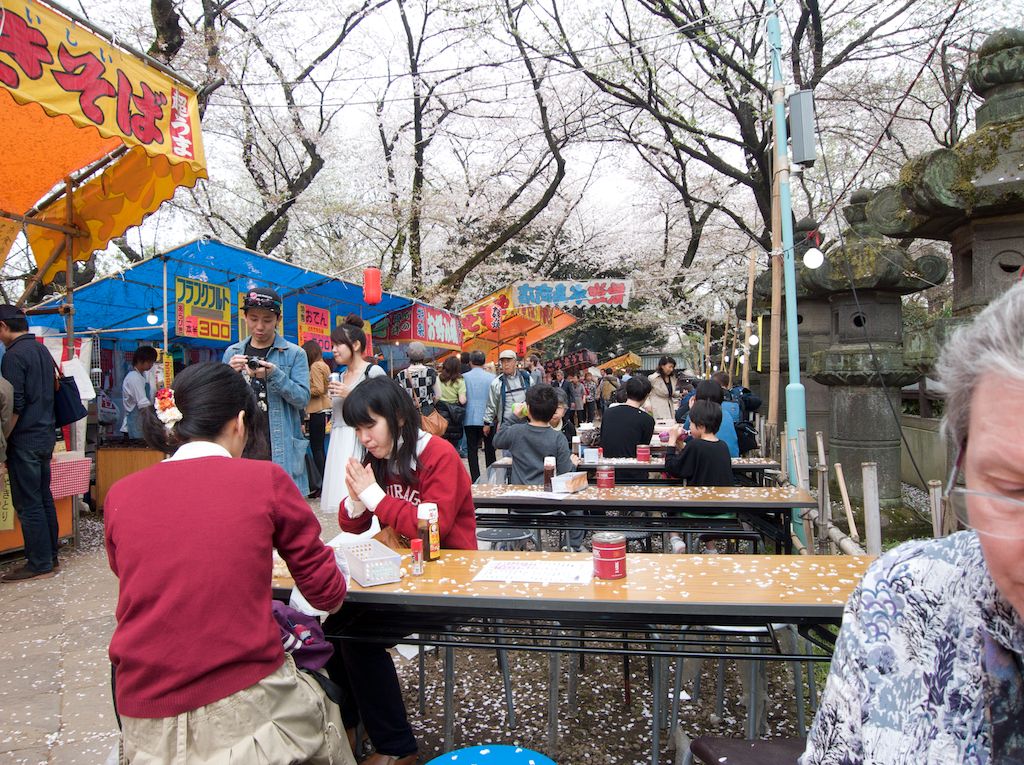 Vendors set up food stands to cater to the crowds of park visitors for special occasions. Note the cherry blossom petals on the tables and ground.
Nearby a Starbucks stands in the center of the park. Another noteworthy restaurant there is Ueno Seiyoken, one of the first in Japan to serve Western cuisine beginning in 1872. Former US president Ulysses S. Grant and his family were guests of honor on their visit in 1879. A modest monument commemorates Grant's visit and gift of trees to the park. The monument is south of the Starbucks and behind the tall equestrian statue of Prince Komatsu Akihito, a Meiji era military figure, diplomat, world traveler and humanitarian. 
Volunteer guides from Tokyo SGG Club offer free tours on Sunday, Wednesday and Friday at 10:30 and 13:30 on a first-come, first-served basis. The knowledgeable guides share the park's history and main features during the 90-minute tour. After the overview, you can set aside time to visit the museums or attractions that particularly interest you.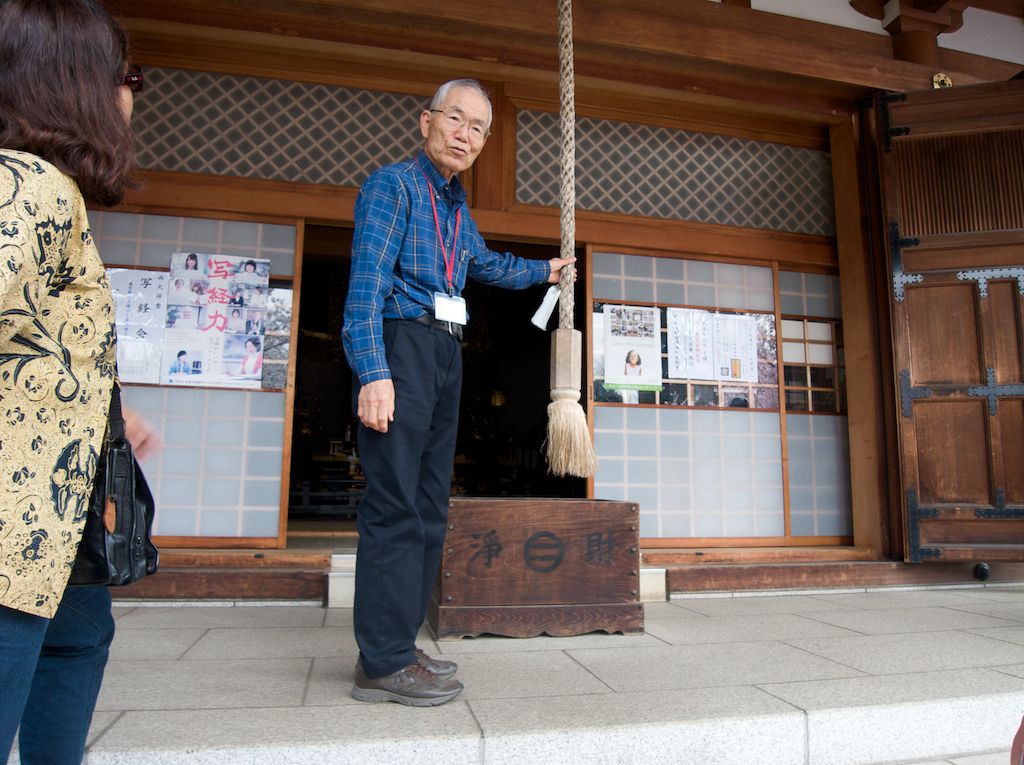 Volunteer guide June Iwami explains Buddhist worship customs at Kanei-ji Temple.
Our guide took us to Kanei-ji Temple where he was able to demonstrate and describe the customs required for a temple visit by a Buddhist. He also explained the proper of way of worship and respect at a Shinto shrine, Gojo Tenjin. 
To join a free tour, meet 10 minutes prior to the scheduled tour at the Green Salon next to the cafeteria (near the National Museum of Western Art) on the eastern edge of the park.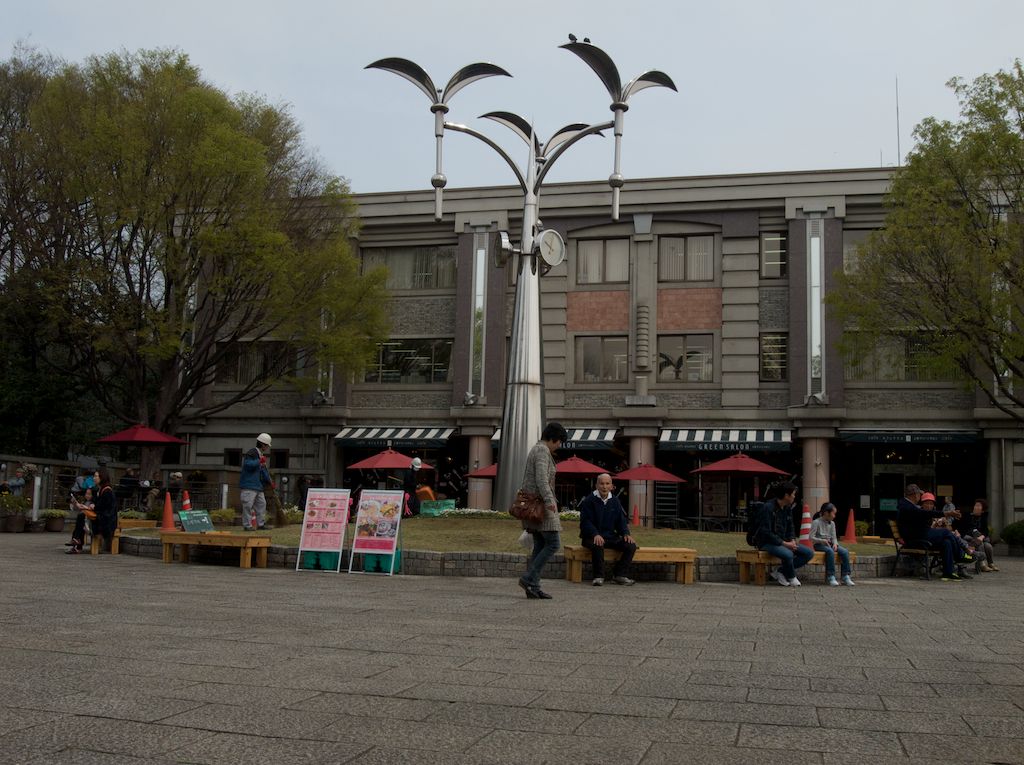 Stunning contemporary clock tower stands in front of the Green Salon where tourists congregate for free guided tours of Ueno Park.
Other park attractions include boat rental and kiddie amusement rides. Near the park you can rent bikes. This would be a fun way to traverse the park on weekdays when the byways are likely to be less clogged—except during the exceptionally busy cherry blossom season.
After dark, Ueno Park provides shelter to numerous homeless people. You may observe their neatly packed bundles hooked to railings along the perimeter of the park. Police used to shoo them out of the park but the policy has changed so they are allowed to sleep there now. They should cause you no concern. You will not be approached for hand-outs, as that is not the Japanese way.
Ueno Park is a safe, beautiful and very diverse destination. It is a good place slow down, absorb past and current culture, relax and meet Japanese people.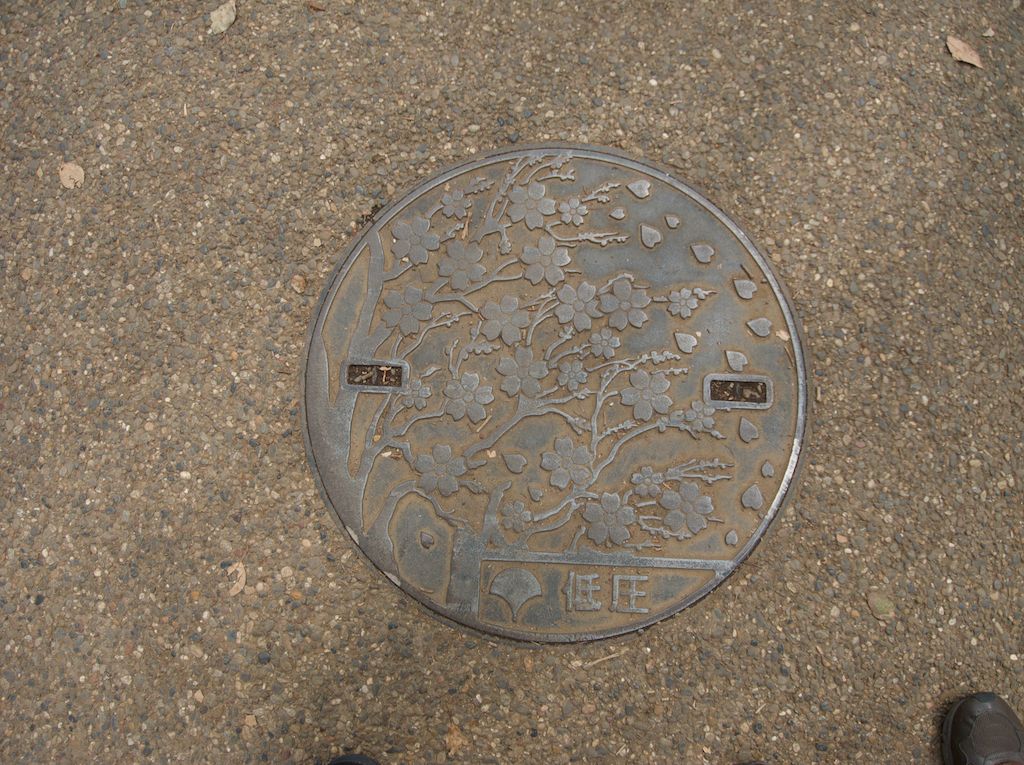 Even the manhole covers pay tribute to the famous cherry trees at Ueno Park. The park has 50 varieties for a total of 1,200 cherry trees.