Tokyo Kite Museum
Kites originally first flew over Japan as elements of religious celebrations, but soon became popular with almost everyone. You can imagine why.
by Bob Kerstetter
Treasures in Japanese Stairwells
When you walk steps in Japan you often discover things you might miss by riding an elevator.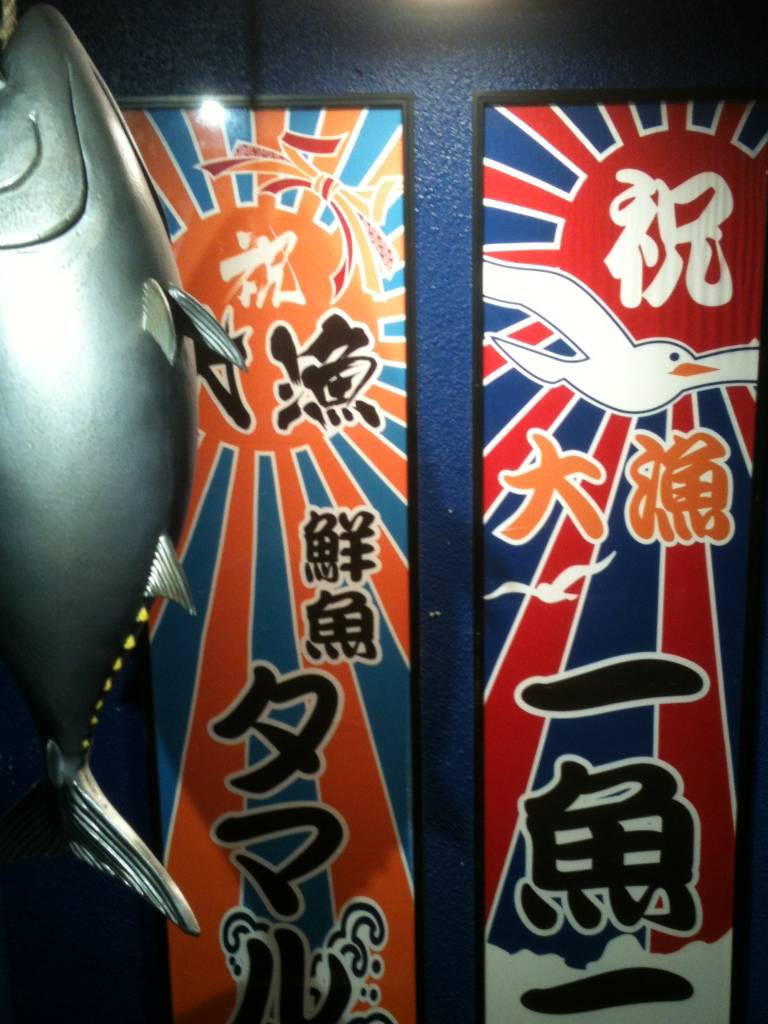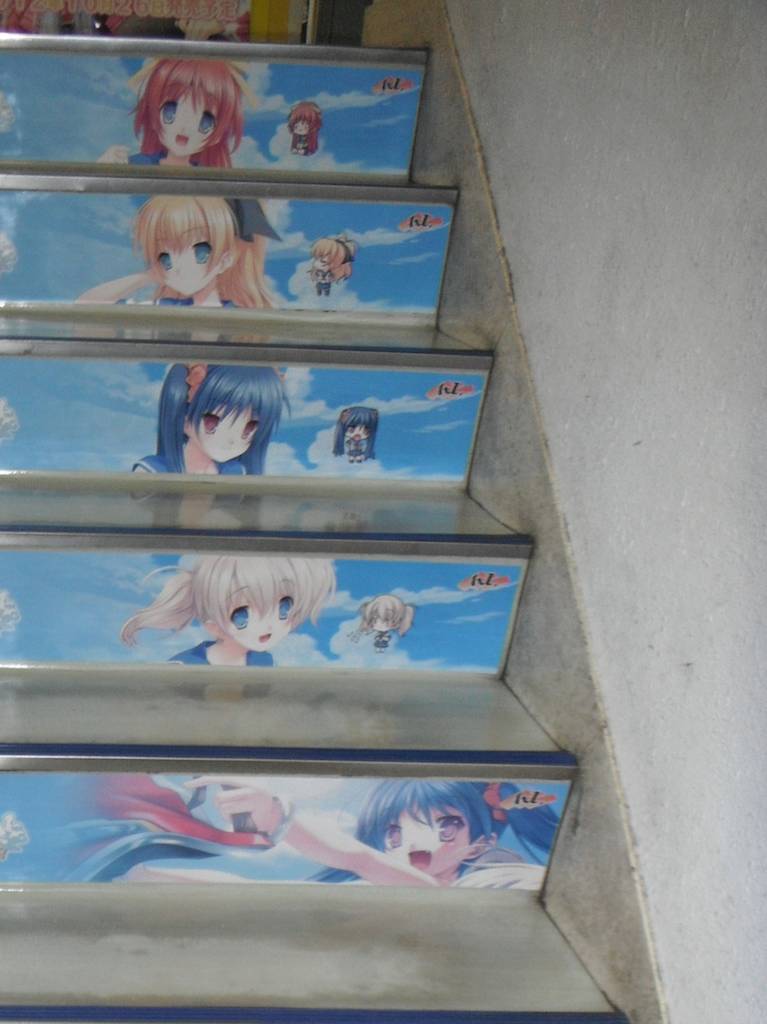 Stairwell banners and a 3-D sign advertise a fish restaurant two or three levels below the street in Tokyo. Ads between floors advertise manga and anime at an Akihabara media store.
Stairwells—especially in sites flowing with food and merchandise—frequently reveal interesting and helpful information in the forms of signs, banners, murals and what-have-you. Changing levels on foot also mixes your path with other pedestrians who—often surprised to see Westerners treading the risers—may stop to chat or offer help.
So it happens when we turn toward our fifth floor objective. We believe powering our ascent by foot might reward us with something other than aerobic points. But with our focus running ahead—thinking about our target—we overlook everything calling us aside in the here and now. Up we scramble. Then we meet the third floor.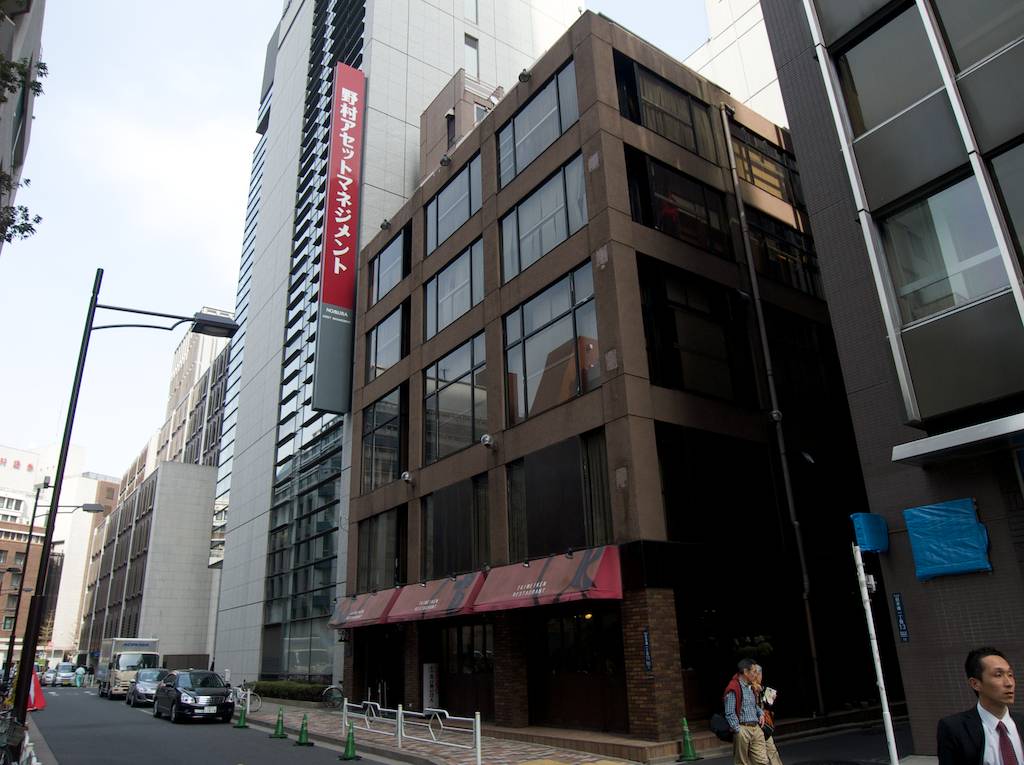 Our target sits on the fifth floor of the Taimeiken Restaurant building at 1-12-10 Nihonbashi, Chuo-ku, Tokyo, 103-0027, Japan.
When we alight on the landing a restaurant waiter envisions us as lost. Why else would we walk? Eager to assist, he approaches, signaling with his hands. We respond in kind. Correctly guessing our destination—why else would we walk up these steps?—he escorts us to the automated lift, presses number 5, backs out, bows and replies "my pleasure (どういたしまして)" to our "thank you (おかげさまで)" as the doors close.
When they reopen seconds later, a man in the far right corner hovers over a creation on a raised work space. Accented with a silver beard and ponytail, he rivets his attention on his labor—labeling himself as an artisan. While not expecting to see him, we would love to watch the craftsman create.
Ancient and Modern Lightweight Art
During several previous trips to Japan, we desire to visit here, but never make it. Time, distance and camouflaged location—at least camouflaged for self-guided beginners in Tokyo—conspire to delay this adventure. Today, we conquer all three and arrive at the headquarters of the Japan Kite Association—the Tokyo Kite Museum.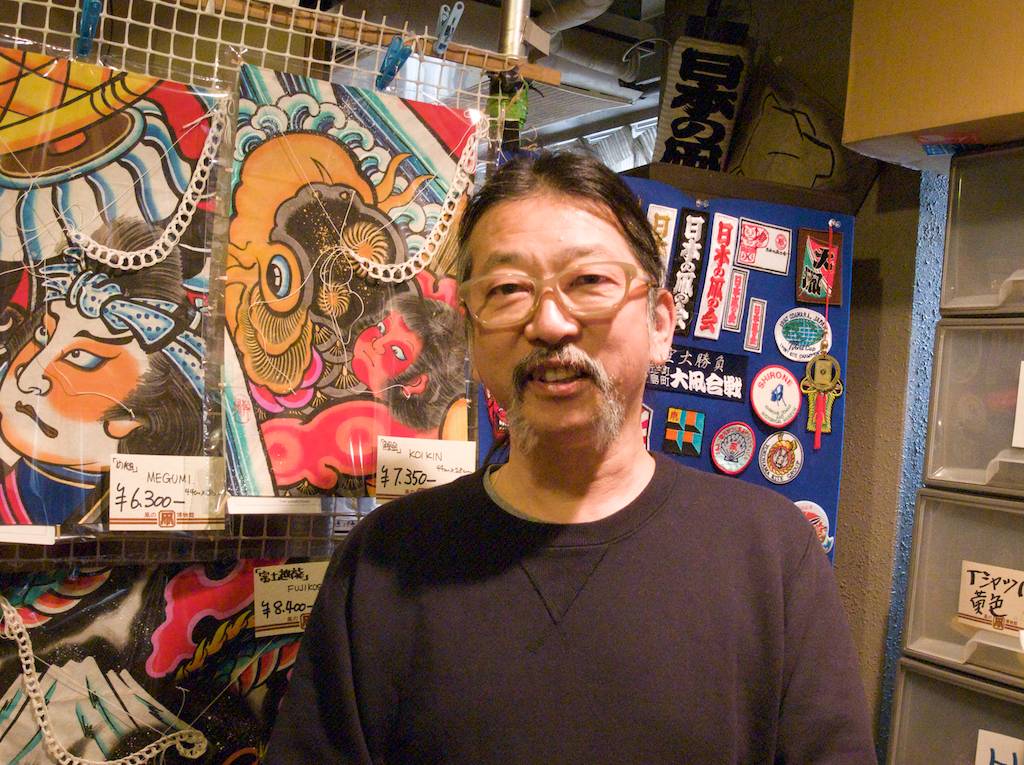 Masami Fukuoka serves as the Secretary General of the Japan Kite Association and operates the Tokyo Kite Museum.
Japan—along with the rest of the world—loves kites. Kiting immigrated to Japan from China or Korea or both sometime during the Sixth, Seventh or Eight Centuries—no one really can verify the facts any closer than this. Kites first flew over the Rising Sun as elements of religious celebrations, but soon became popular with almost everyone. You can imagine why.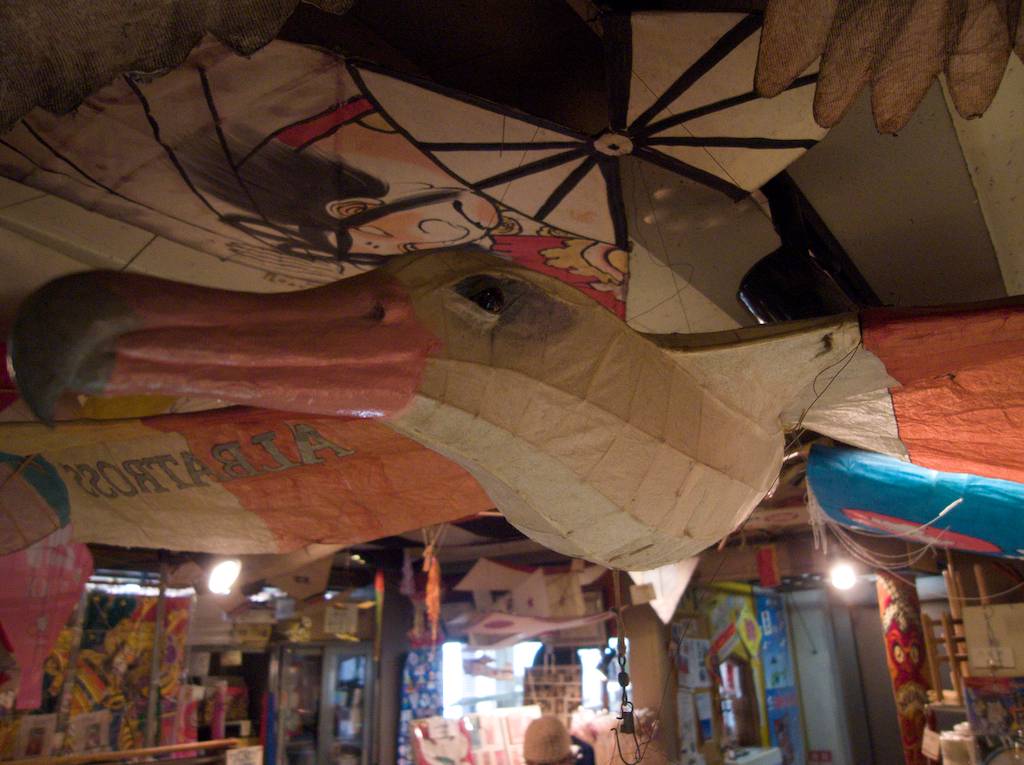 A large albatross kite gives you the eye at the Tokyo Kite Museum.
Kites help satisfy our fascination with flight—giving us the sense of fluttering, flapping and soaring alongside the winged creatures. They assist in our drive to manage the skies. Kite fighting reigns as a popular Japanese activity for both ariel warriors and spectators. Well-designed kites ask very little and provide hours of relaxation, adventure, sport and fun.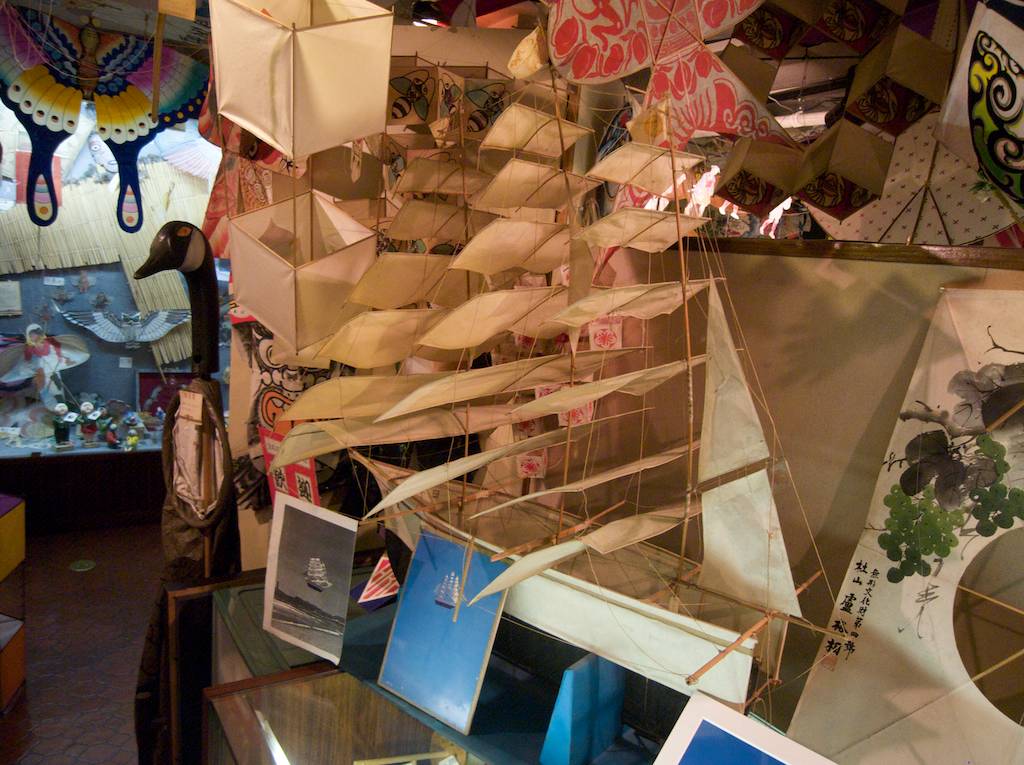 This sailing ship kite actually files according to those who know it at the Tokyo Kite Museum.
Japanese kites assume the shapes of rectangles, triangles, polygons, birds, insects, fish and dragons. Some sail the skies as seagoing ships. You can fly kites indoors with artificial wind and outdoors in steady breeze. Kites fly as small as a couple of square centimeters. Those multiple meters in height and width can lift numerous people from land or sea.
With a little bamboo and paper, plus a sharp edged cutter, some rice paste and a length of hemp twine, everyone can go fly a kite.
Kites Hobby for Restauranteur
Kites attracted the interest of Shingo Modegi, a Japanese businessman. He began collecting the bamboo fliers as a hobby. His living came from Taimeiken, a popular restaurant in the Chou ward of Tokyo. When his collection grew large—currently more than 3,000—he opened and funded the museum on the fifth floor of his restaurant building. The museum kites originate from many Asian countries, but the majority belong to the varied category called traditional Japanese.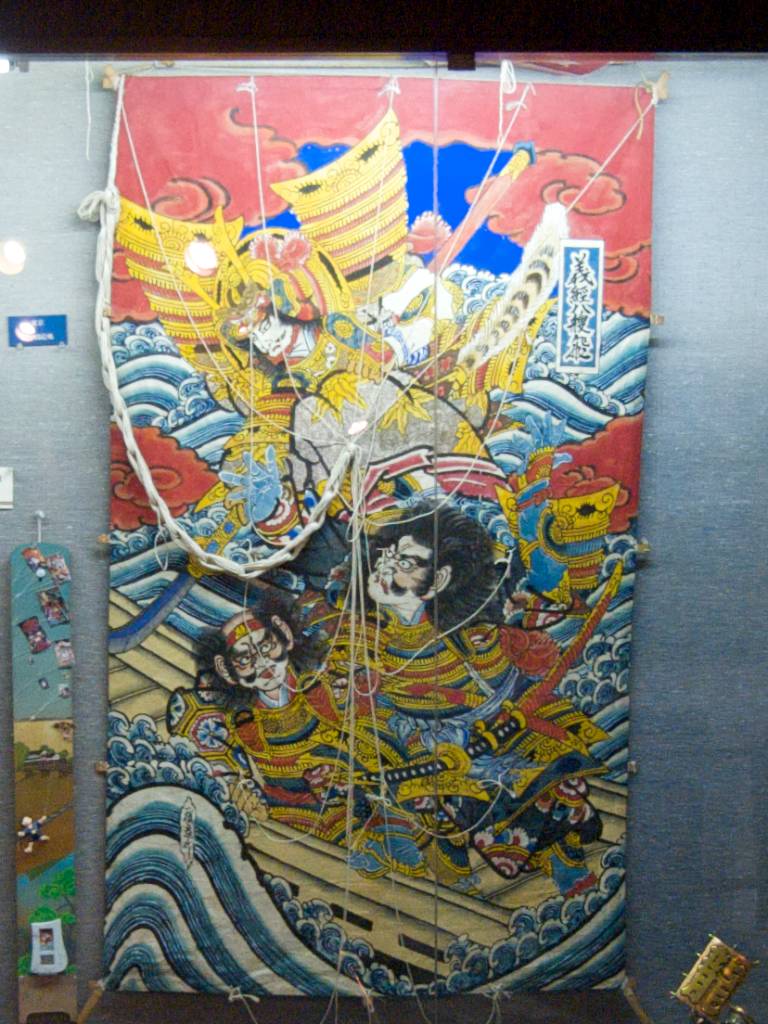 Large rectangular kites sometimes carry the images of warriors or kami or both.
Kite maker Masami Fukuoka greets us as we leave the elevator and step into the museum. He currently manages 凧の博物館—the Kite Museum. We speak briefly with him in simple Japanese until an American kite geek arrives and they start chatting in fluent English. Masami-san learned English as a youth while working as a roadie for American bands playing Japan. Today he runs the museum, serves as Secretary General of the Japan Kite Association and builds kites. He still likes music. He tells us taking photos is fine.
Some Museum Kites
The kite archive condenses several hundred years of flying into a relatively small space. Kites hover off the walls and sail from the ceilings. They sit on shelves and float inside glassed display cases. We immediately notice a seagull—no, an albatross—winging its way skinless in bamboo frame form. Something about it reminds us of the Japanese anime Laputa—released in America as Castle in the Sky.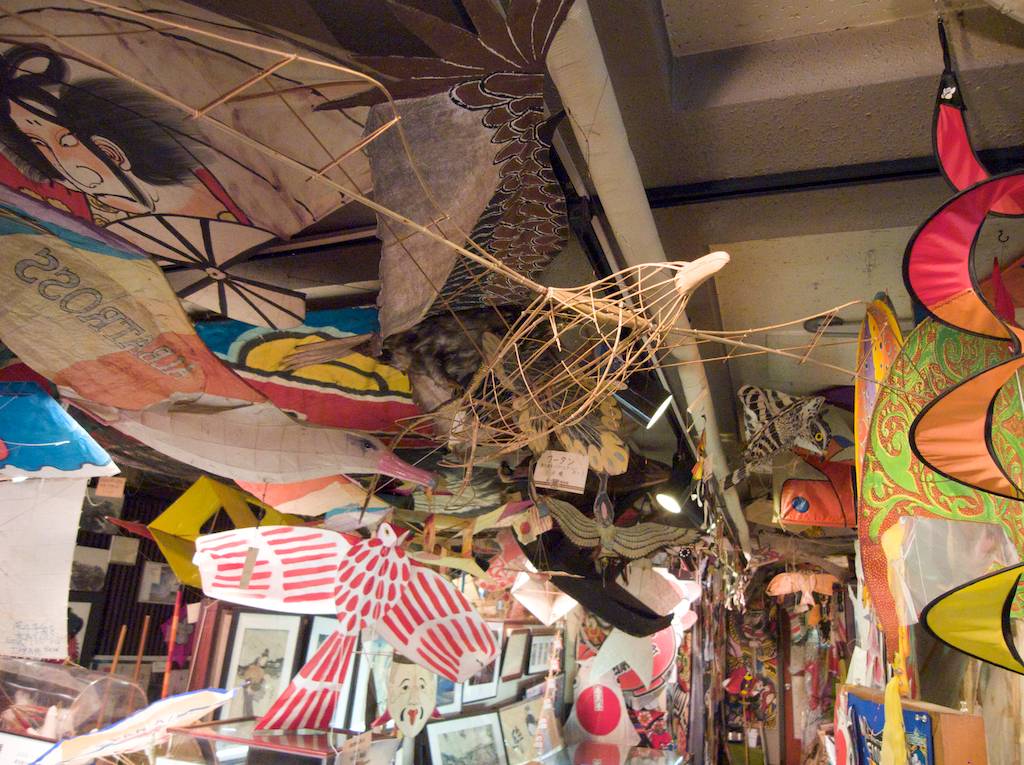 A bamboo frame albatross sails from the ceiling at the Tokyo Kite Museum.
Large Tsugaru kites—some of the few made without bamboo frames—hover inside protective glass cases. These kites come from Aomori Prefecture in the northern part of Japan where cold weather discourages bamboo growth. Instead of bamboo, thinly sliced cypress builds their structures. Tsugaru kites carry aloft the thickly outlined and brightly color images of Japanese warriors.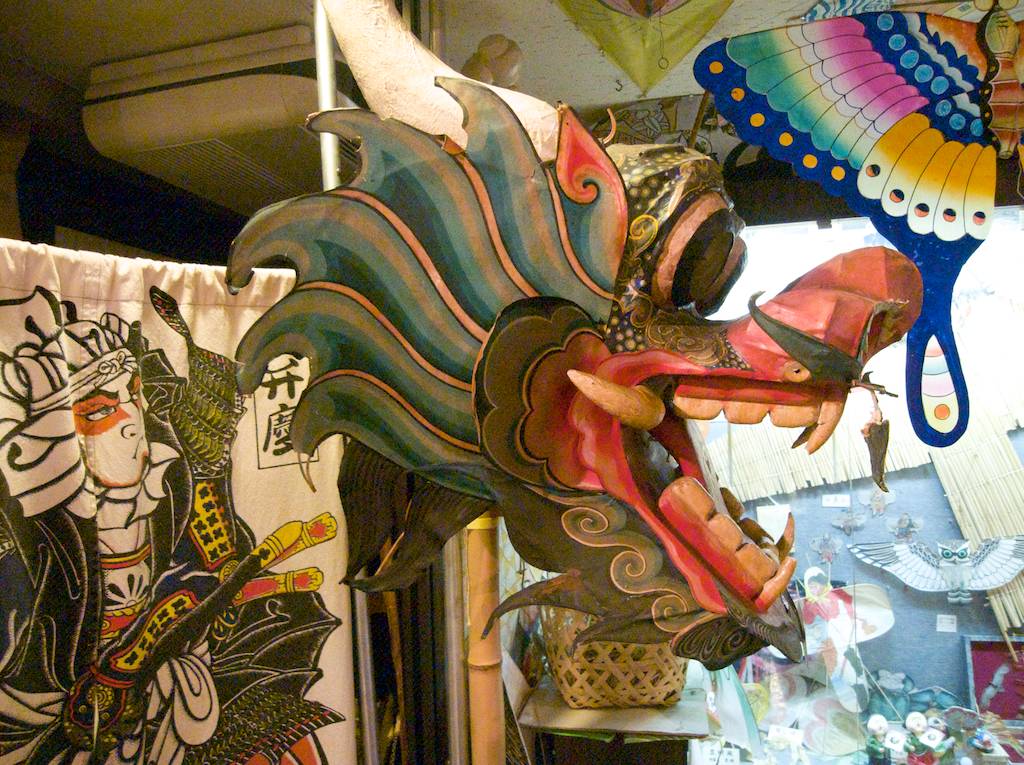 During its flying days this head topped the body of a dragon kite. Today it shares some of its memories with visitors to the Tokyo Kite Museum.
Across the room float two other kites reminiscent of war. Looking much like the coffin-shaped kites of 1950s America, these bear the images of Japanese and German warplanes—one plane for each kite. Masami-san says siblings of these flew as practice targets for American antiaircraft gunners during World War WII. While authentic, the museum pair escaped gunnery practice.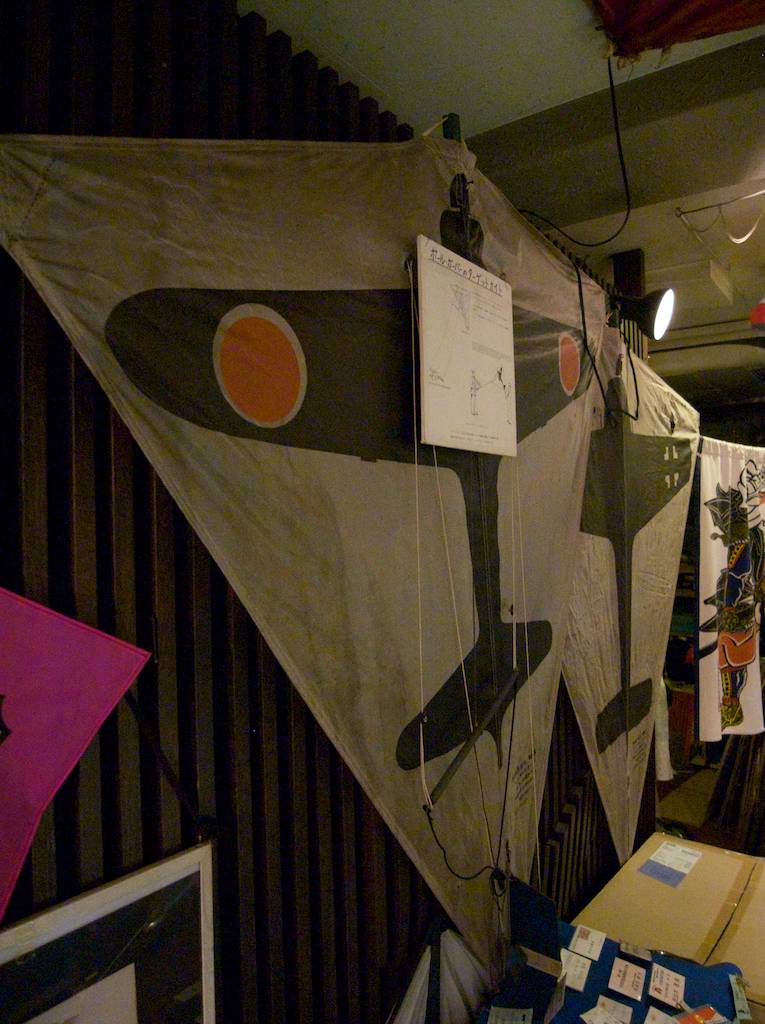 U. S. antiaircraft gunners practiced on kites identical to these during the Pacific War. These kites hang at the Tokyo Kite Museum
Other museum pieces take the forms of butterflies, ladybugs, cats and kami—the latter representing spirits of the Shinto way of life. One kite in particular highlights our ability to misidentify lions, dogs and dragons, all important creatures in Japanese culture. What we first pick out as a lion, transforms into its rightful self—a dragon head for a lengthy flying body—after we receive an explanation from Masami-san.
Kite Building Materials
At the same time the museum displays kites of the past, it supplies materials for builders today. Current kite makers come here for bamboo, paper, glue and paint, plus knives, brushes and other tools of the art.
Extremely sharp blades easily slice bamboo to make staves for kite frameworks at the Tokyo Kite Museum.
When looking over the supplies we ask about the thinness of the bamboo staves. In reply Masami-san takes one in hand and slices it even thinner as a sampling of kite making skill. When he hands us the bamboo and blade we attempt a slice, which easily creates two long pieces from one. Giving credit to the knife, we name it "scary sharp" and return it handle first to its owner, a true kite artist.
As it turns out, the artisan working on the elevated platform across from the elevator door stays on the job 24-hours each day, seven-days a week. What looks like a man at quick glance soon makes itself known as a mannequin, part of the museum exhibits.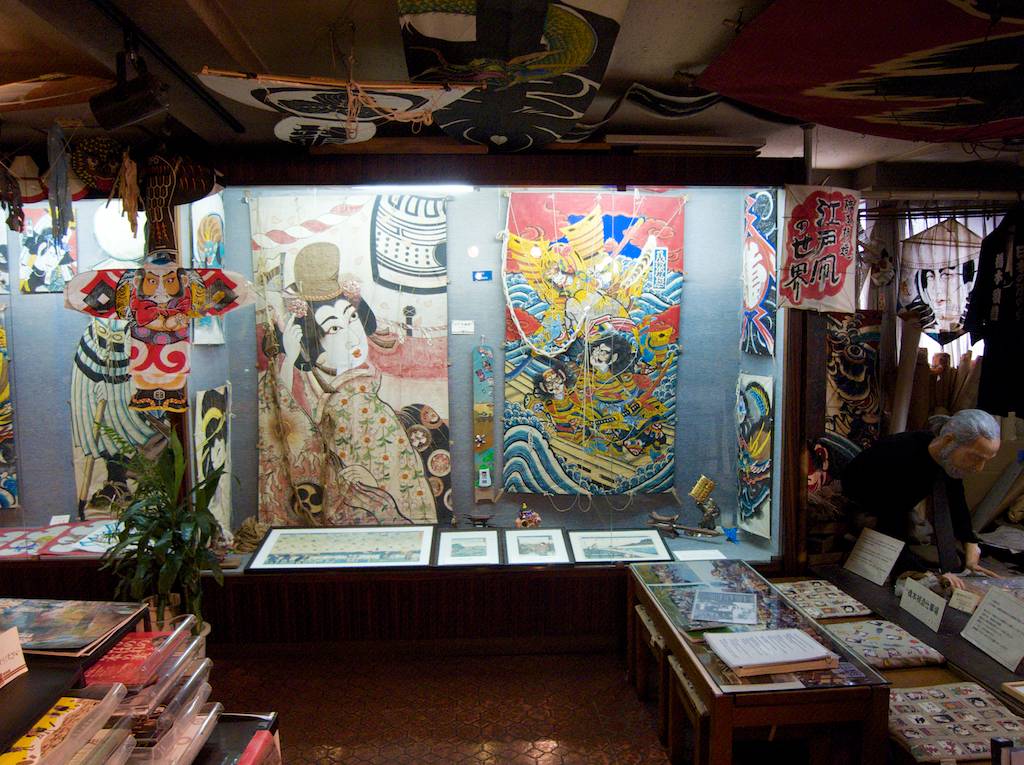 Kites drift from the ceiling, hang from the walls and hover inside display cases at the Tokyo Kite Museum. The artisan working on the raised space ends up as a mannequin.
After missing the Tokyo Kite Museum during three previous visits to Japan, we remain here for 90 minutes or more, absorbing the colors, creativity and passion of kite flying. When leaving, we descend by elevator.
Location of Tokyo Kite Museum
The Tokyo Kite Museum resides on the fifth floor of the Taimeiken restaurant building.
Is open 11:00 to 17:00 Monday through Saturday.
1-12-10 Nihonbashi, Chuo-ku, Tokyo, 103-0027
Find the Tokyo Kite Museum - A Visual Guide
Follow the purple pin!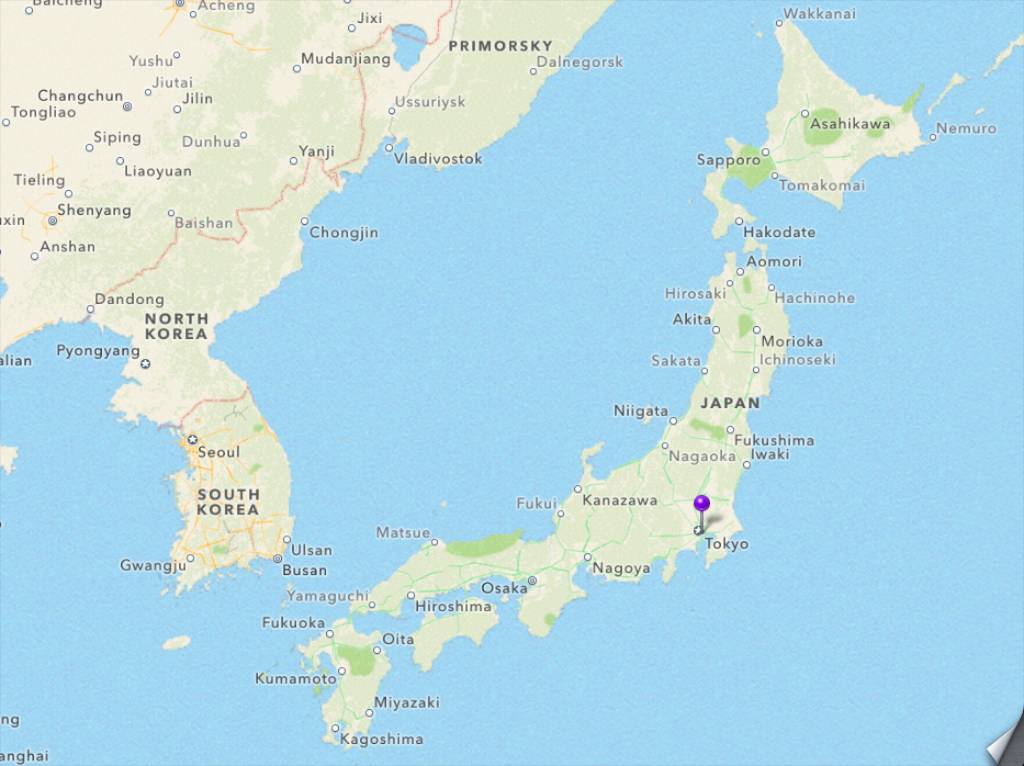 The Tokyo Kite Museum is in central Tokyo…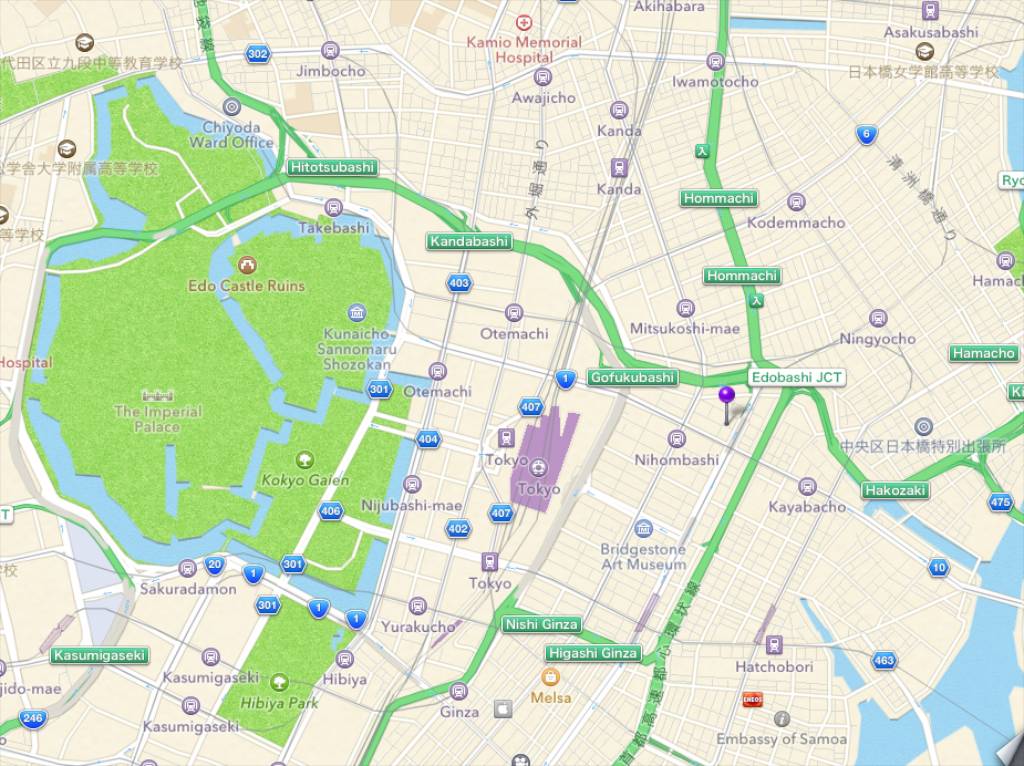 …near Tokyo Station, the Imperial Palace and Nihobashi (Japan Bridge)…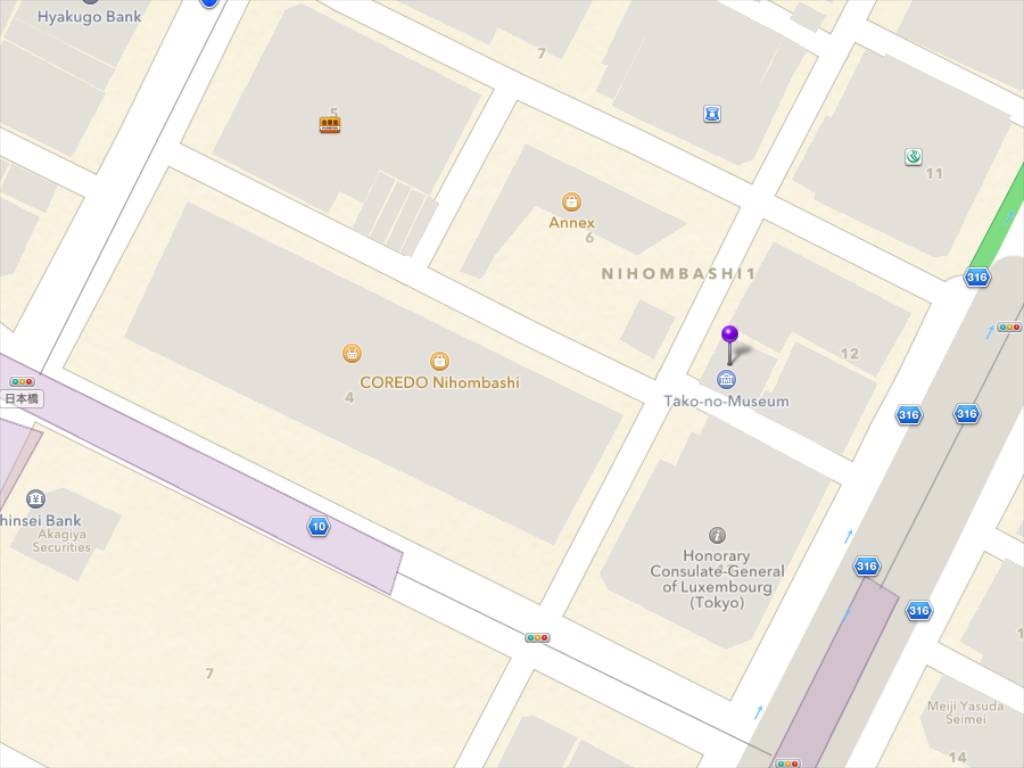 … at 1-12-10 Nihonbashi, Chuo-ku, Tokyo, 103-0027
Japanese Words in This Article
English, Hiragana, Kanji, Pronunciation
thank you, おかげさまで, お蔭様で, okagesamade
my pleasure, どういたしまして, どう致しまして, douitashimashite
kite museum, たこのはくぶつかん, 凧の博物館, tako no hakubutsukan