Japanese Shoe Etiquette
Everyone seems to be aware of the no-shoes-inside customs of Japan. How do you wear shoe etiquette seamlessly?
by Nancy Kerstetter
Shoe Rules Common in Asian Cultures
Travel to many Asian countries requires a knowledge of shoe etiquette. Most Asian cultures from Vietnam to India and Singapore to Japan have deeply entrenched traditions about removing shoes before entering homes and other indoor places.
Seasoned travelers who wish to fit in whenever possible, should look into such cultural expectations before venturing to the Land of the Rising Sun. In this way you have a general understanding of local customs before your arrival. 
While everyone seems to be aware of the no-shoes-inside customs of Japan, how does a visitor navigate shoe etiquette without stepping on toes?
Shoes in the Home and Hostel
Shoes must be removed before entering a private home. Doubtless you will be reminded when you see a line up of shoes in the entryway. Some hosts provide slippers for guests. If so, they are always nearby. But going shoeless is not limited to homes.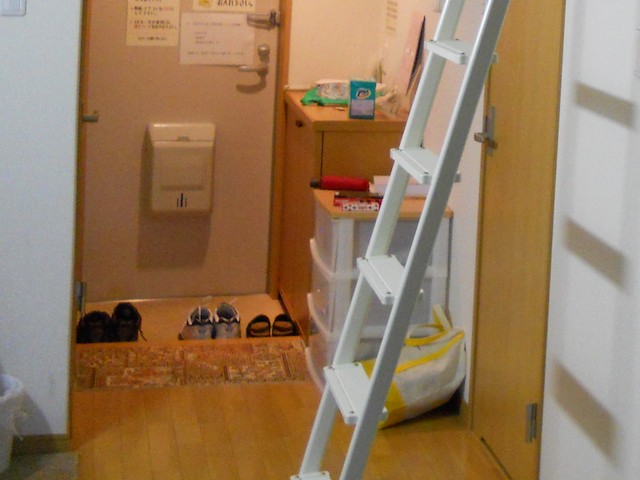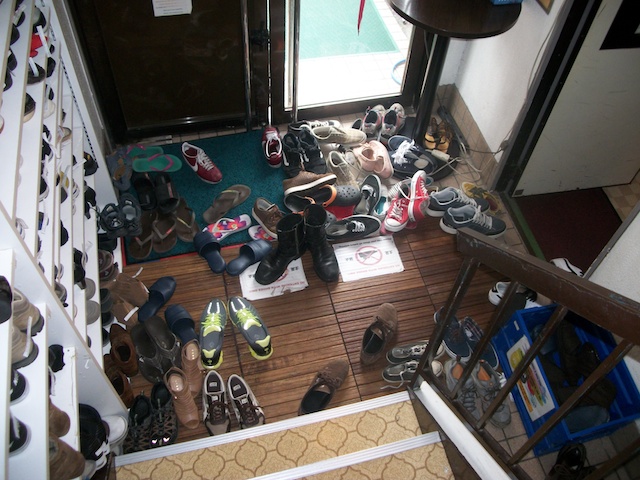 In a home, ryokan or inn, you removed your shoes and face them outward, toward the door. Shoe storage in a hostel entryway can be rather random due to the number of shoes going in and out.
Many traditional inns known as ryokans and hostels also require you to deposit shoes at the front door. Even hotels provide slippers for use in your room. 
Slippers and Tatami Floors
If the flooring of your bedroom is tatami — a woven straw mat — remove slippers before stepping on it. Only bare or sock feet are allowed on these floors. 

No shoes or slippers of any type are permitted on tatami floors.
Shoes in the Toilet Room
Many establishments provide special slippers for use in the toilet area. As a visitor to Japan, you should abide by Japanese customs. Slip into the special footwear even though you might consider it tedious. Toilet slippers stay inside the toilet room. You switch from indoor slippers to toilet slippers on a wooden platform at some inns. Switch back to indoor slippers before reentering the rest of the living area.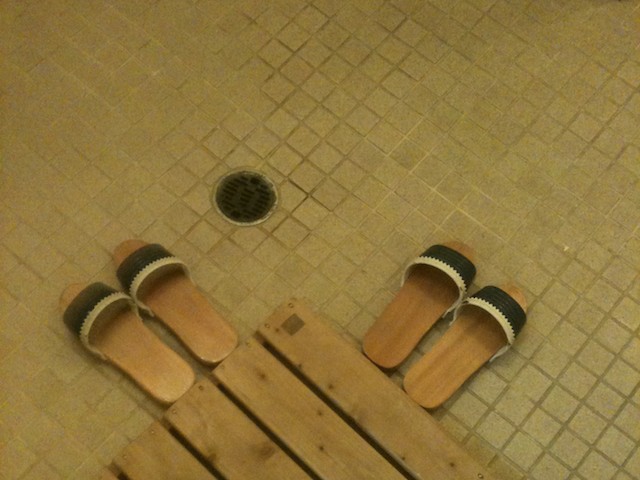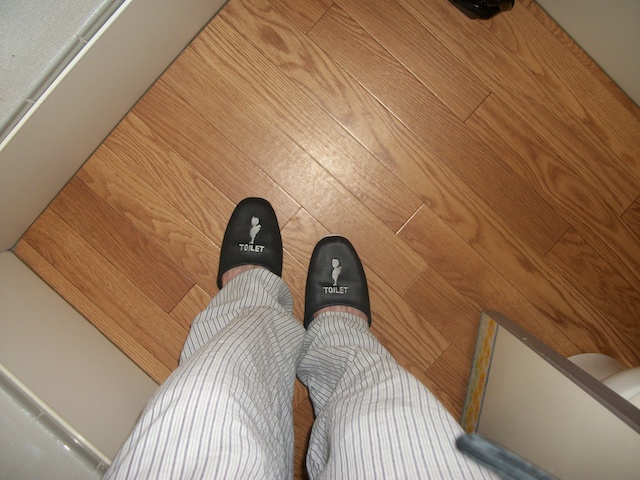 Before you step off the wooden platform, switch into the bathroom shoes. This is the Japanese way in many inns, ryokans, hostels and homes. Often, toilets slippers are worn instead of bathroom shoes.
Shoes at Japanese Restaurants
Some restaurants also have a no-shoes policy. In such cases, they may provide slippers and a cubby hole or locker for your shoes. Restaurant personnel direct you to a bench for shoe removal, so you know for certain when it is required. You can also know by watching what Japanese patrons do.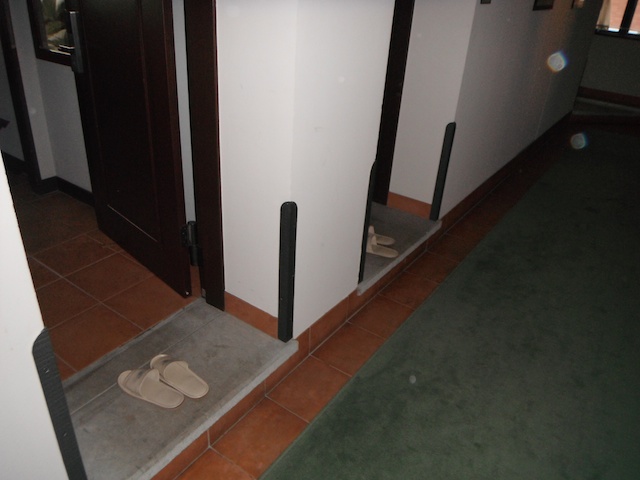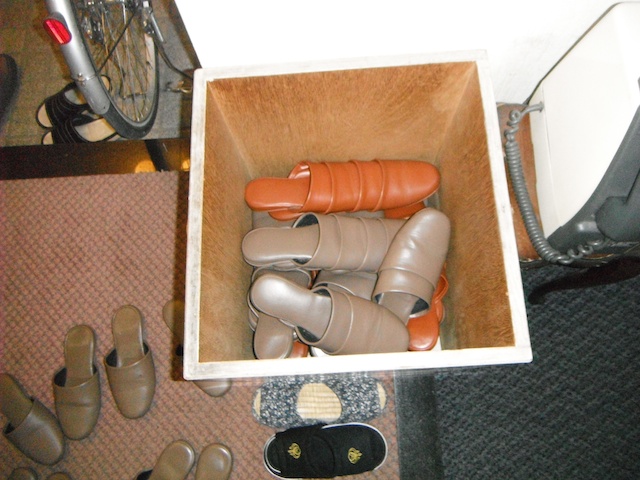 Many hotels provide slippers for your use inside the guest room. Many establishments sanitize and clean the public-use slippers daily.
Remove and Put On Shoes Gracefully
Now you are aware of the widespread custom of no-shoes-indoors, think ahead about how to remove your shoes gracefully. You may or may not have a seat for this procedure. Make it easy on yourself by planning which shoes you will wear in Japan and how to remove them easily while balancing on one leg. Obviously slip-on shoes make the job quick and easy, but slip-ons are not always the most comfortable for extensive walking. A trick for tourists with tie shoes is to leave the last eyelet laceless and tie the laces loosely. This converts a walking tie shoe into a slip-on.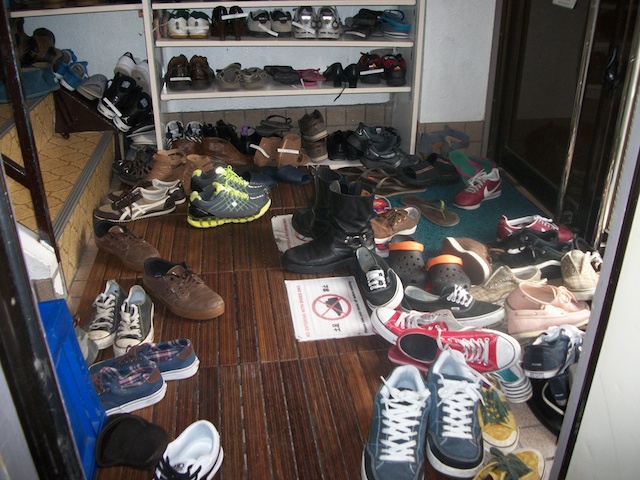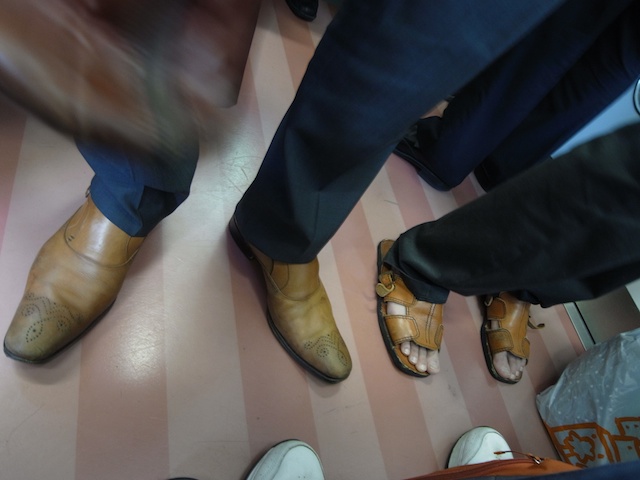 Find your shoes and a spot to balance or sit while putting them on. While most Japan business men and women wear professional-looking leather shoes, you also see trendy boots and sandals on commuter trains.
Shared Slippers and Hygiene
Japan is a very hygienic society, but you still may not want to put bare feet into slippers that others might have worn since their last cleaning. To get around this, women can carry a small pair of shoe liners in their bag for a quick transfer before placing feet in public slippers, or wear socks or stockings with your shoes. 
As with other customs, be aware of what others around you are or are not doing for a cultural cue as to what is expected when traveling in Japan.