A Day Trip to Yoshino-yama - Taking the Last Train Home
Mount Yoshino in the Nara Prefecture operates as a natural organic tranquilizer. Even hyper-A-type, anxious, imperative and wound-up folks decompress at least a little.
by Bob Kerstetter
A Natural Organic Tranquilizer
Travelers head toward Yoshino-yama—吉野山 in Japanese—for thousands of reasons, maybe more. But whatever your motive—see beautiful sights, breathe clean air, clear your head, enjoy invigorating hikes, connect with your god, soak up unnamed colors, escape crazy city traffic, shop for crafts, make new friends—you return from the ascent more chilled than when you arrived. Everyone drops off some of their troubles like extra pounds falling away when hanging out on Yoshino-yama—a mountain gracious enough to receive a quantum of your cares.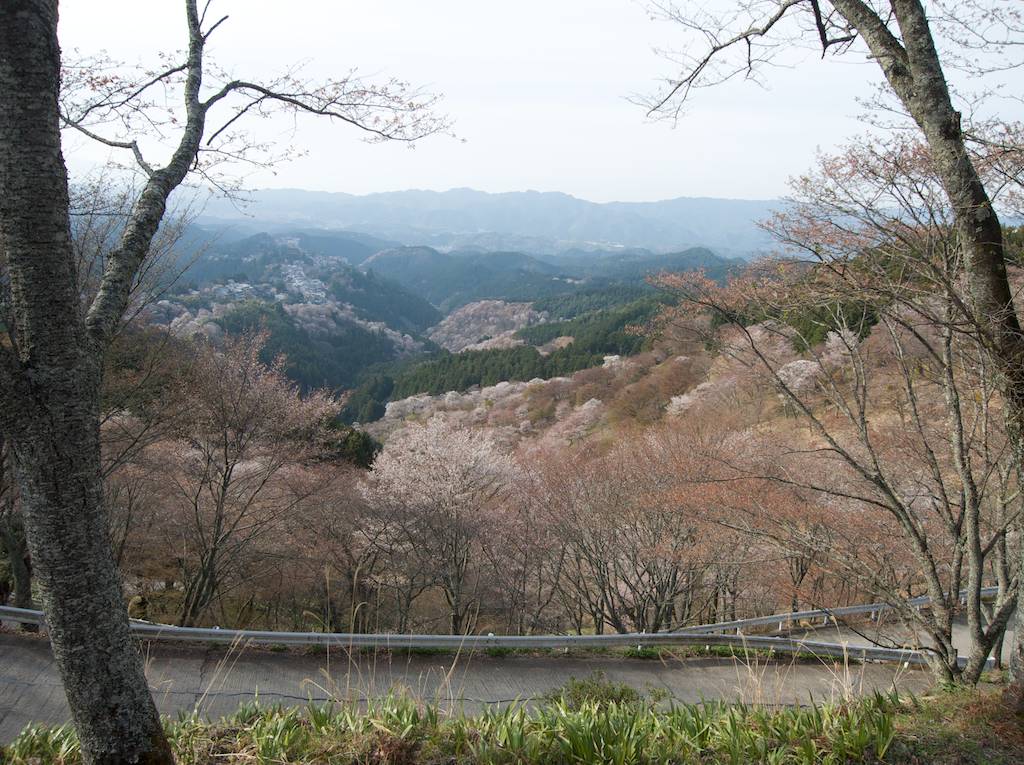 Cherry blossoms spread across a valley below Yoshino-yama in Nara Prefecture as mountains roll toward the horizon.
You first detect the magical influence of Yoshino while talking with friends in Kyoto and Osaka, 100 minutes or so north of Yoshino-yama by train.
"What are you doing next?" they ask.
"Chasing sakura at Yoshino."
"Oh! Nara!" they say with soft adoration, plus a touch of controlled enthusiasm.
That response comes more than once in both cities from a variety of people, all Japanese. The Japanese obviously think special thoughts about Nara.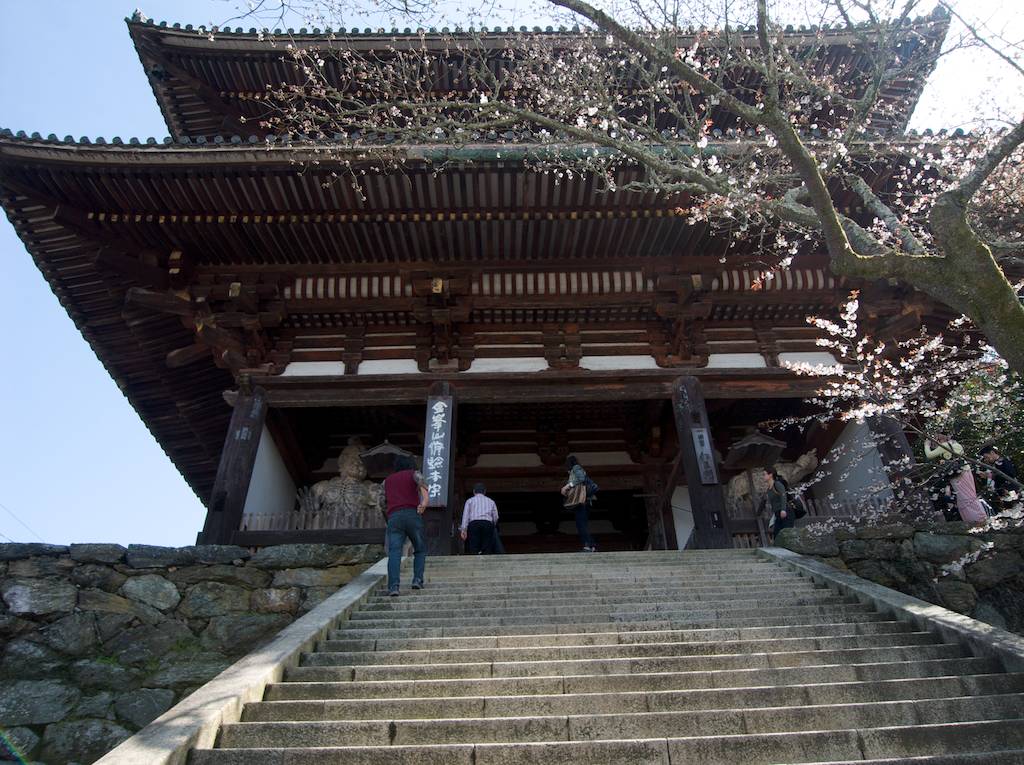 A man ascends to the deva gate leading to Kimpusen-ji Zao-do, historic center of Shugendō, an indigenous religion of Japan. Shugendō teaches salvation through mountain asceticism.
Oh! Nara!
The green mountains and clear rivers of Nara Prefecture fill the central section of the Kii Peninsula. Since the 8th Century—and perhaps earlier—they have inspired painting, poetry, sculpture and song, plus political rule and religious practice.
After eons of regular relocation—changing to the home town of each successive emperor—the capital city of Japan stabilized in 710 CE in Nara City. It remained the capital for seven emperors who reigned a total of 77 years.
Encouraged by natural beauty and thriving intellectual aspirations, the Nara era produced art, literature, theater and sculpture. New spirituality also developed. With its roots clouded in mist, the indigenous religion called Shugendō emerged teaching salvation through mountain asceticism. Temples on Mount Yoshino became training centers for Shugendō. During this time, Nara earned places in the cultural hearts of the Japanese people. Much of this affection continues today.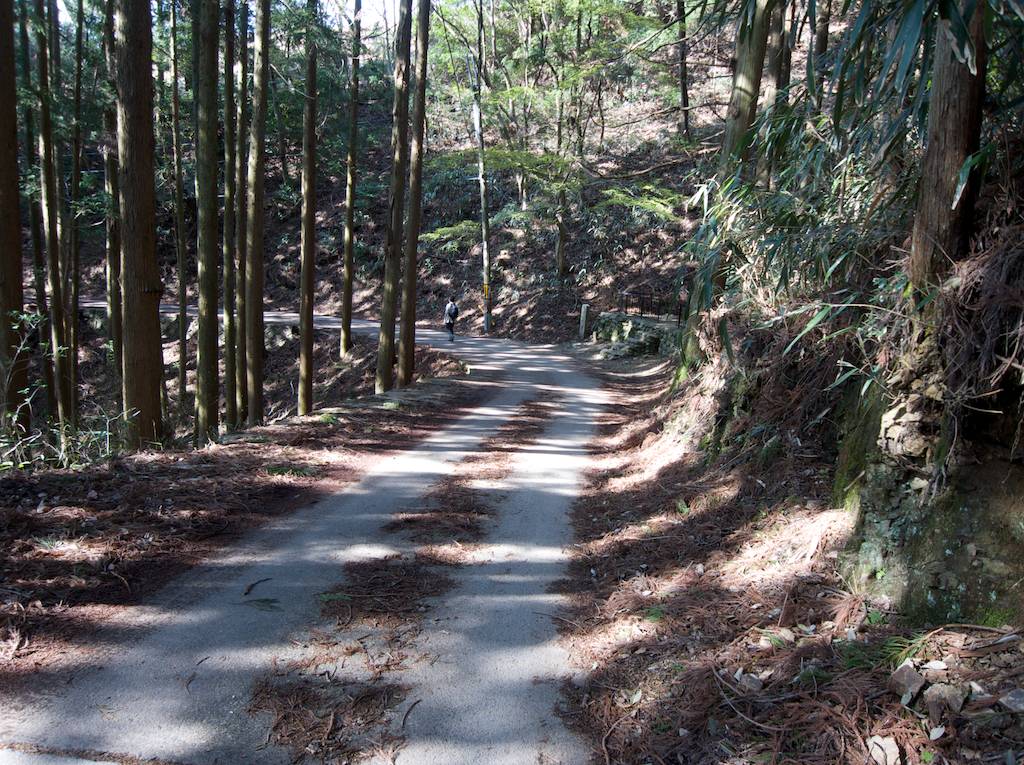 An easy walking trail traverses Yoshino-yama.
Yoshino-yama Sakura
While frequented year-around by mountain lovers, Yoshino-yama gains much of its modern day attraction from one of its centuries-old attributes—more than 30,000 cherry blossom trees—called sakura by the Japanese.
The sakura bloom anytime from late March through the middle of April, depending on weather conditions during the previous and current years. They cover Yoshino-yama from bottom to top, both inside and out. Their varied colors ripple up the mountain starting their climb early in the season at lower elevations, then continuing their glide to the summit.
While sakura provide unspeakable beauty throughout all of Japan, the numbers and density of the trees on Yoshino-yama make it one of the best viewing locations.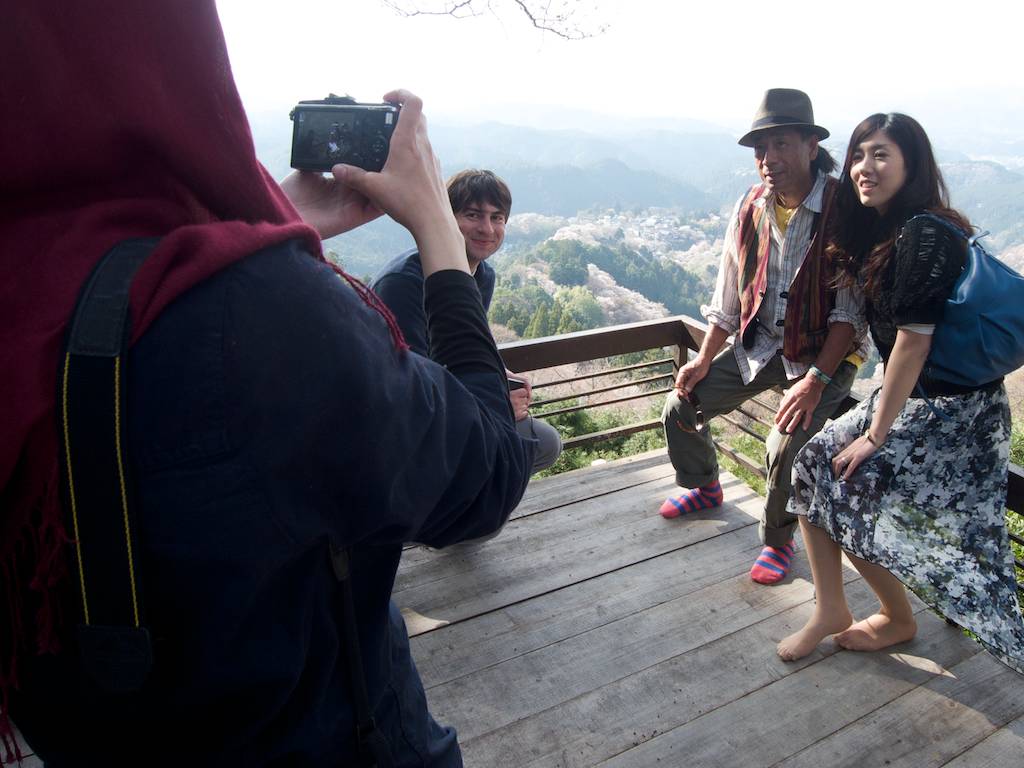 Having your picture made on a wood observation platform overlooks thousands of sakura—cherry trees. You remove your shoes before stepping onto the deck.
Trekking Toward Yoshino
Your day-trip to Mount Yoshino starts the previous afternoon with help from a travel guide working in a government tourism office in Osaka. Since you hold a Japan Rail Pass you want to stay on the JR line as much as possible. Together you map a route from Osaka Station to Yoshino Station, the latter resides at the foot of Yoshino-yama. Under the plan, you change trains several times, but remain on the JR line for all but the last section when you switch to the Kintetsu Line, a direct route connecting Yoshino and Kyoto.
You know to expect a good trip to Yoshino-yama when you arrive at Osaka Station to catch the train. Whimsical soufflés smile at you from the display counter of Tsutsumi, a Japanese bakery. While your earlier breakfast helps you resist this awesomely cute purchase, you pick up its attitude of light-hearted travel.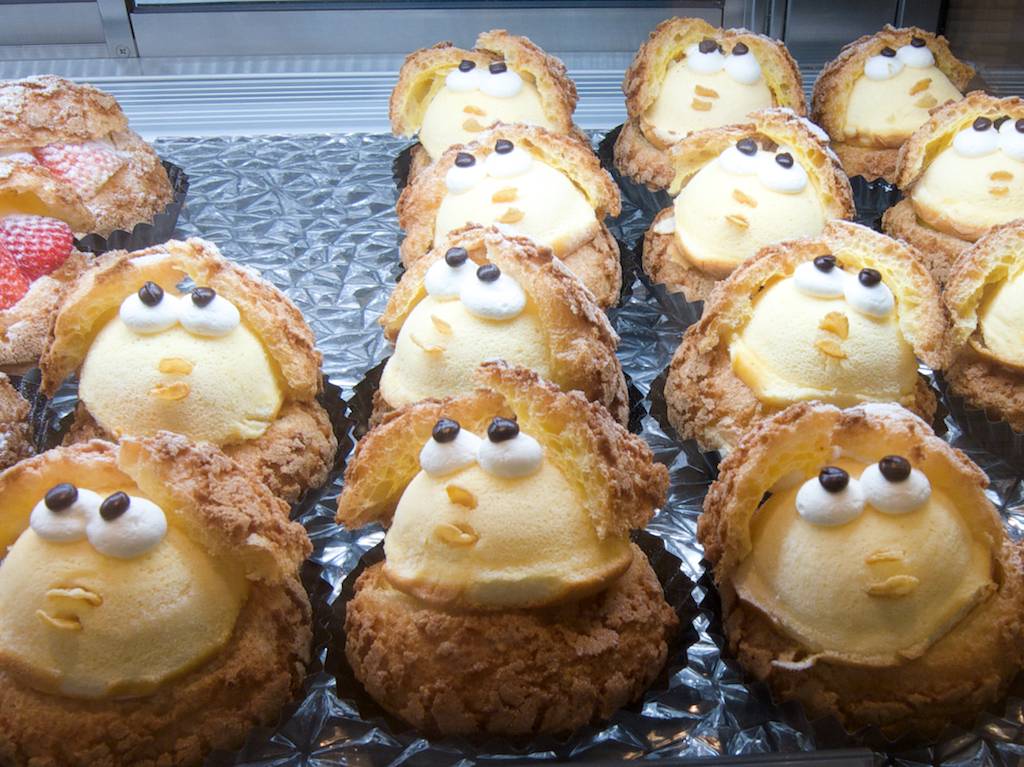 Cute soufflés—すふれ—wait for purchase at Tsutsumi in Osaka Station. They predict a good day trip to Mount Yoshino.
The train departs the city taking you on a comfortably winding route along rivers and through forests toward the mountains in the south. With one small exception, changing trains causes no concerns. You arrive at each station on time. Minutes later you catch your outbound ride. With each stop you notice others switching with you, gradually assembling a group of strangers headed to a common destination. This happens at Tennoji, Oji and Takada Stations. When you arrive at Yoshino-guchi—Yoshino-guchi means Entrance to Yoshino, literally Mouth of Yoshino—all bound to Yoshino-yama disembark.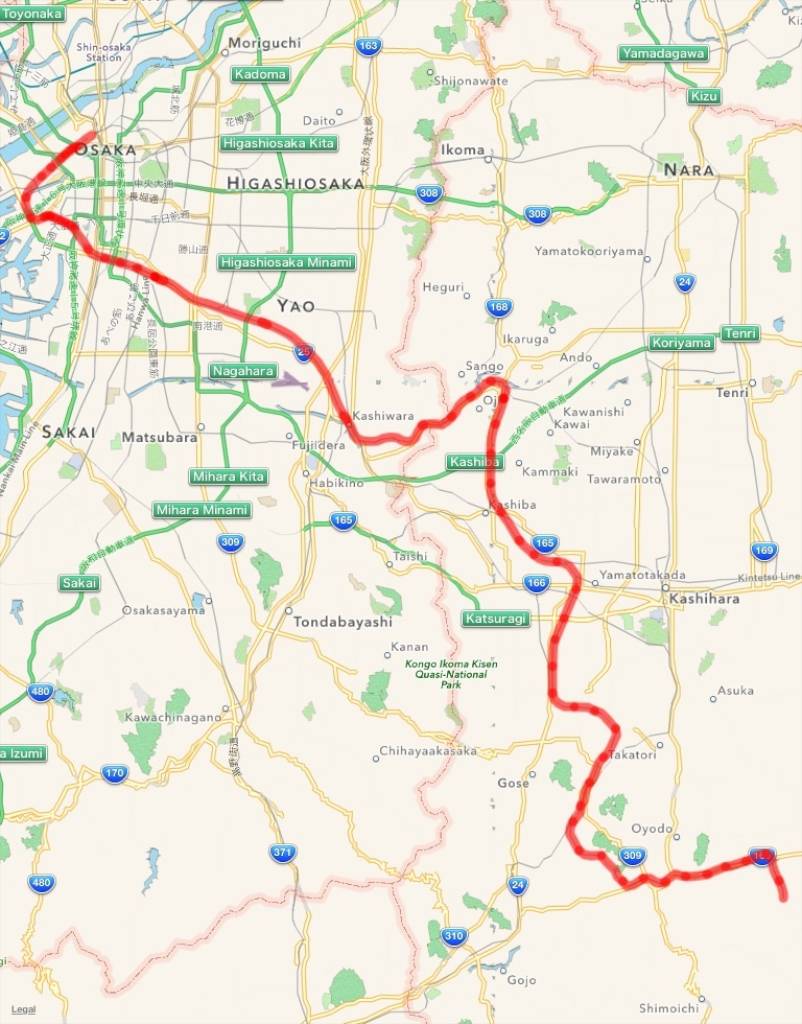 One rail path between Osaka Station and Yoshino Station. This one keeps you on the JR line until you reach Yoshino-guchi Station.
As your most recent transportation pulls out of Yoshino-guchi and rolls west toward Wakayama, your ad-hoc group of travelers—apparently made up of first-timers to Yoshino-yama—stands together in an otherwise empty station. Yoshino-guchi obviously runs without full-time personnel. Your ride to Yoshino-yama—Mount Yoshino—should arrive in six minutes. While no one knows where you pick it up everyone knows Japanese trains run on time and wait for no one. This creates a first-world pressure problem—you could miss your train. With everyone searching the station, someone discovers a subterranean passage leading to a small platform, your only option. Not much of a glitch, really. Besides, it proves multicultural teamwork works well—at least in this case.
Yoshino-yama
Yoshino-yama submit to two methods of ascent motorized transportation or hiking on foot. Combining the two, you walk six minutes from Yoshino Station—past the tour buses—and board the Yoshino Ropeway at Senbon-guchi Station. As the oldest operating ropeway in Japan, it serves both tourist and commuters. As part of the official rail transportation system in Japan, Yoshino Ropeway meets modern safety standards.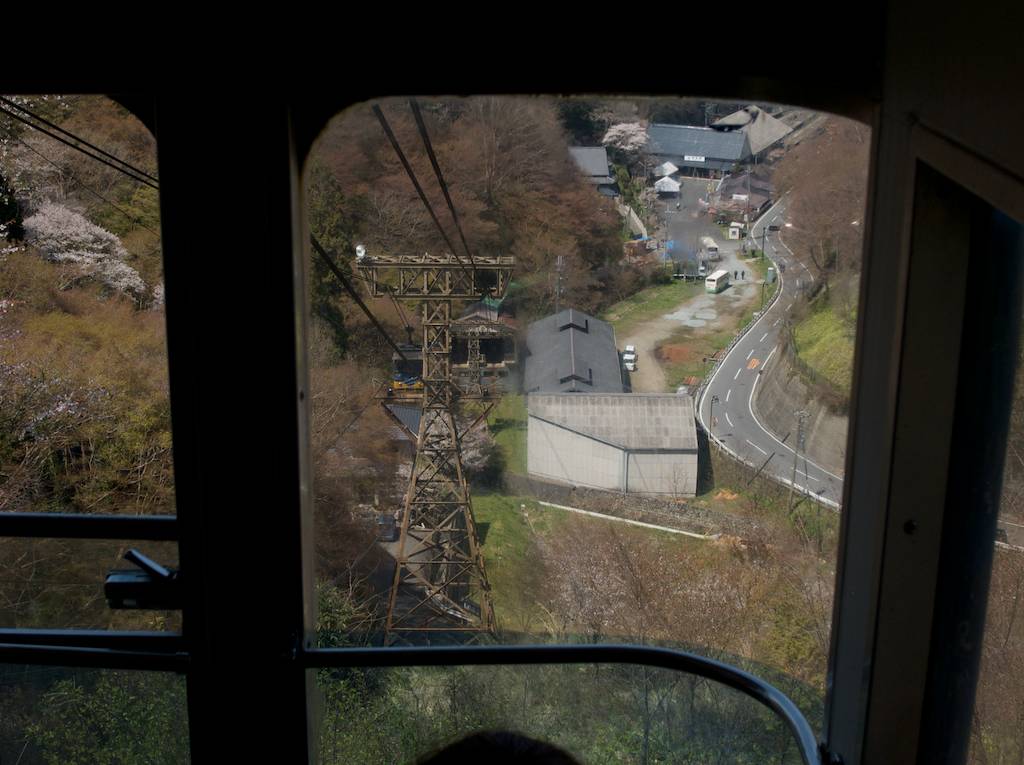 Yoshino Ropeway saves you 100 meters of uphill hiking toward Yoshino-yama. The photo looks back at the town of Yoshino during a ride up.
During the three minute sky ride to Yoshino-yama Station, the ropeway lifts you over a steep climb of 100 meters. At the top you walk a hilly street to a flat point where shops, inns and restaurants begin. Udon looks delicious. After ordering some you sit near an overlook and stare at the mountains. Slurping udon with chopsticks communicates おいしいです—it is delicious—to the chef.
Because Japan resides at the convergence of continental plates and mobile sea floors, it over time absorbs a lot of upward geological pressure, stretching toward the heavens. The mountains grow very green. From your overlook you see several ranges rolling toward the horizon.
Continuing on, you order ice cream, browse the shops and make some small purchases—some for yourself and others for gifts. The walk slants slightly uphill. When the sun becomes hot, shop owner stretch screens above the walkways, making the journey very pleasant.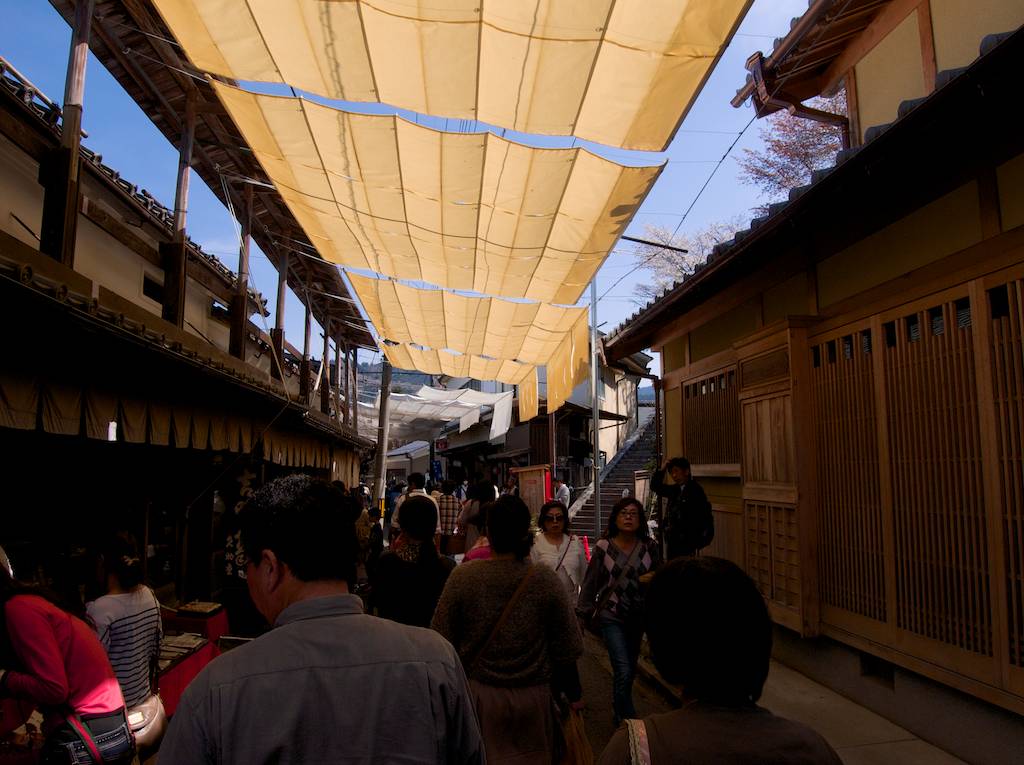 When the sun burns hot, shop owners extend their sun-screens over the sidewalks.
The deva gate to Kimpusen-ji Zao-do sits directly ahead. The path bends to the left as it passes the gate. Kimpusen-ji Zao-do provides training for shugen, those who practice Shugendō. Shugendō belief says the gate protects the temple against evil spirits.
s
Heading toward the top of Yoshino-yama you catch the mini bus at Chikurin-in-mae bus stop. It rolls smoothly along graded switchbacks toward Kimpu-jinja, the Shinto shrine near the summit. The bus drops you off at Okusenbon-guchi bus stop, five minutes from Kimpu-jinja. The deity enshrined here guards gold and watches over Yoshino-yama.
Leisurely strolling toward the bottom of Yoshino-yama—you intend to walk the distance—you observe pine forests on nearly-vertical hillsides. A region of sakura in full bloom—the Japanese—call this sun bloom—appears to the right. Several Japanese hikers say good day—こんにちは in Japanese. A young Canadian Muslim woman who teaches English in Sendai in the north east part of Japan stops to chat. You stop at a wooden observation platform, remove your shoes and look over a valley filled with blossoming sakura. A 20-something Japanese couple walks by holding hands. You pass a Buddhist inn. While you could stay for the night you continue toward the train station. You purchase some sakura-flavored sake from the brew master himself. He offers a second sample. You exchange business cards.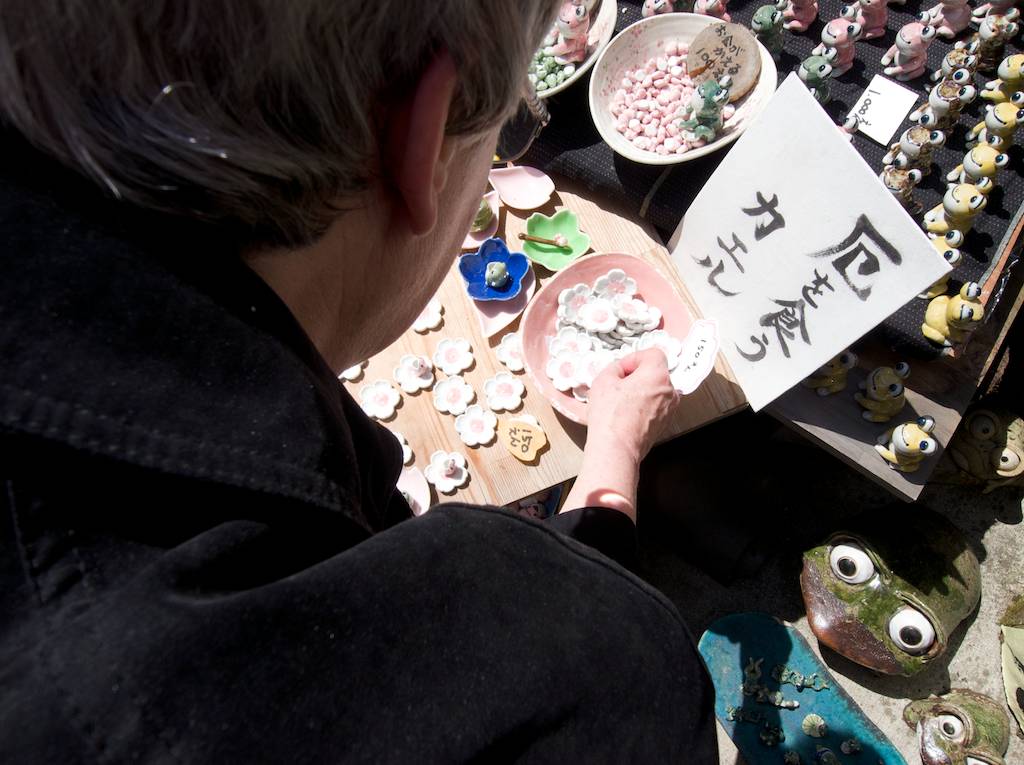 Cherry blossom and frogs receive lot of emphasis at the shops in Yoshino-yama.
The sun begins to descend rapidly. When you arrive at Yoshino-yama Station you decide to bypass the ropeway and walk to the Yoshino Station to catch the train. You never think about the train schedule. You barely catch the last one out for the evening. On the way you chat with some Japanese people, sleep a little and soon arrive back in Osaka. Relaxed, you now understand a little bit about "Oh! Nara!"