A Day Trip to Miyajima Island--Ferry Ride to a Photographer's Dream
Only a 10-minute ferry ride from the mainland, Miyajima is a photographer's dream.
by Nancy Kerstetter
Exploring Miyajima's Charms Up Close
If you have seen photos of a gigantic vermilion torii gate apparently floating in water, you have peeked at Miyajima Island, one of Japan's most scenic views and perhaps the most iconic. Seeing the torii and other treasures of the verdant island is a pleasant day trip from nearby Hiroshima.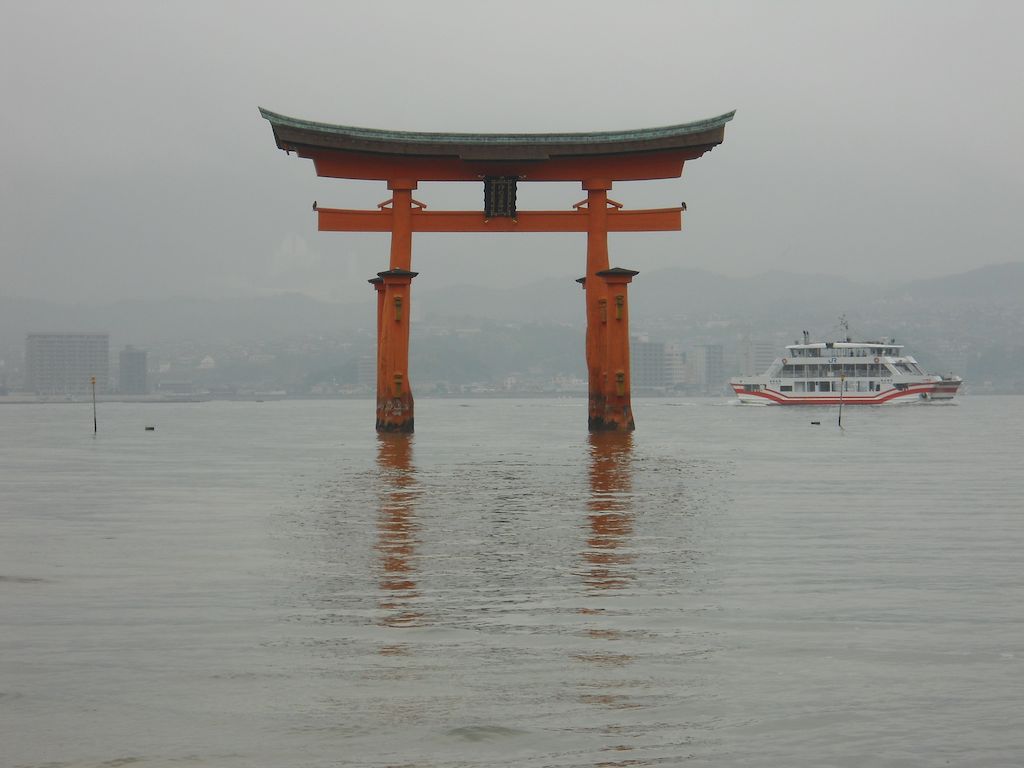 Most visitors to Miyajima Island ride the JR Ferry from the terminal southwest of Hiroshima. For JR Rail Pass holders, the ride is free
Miyajima—Island of Shrines—is how this popular tourist magnet is commonly known, but its real name is Itsukushima—Strict Island. Hordes of tourists and herds of wild deer populate the island each day, yet most of the island is covered with a dense,  wild, unpopulated primeval forest. Miyajima's history, culture, religion and natural beauty draw visitors on a daily basis.
Mount Misen is the highest mountain in the region and has been worshipped by people for hundreds of years. Devotees constructed shrines along the shore, but did not dare to climb the mountain itself.
Early records indicate that Itsukushima Shrine was founded in 593. This shoreline shrine stands on piers over the water. Visitors are welcome to enter the ancient Shinto shrine, one of Japan's holiest sites. A morning prayer room houses a collection of costumes and masks used in the annual bugaku dance festival held the first week of January and traditional noh plays performed in mid-April. The boardwalks afford striking vistas of the crimson O-Torii gate, sea and surrounding island, plus Hiroshima City in the distance. In 1996, Itsukushima Shrine was recognized as an UNESCO World Cultural Heritage Site.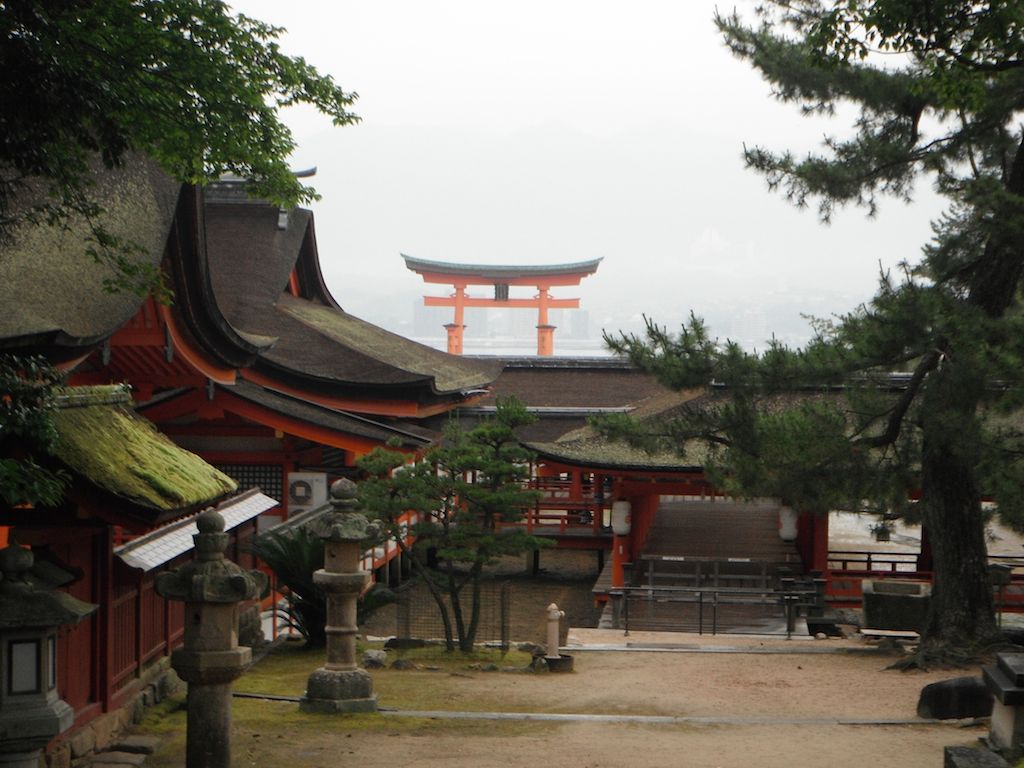 Like the O-Torii floating gate, Itsukushima Shrine stands over water when the tide is in, giving it the appearance of floating. See Hiroshima City in the distance beyond O-Torii.
Day Tripping to Miyajima
Modern ferries travel to and from the island several times each hour between 6:00 and 22:00. It is a gray, misty day when we traverse the channel. Only 50 persons, two cars and zero bicycles make up the mid-morning trip. Undaunted, we disembark making a beeline for the giant floating torii gate. Ahead of us, hundreds of visitors brave the weather for the opportunity to visit the picturesque spot.
The tide is out so tourists clamber over the wet rocks to peer up at the tall crimson gate from its foot. Camera shutters click incessantly. The current gate was built in 1875. The first one was constructed seven centuries before that. Formally known as O-Torii—Grand Gate—the structure stands approximately 55 feet tall. When the tide is in, the gate appears to be floating in the water, a magnificent sight. But when the tide is out, visitors flock onto the soggy plain to pose for photos, splash in puddles or search for critters in the wet sand. On a day-long visit, you will be able to see the torii in both conditions, standing on land and floating on water. Directly behind O-Torii is the famous Itsukushima Shrine.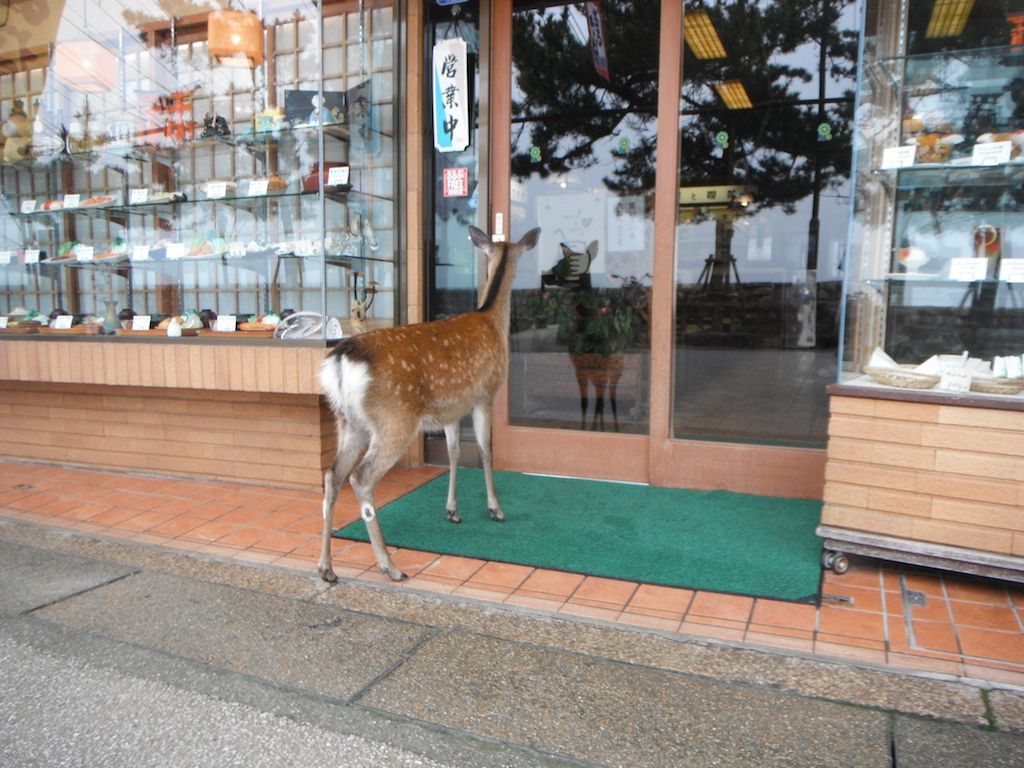 Visitors are warned to beware of the inquisitive, assertive wild deer. The deer are known to nibble on unattended bags, tickets or umbrellas!
Signs and notices are posted throughout the area reminding visitors that the wild deer are not shy. We are told to watch all our belongings as the nosy deer nibble on anything unattended—paper, cloth or plastic. We see a brazen deer attempting to gnaw on a young man's umbrella while he is distracted looking the other way.
We enter the Museum of Historical and Folklore Materials to learn more about how people once lived in the region. The museum is housed in the home of a early Miyajima family. Full size rooms are set up to display daily life in addition to many exhibit cases full of fun things to see. The miniature replicas of bedecked festival boats are captivatingly colorful and ornate. Clothing of yesteryear are tastefully displayed with typical accessories. The delicate garden near the end of the tour was a pleasant diversion for the eyes.
Dining on Conger Eel and Clam Soup
Lunch is the next thing on our minds. We wander through the byways near the museum and find a family-run restaurant with Japanese patrons. Miyajima has a few specialty foods so we sample the broiled conger eel served on rice—Anago-meshi—and clam soup. The quiet atmosphere with muted sounds of traditional Japanese music and delicious meal revive our strength.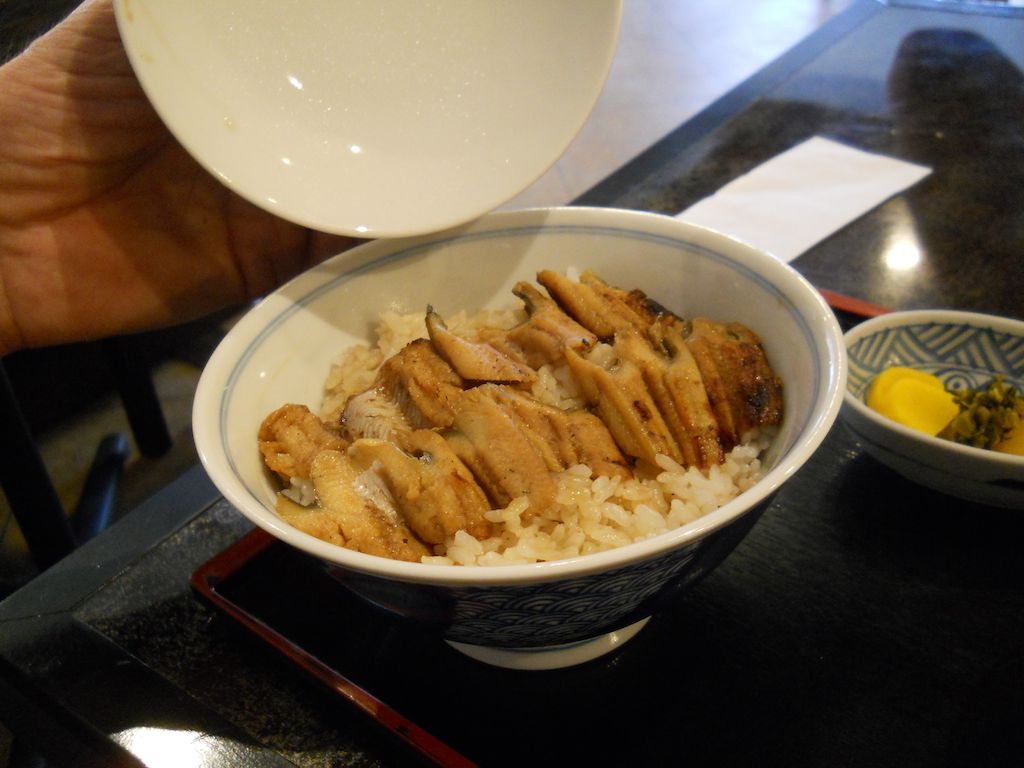 Anago-meshi, broiled conger eel on rice, is a tasty Miyajima specialty.
It is now time for a hike in the natural setting of Miyajima. We make our way toward Momijidani Park nestled in the forest at the foot of Mount Misen. It is a steep, winding route to the park. We pass small homes and shrines tucked here and there under shady trees or beside trickling streams. The path winds up to a stream enhanced by man to make some scenic waterfalls flowing under a lovely traditional arched bridge. A deer ambles up to inspect the intruders. Not many people walk up this way today so we have it all to ourselves. Picnic tables and restrooms are provided in this serene setting. We are only steps from the ropeway that lifts you to the top of Mount Misen in a cable car.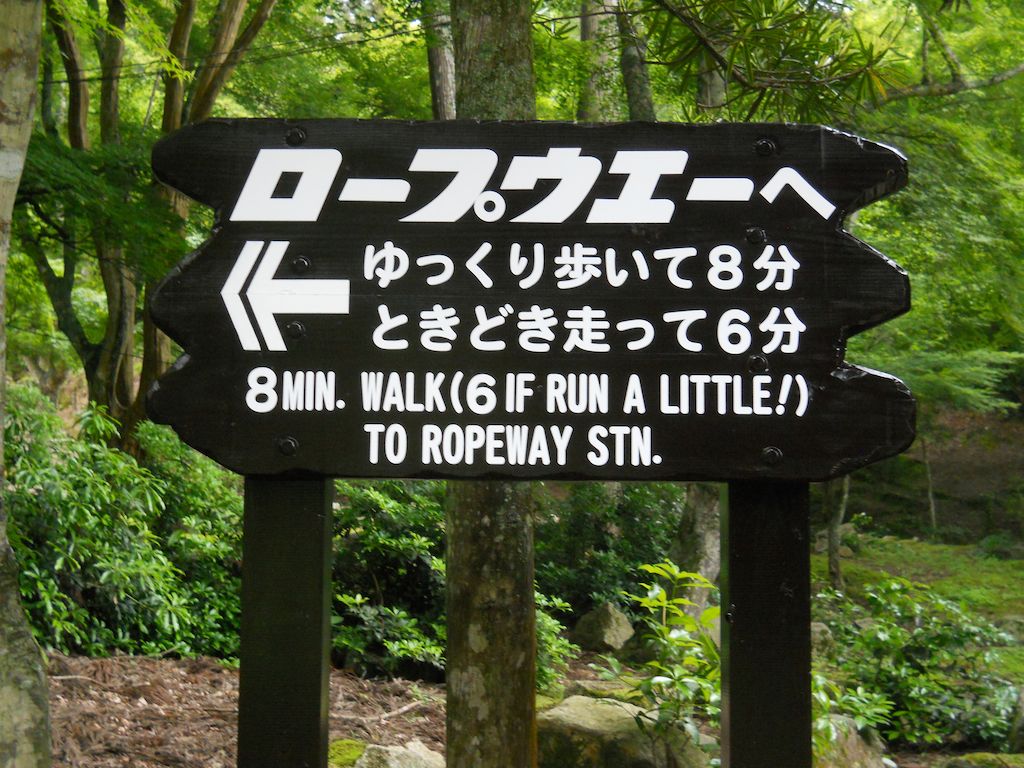 A humorous sign displays whimsy while pointing the way to the ropeway lift to the top of Mount Misen.
We head back down to see the shrine and torii as though they are floating on the sea. The tide has changed and both are surrounded by water. Lots of school children are here on a field trip. They seem to enjoy the time and who would not like a day-long reprieve from the classroom routine. Probably both the students and teachers are getting refreshed.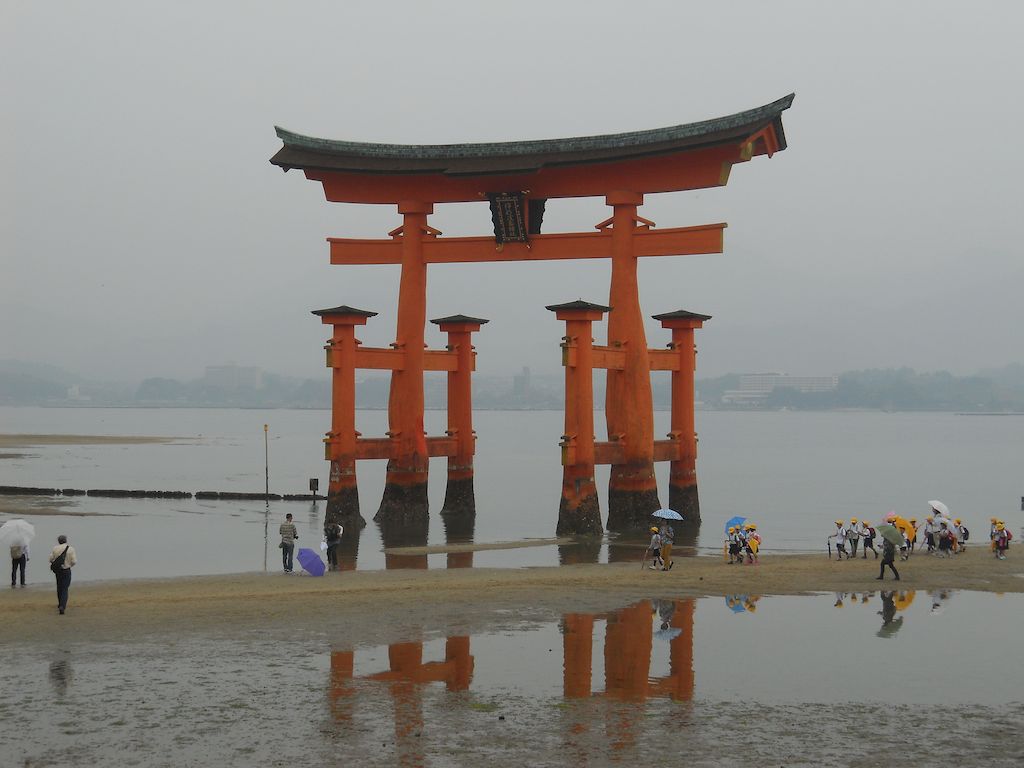 At low tide, a school group on a field trip wander out to the O-Torii—Grand Gate—for a closer view.
Shopping, Souvenirs and Hands-on Handicraft Classes
The shopping arcade caters to tourists. Numerous souvenir stores display their wares alongside the confection shops who specialize in making another Miyajima delicacy—momiji manju—a maple leaf shaped waffle-like cake filled with sweet fillings ranging from chocolate to sweet bean paste. In just two bites they are consumed, but they are delicious to savor.
Further down the arcade, gawk at the oversized shakushi—wooden rice scoop—made from a 270-year-old zelkova tree. It weighs 2.5 tons. Small wooden shakushi made on  Miyajima are lightweight, easily-packed souvenirs.
For a hands-on experience, make reservations a week ahead at the Traditional Handicrafts Hall near the pier. Sign up for a one-hour class on making momiji manju or a shakushi rice scoop.
Miyajima's recently reopened aquarium—Miyajimarin—focuses on Seto Inland Sea marine life.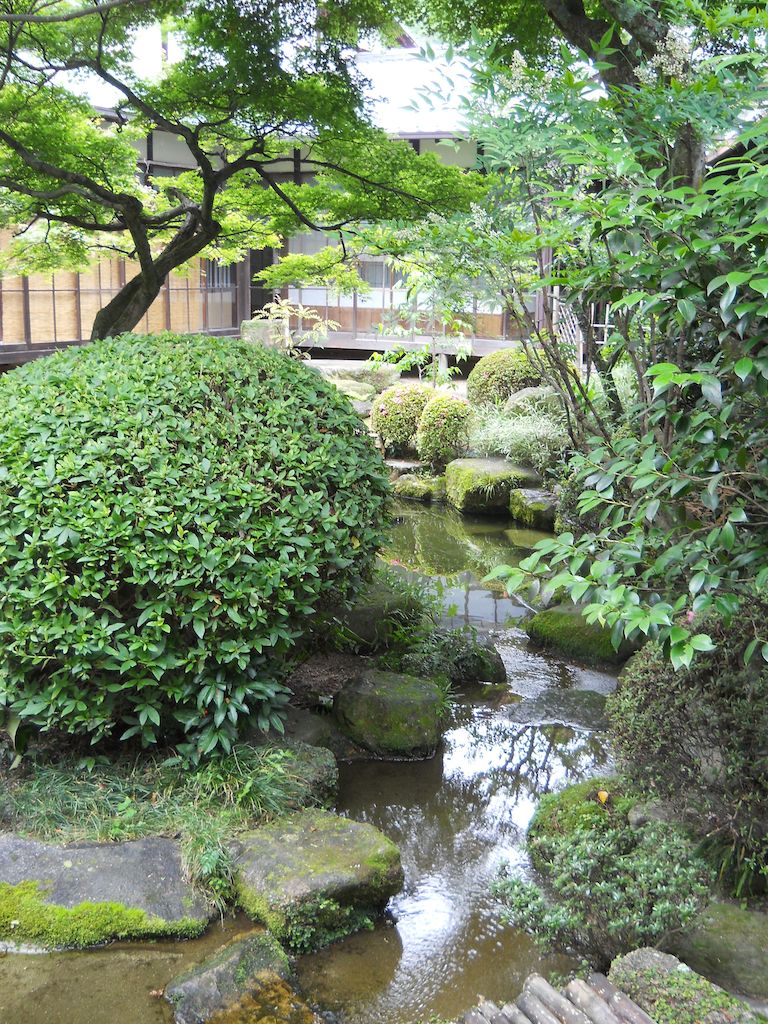 The Museum of Historical and Folklore Materials occupies an authentic former Miyajima family residence. The gardens are maintained in the traditional manner.
Visiting Miyajima Island is truly a magical outing. Seeing something so beautiful and seemingly remote is a dream come true. It is easily accessible by a less than 30-minute train ride from central Hiroshima to the ferry terminal. The ferry is a 10-minute ride across the Seto Inland Sea to the island. You can also take the red streetcar to Miyajimaguchi to catch the ferry. JR Rail Pass holders, present your pass to ride the JR ferry at no charge. Miyajima Matsudai Kisen also operates a ferry from Miyajimaguchi pier. A high speed boat serves Miyajima from Ujina Port in Hiroshima.
As we head back to our Hiroshima accommodations, we notice a Buddhist priest onboard using his cell phone. A true dichotomy of old versus new is as alive and well on Miyajima as it is in the rest of the country.