Japan Tourist Immigration Procedures
Things to expect before your plane arrives in Japan, including landing cards, customs declarations, health forms and immigration procedures.
by Nancy Kerstetter
Almost everyone hates paperwork. But you have to do some in-flight when traveling internationally. This includes traveling to Japan.
In-Flight Paperwork
During your flight, attendants dispense landing cards and customs declarations. Knowing ahead of time what information is required prepares you to complete the forms with little or no stress. 
You may enter Japan through a number of international airports, but the biggest ones for U.S. travelers are Tokyo Narita (NRT), Osaka Kansai (KIX), and Nagoya Central Japan which is also known as Chubu Airport (NGO). Tokyo also has Haneda (HND) which is mostly domestic air traffic but does have international flights from a few U.S. cities. No matter which airport you use, procedures are identical.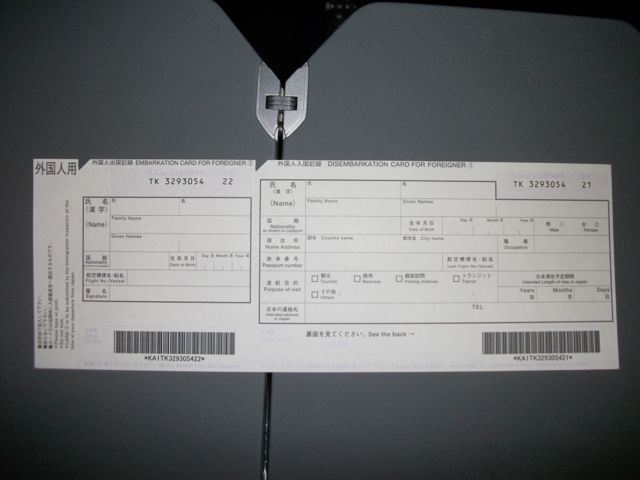 To complete the embarkation or landing card, you will need to have your passport number, flight number and a local address, such as your hotel.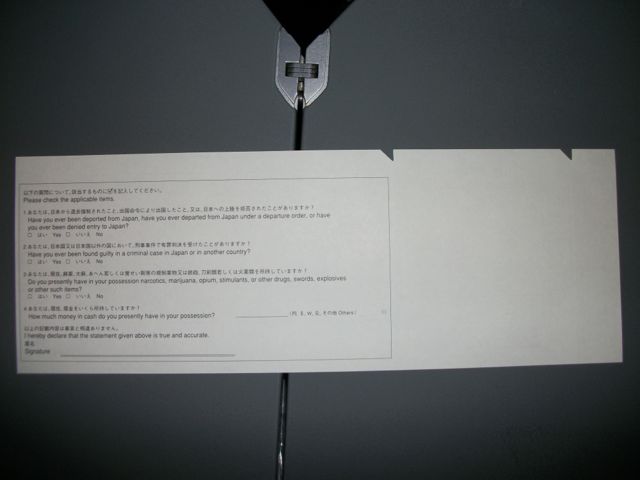 Complete both sides of the embarkation/landing card in pen.
Landing Cards
Required landing card information includes passport number, date and place of issuance, date of expiration, personal information such as family name (last name), given name (first name as listed on passport), nationality, date of birth, home address and the name, address and phone number of destination in Japan. Carry a copy of the complete hotel name, address and phone number or name of hosts if you are visiting in a home. You list the purpose of your visit to Japan, flight number, point of entry and length of stay.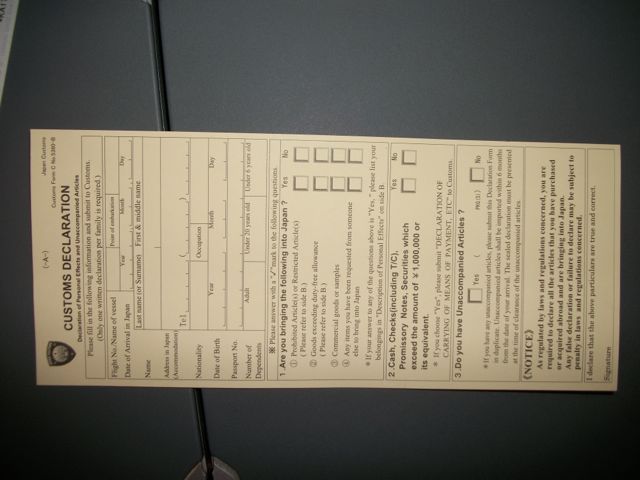 Read the card carefully so you can fill it in properly. Most tourists probably have nothing to claim.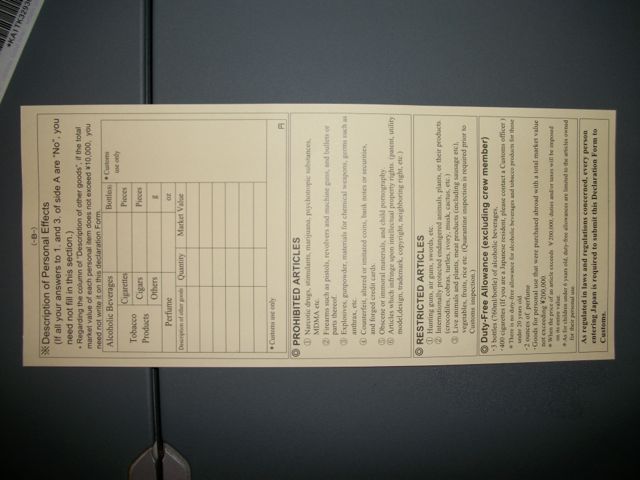 Complete both sides of the card to avoid delays at Customs.
Customs Declarations
The customs declarations involves what goods you bring into the country. You are allowed to bring in duty-free clothing, toiletries and personal items you plan to use during your stay. However you must declare if you have more than the allowable quantity of alcoholic beverages, tobacco products or perfume. You are provided with a list of guidelines. If you want to plan ahead, find a list of restrictions at the Japan Customs website. While most of the limits are common sense, some are less obvious, such the limitation of perfume to two ounces. Restricted items include plants, animals, medicine and cosmetics. 
Currency over 1 million yen must be declared on a separate form. 
Health Form
You may be required to fill out a brief health form which simply asks if you are ill or have recently been sick. It's a good idea to carry the yellow international health card issued by the World Health Organization which lists your immunizations in case of any questions about your shots. The full name of this passport-size document is International Certificate of Vaccination or Prophylaxis.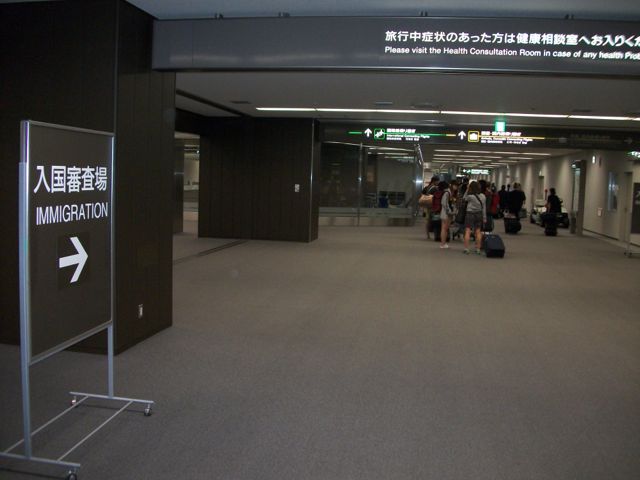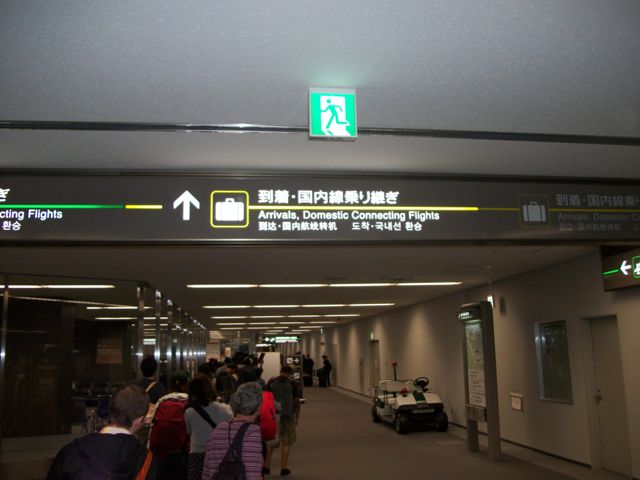 Follow the Immigration signs upon deplaning, or follow the people in front of you since each visitor has to go through immigration whether transiting through Japan or staying. Have your passport and landing card ready for Immigration which sometimes, but not always, has long lines.
Immigration Procedures
As you deplane, you are directed to the immigration area. You turn in your health form and walk through a body temperature monitoring station which registers your temperature as you pass by. Next you get in line for immigration procedures. Keep your passport and other forms in your hands. As you inch closer to the front of the line, an immigration official directs you to the sub-line where you should queue. Do not switch lines unless directed by an immigration officer. There are lines on the floor to mark where you are to queue. When motioned forward, hand the inspector your passport and forms. He takes your picture and request that you put your index fingers of both hands on an electromagnetic device which will read and store your fingerprints. He keeps half of the landing card, the remainder will be stapled into your passport (which you will need intact for your departure). The inspector attaches a landing permission label which lists the dates your permit is valid. It also features a QR (Quick Response) code. 
Customs Procedures
Next stop is baggage claim. Gather your bags and proceed to customs. The area is color coded green or red. Use a green line if you have nothing to declare. Use a red line if you have items that require declaration. 
Now you are ready to venture into the rest of the airport, obtain some Japanese currency and find transportation to your hotel.
Additional Information
Japan Customs - Procedures of Passenger Clearance on the Ministry of Finance website.