Single Along with the Beatles: 1964 Tribute-Red Rocks Amphitheatre
Sing along with The Beatles. This is what the audience of 9,000 plus fans feel like they are doing on at Red Rocks Amphitheater in Denver (Morrison), Colorado.
1964 The Tribute performs early Beatles music in concert, giving the feel and sound of the real Beatles invasion of America in 1964. The site is Red Rock Amphitheater in Morrison, Colorado, northwest of Denver. Red Rocks in built into a hillside of red rocks. Image that. It is operated by the City of Denver and Denver County.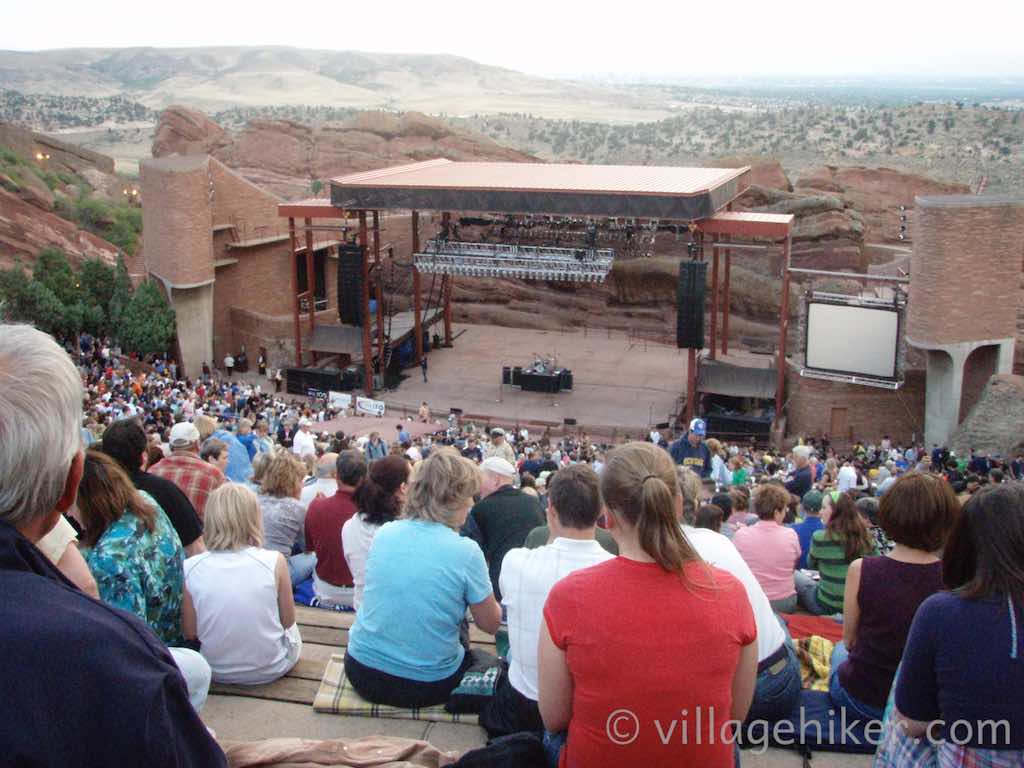 Behind the stage and before the concert in daylight, you can see Denver way out there.
These Beatles re-enactors have it all–looks, sound, mannerisms, rapport with the fans. They have been recreating Beatles music in over 3,000 concerts for 26 years. Acclaimed "Best Beatles tribute on earth" by Rolling Stone Magazine, these four musicians pack a wallop.
Shaggy headed, dressed in dark suits with thin ties, slim cut slacks and boots, band members look similar to Paul, John, George and Ringo. 1964's "Paul" is left-handed and Ringo is wearing rings, but don't look too closely, no one has had plastic surgery to enhance the likeness. This band does not want to be the Beatles. They desire to bring back the music and thrill of the Beatles—though they are careful not to use the word "Beatles" in their concert. They are re-enactors extraordinaire.
Primarily musicians, and secondarily actors, 1964 brings the early Beatles music to stages across the country. They sound like the originals which is probably the major reason for their longevity. The stage set up is simple. At first glance one notices how empty the stage is compared to contemporary band set ups. Just a few guitars and a modest trap set. That is because 1964 is using the same number and type of instruments the Beatles used. So advances in sound since 1964 are virtually ignored. Fans love it.
Remember, or read about, the television show from the 60's - Sing Along with Mitch? On that program we were instructed to sing along "just follow the bouncing ball" which was a large dot superimposed over the lyrics on the screen. There is no bouncing ball at Red Rocks, but we all sing along. The audience is very cross generational and everyone knows the words. It is great fun.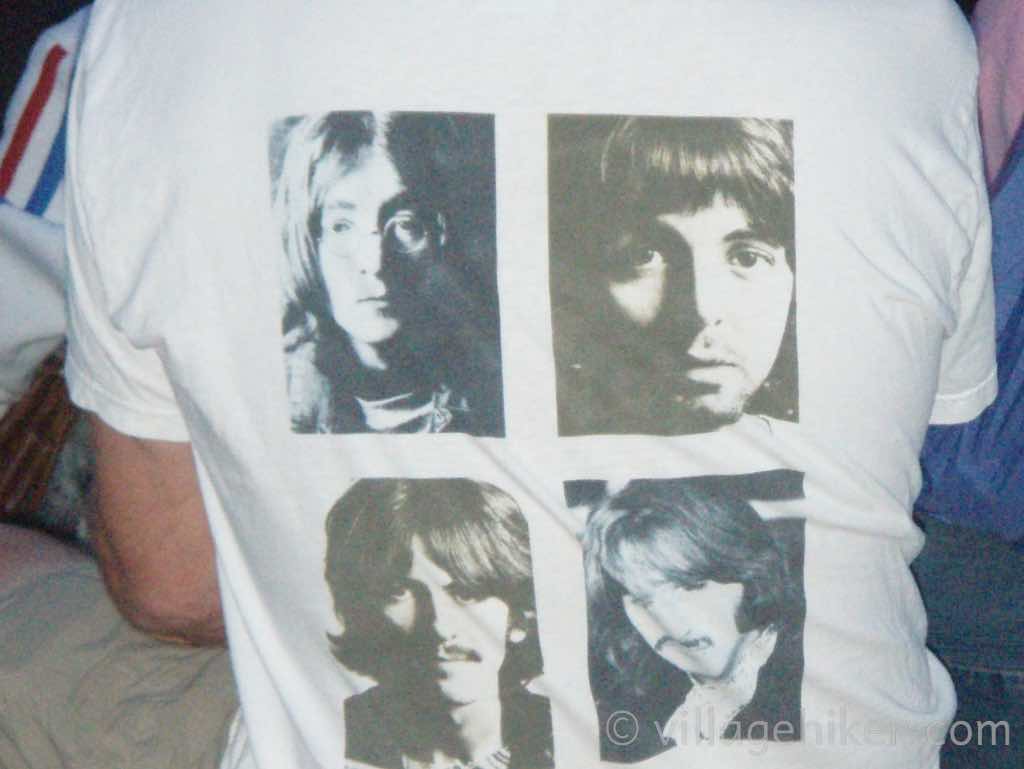 This is a serious fan enjoying the fun.
Band members are careful to use 1964 era lingo and references. So we hear about their latest LP (album) and of course, their February 9th appearance on the Ed Sullivan Show. When they mention Ed Sullivan, fans my age jump up and wave their arms. We remember when we sat in our living rooms watching their performance on our black and white tellys.
Another aspect of their performance that ensures their popularity is their mimicking of the mannerisms of the Beatles. They way they stand, use their hands, cock their heads, hold their instruments looks right. Of course most Beatles fans never saw them live in concerts, but we have all seen their movies and other video footage.
Their banter with the audience is delightful. "Paul" talks about their current release and the fans titter with pleasure at the reference. They cajole one another and tease Ringo saying he wants to perform this song in the worst way "and that's exactly what he's going to do" when he sings "Act Naturally."
These Beatles re-enactors are so authentic, one might actually feel transported back to 1964. Better yet, one enjoys a musical trip down memory lane. (And, yes, I did wear my vintage "I Love the Beatles" Button.)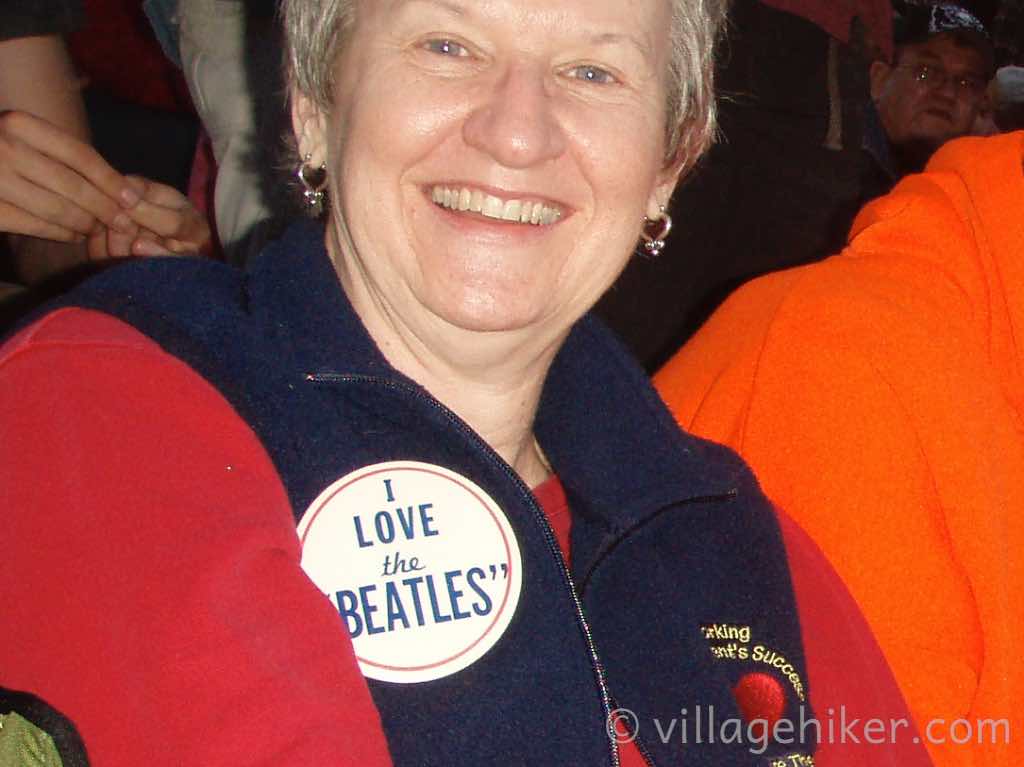 Someone loves the Beatles.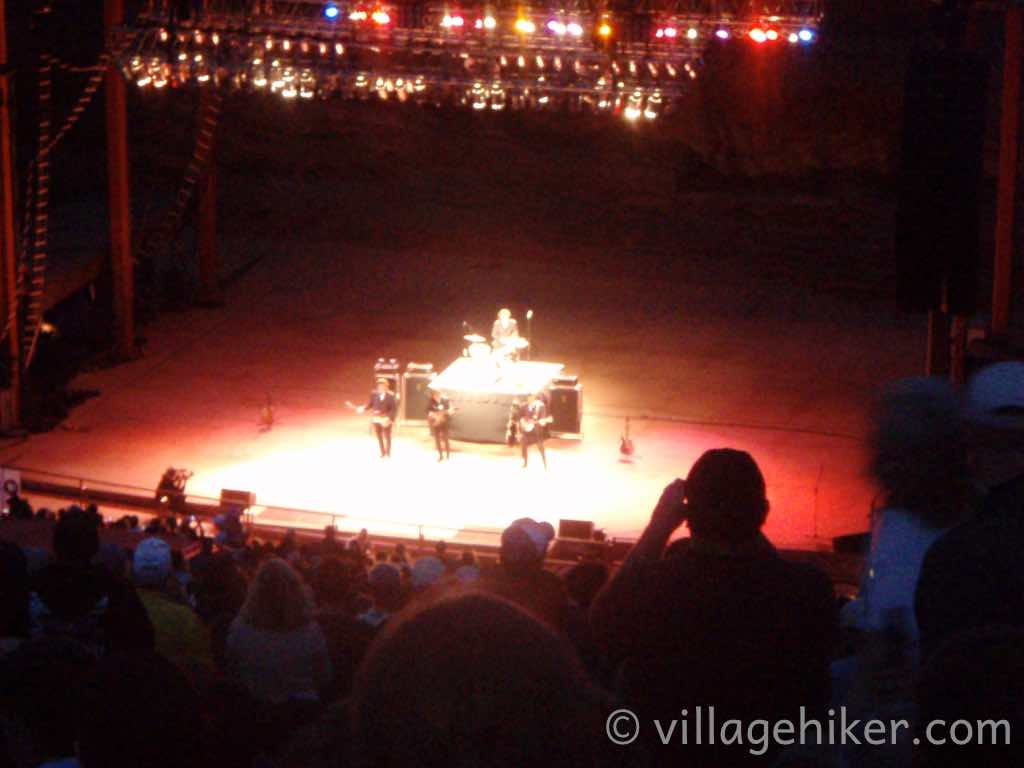 On stage after dark the Beatles look like the originals, even in a fuzzy photo.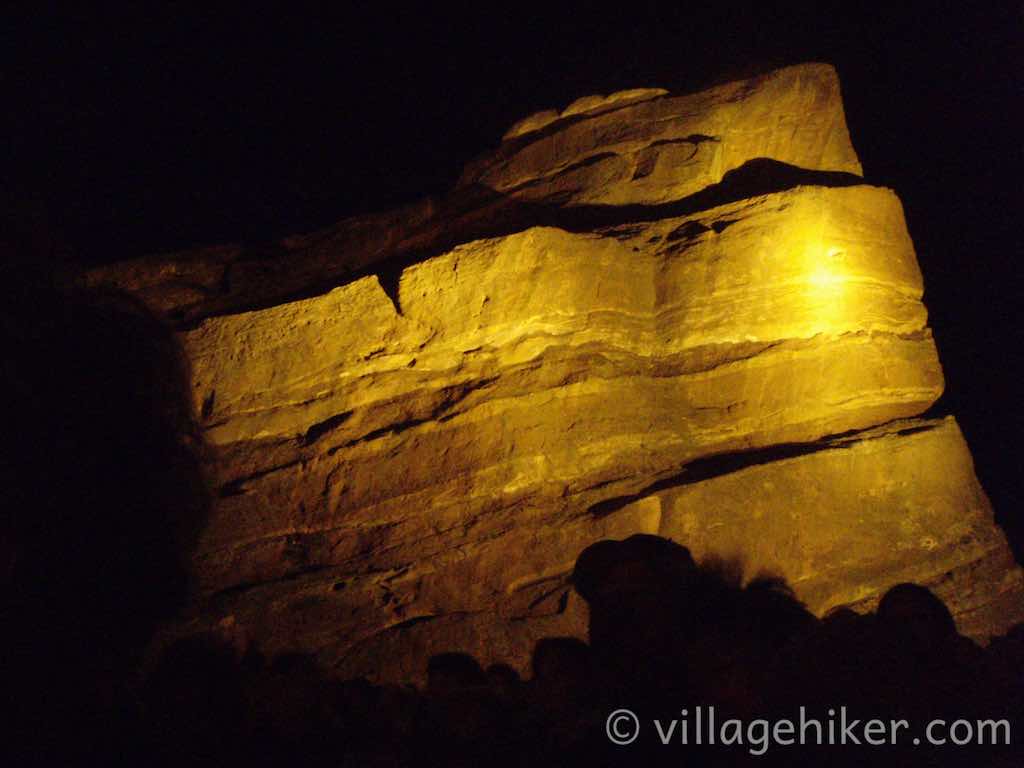 Lighted red rocks look yellow in the dark.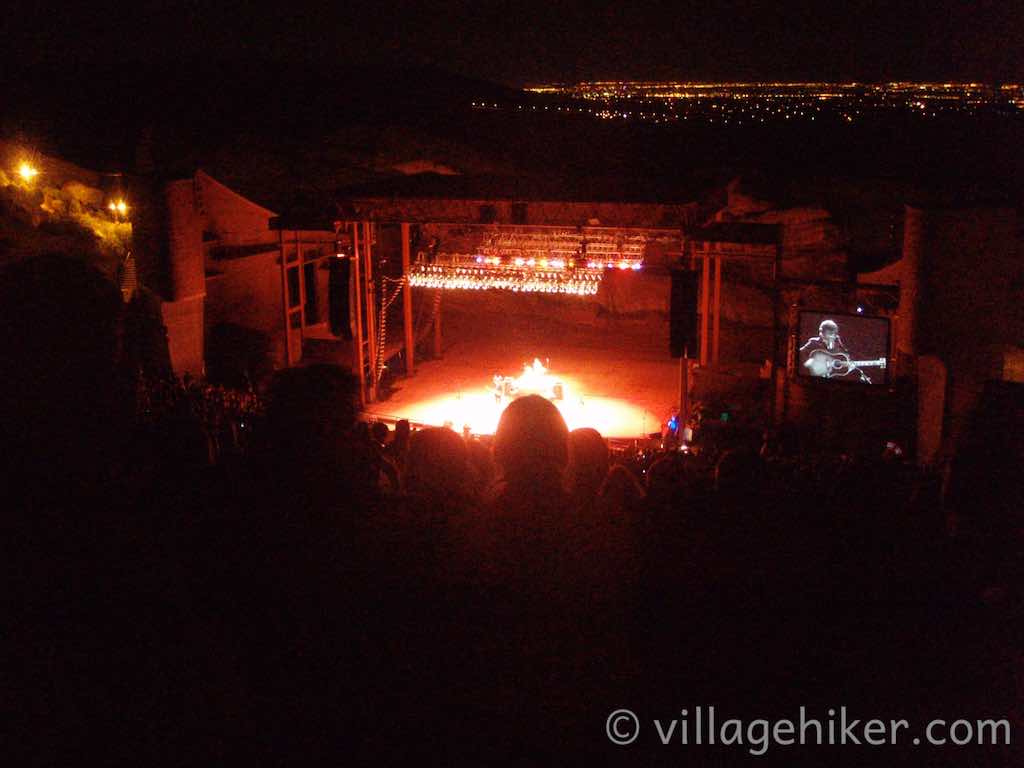 After dark you can really see Denver, while the 1964 Tribute performs.
Fran "Beatlemaniac" Gilmore