Born into Brothels - Children of the Sex Trade
Entering the red light district of Calcutta to film women in the sex trade, photographer Zana Briski falls in love with their children.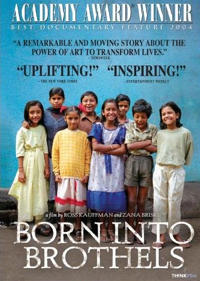 The Oscar award winning documentary Born into Brothels Directed by Zana Briski and Ross Kauffman is an exceptional telling of a tale many would like to sweep under the rug. New York based photographer Zana Briski enters the red light district of Calcutta to film the women in the sex trade, but falls in love with their children. They are fascinated with her cameras and before long she is teaching kids how to use a camera. She provides them with film and equipment. Some excel. All are expressive. The result is a stunning portrayal of their lives in the bowels of Calcutta, a city of over five million, a metropolitan area of over 13 million. Sonagachi, the part of Calcutta where this film was made, is home to over 10,000 sex workers.
The method Zana uses to tell her story really draws in the viewer. I sat mesmerized by the story of these children in Calcutta. You could feel their wonder and enthusiasm as they looked through the camera lens and the combined feelings of joy, pride and shyness as they admired prints of the photos they had captured.
The story of the children's lives is told only in part. The focus of the film is on what they were able to do and how they responded to their new method of expression.
We see glimpses of the seedy side. Footage showed the children walking through darkened, narrow passageways littered with rubbish while their relatives shouted orders to them from perches above. Young girls tread their route home amid idle, leering men. Zana tells the audience that most of the girls are destined for prostitution like their mothers. The boys are likely to become pimps.
She desires to help them and documents some of her efforts to get the brighter students enrolled in school. This can be complicated because most schools will not accept children whose parents are engaged in unlawful professions. A footnote to the film is that Zana has set up a foundation which sells the children's photos and sends the money to them for educational purposes. She also published Born into Brothels: Photographs of the Children of Calcutta, a book of their artistic work which funnels funds back to India.
The film does not study the children's mothers. Zana did not explore why these women were in the sex trade or what they thought about their chosen path. This film is about the children of these prostitutes. The mothers and aunts are in the background of this story, but their stories are not developed.
Winner of over 30 major awards including an Academy Award for Best Documentary Feature, this is an extraordinary movie of an unspeakable sector of Calcutta. This film speaks to humanity about our buoyancy when given a glimmer of hope. The DVD features an update on the kids and where they were three years later. Many were experiencing an improved life with opportunities for education and training, but not all. It might be easy to find fault with Zana Briski for tantalizing these children with visions of bettering their lives through photography but I think she was opening their eyes to new horizons and they are better for it. The resilience they display is inspiring. See the documentary. Inspect the gallery of the children's photographs in the film or the book. Get inspired. Do something to help another person attain hope.
J.S. Maverick
Get Born into Brothels from Amazon
Get the collection of photographs in book format from Amazon