Red Bull Art of Can Exhibition
Escape the heat via a stroll through cleverly created art works constructed of Red Bull cans.
Dallas Galleria, Dallas, TX. July 31-August 22, 2010. Sponsored by Red Bull.
Escape the heat via a stroll through cleverly created art works constructed of Red Bull cans. The Art of Can Exhibition at Galleria Dallas is a mini gallery containing 50 works of art contributed by artists using the cans as a medium or inspiration. The Dallas show attracted 200 entries, which the judges whittled down to 50 for the showcase presentation.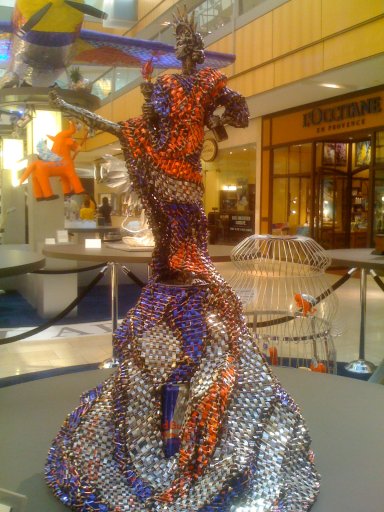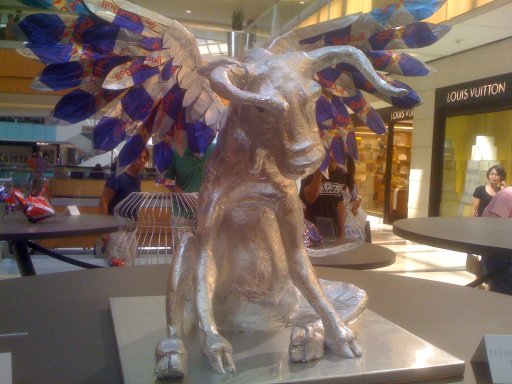 The art varies in size from Ethan Drew Carlson's full size scaled Kirby plane with a 20 foot wingspan to a miniature Grand Prize winning dog and fire hydrant created by Steve Potovsky. You will need approximately 30 minutes to view the exhibition.
Take note of Liberty Rising by Irene Juliet Deely. It's a small version of the Statue of Liberty sporting an attitude with a martial arts kick. Seeing it immediately brought Toby Keith's lyrics to my mind: "...and the Statue of Liberty started shaking her fist" from Courtesy of the Red White and Blue.
Another favorite is Hobbes Vincent's Ferdinand, based on the children's book The Story of Ferdinand by Munro Leaf. Vincent captures the essence of Ferdinand's personality in his sculpture. You remember the story about a bull who was trained for the bull ring, but would rather sit under his favorite cork tree and quietly smell the flowers.
Walk around web developer Hai Nguyen's It Gave Us Wings, a sizable display of 600 origami birds in a loosely spiraling flight of migration. This entry impressed the judges too as it placed 3rd in the competition. Watch the monitor depicting Nguyen's construction process in fast forward. It's entertaining and revealing at the same time.
Red Bull representatives will supply you with a cold can of Red Bull to sip as you admire the art show. The show runs through August 22.