USS Montpelier CL-57 Project
Historical documents of the USS Montpelier (CL-57) a Cleveland Class Cruiser..
In War and Peace
USS Montpelier CL-57 served from 1943 through 1945 as part of several naval task forces during the Pacific War of World War II.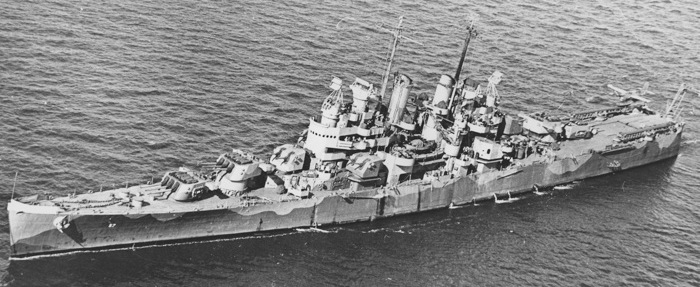 She carried her crew from the Solomon Islands to the Mariana Islands to the Philippines to the East China Sea to the land Japan. In Japan, the crew helped repatriate prisoners of war in Wakayama City. For those who went ashore in Wakayama many began to see the humanity of the Japanese.
The ship steamed to Hiroshima where some of the crew went ashore. In his book, Pacific War Diary, James Fahey wrote about Hiroshima, saying in part:
It was deserted except for a few people walking through with white cloths over their noses and mouths…
A few frames of buildings were the only thing that was left standing. Everything was ground into dust…
We passed a mother nursing her baby in the cellar of a destroyed house. She did not pay any attention to us as she sat there in the dust. Her whole family might have been wiped out and the both of them might die later from the effects of the bomb. We felt very sorry for them. The only thing they owned was the clothes on their backs, and that was not much.
Project Resources
The project at this time contains all pages from the Mighty Monty Cruise Book, plus the early war diary recorded on steno pads, later replaced by formal deck logs.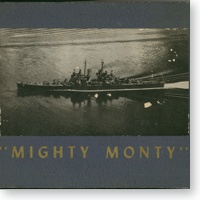 USS Montpelier CL-57 Cruise Book - 1942-1945. The cruise book of the USS Montpelier CL-57 summarizes the Pacific War activities of the Cleveland Class Cruiser from 1942 through 1945.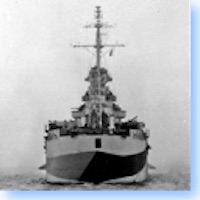 Deck Logs of USS Montpelier September 1942-March 1943. This hand written war diary chronicles the first six months of the USS Montpelier following her commissioning in September 1942.