Leave the Crowds Behind—Visit Kochi on the Undeveloped Verdant Island of Shikoku
Take a Limited Express train from Okayama City, cross the bridges spanning the Inland Sea dotted small, steep islands. On Shikoku, you find quiet as you head toward Kochi City.
Kochi is an attractive, diverse city perched midway on the southern coast of Shikoku, Japan's emerald jewel. Depending on the season, you can linger beneath the delicate cherry blossoms near the ancient castle, watch for whales offshore or join thousands of costumed dancers in the Yosakoi Matsuri Festival. Old meets modern in Kochi.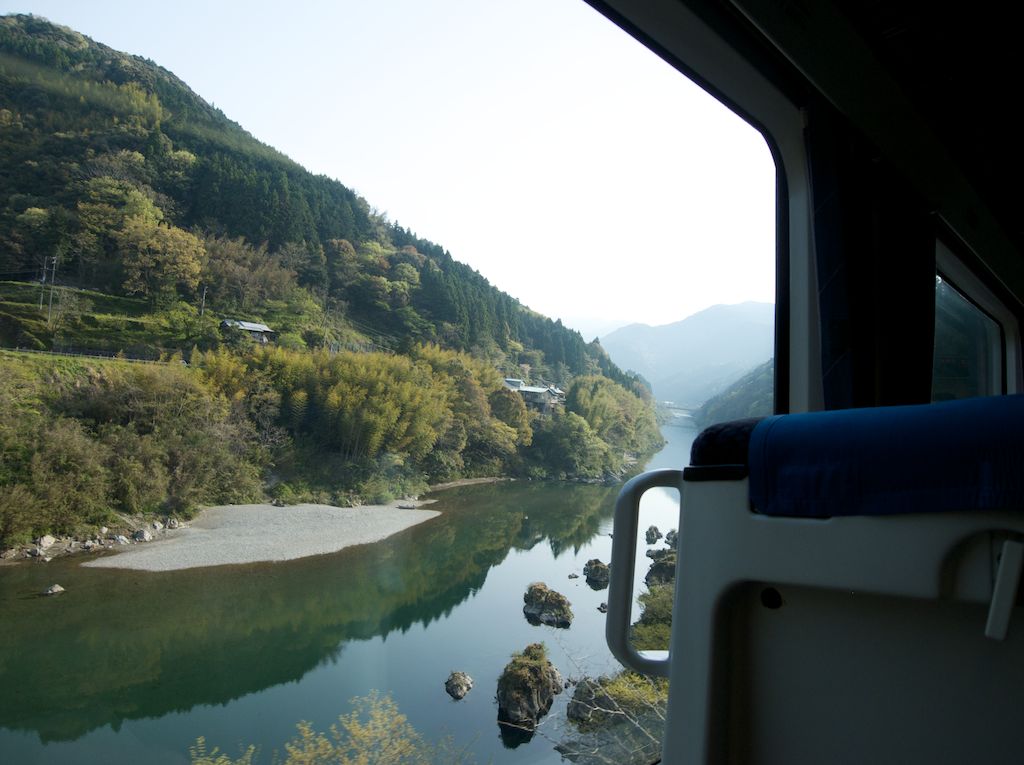 Shikoku countryside from train photos. Prepare to witness steep green hillsides and plunging rivers as you train through Shikoku en route to Kochi. Shikoku island is largely undeveloped.
Located on the smallest of Japan's four main islands, Kochi and the rest of Shikoku were reachable only by boat until 1988 when the first long bridge was completed connecting Shikoku to Honshu. Limited access helped form the mystique of the region and kept the population low. Lush verdant hilly vegetation split by streams, rivers and gorges mark the island as a nature lover's paradise. History-rich Kochi is one of the larger cities which attract visitors now arriving by rail, bus, car, bicycle, air and boat.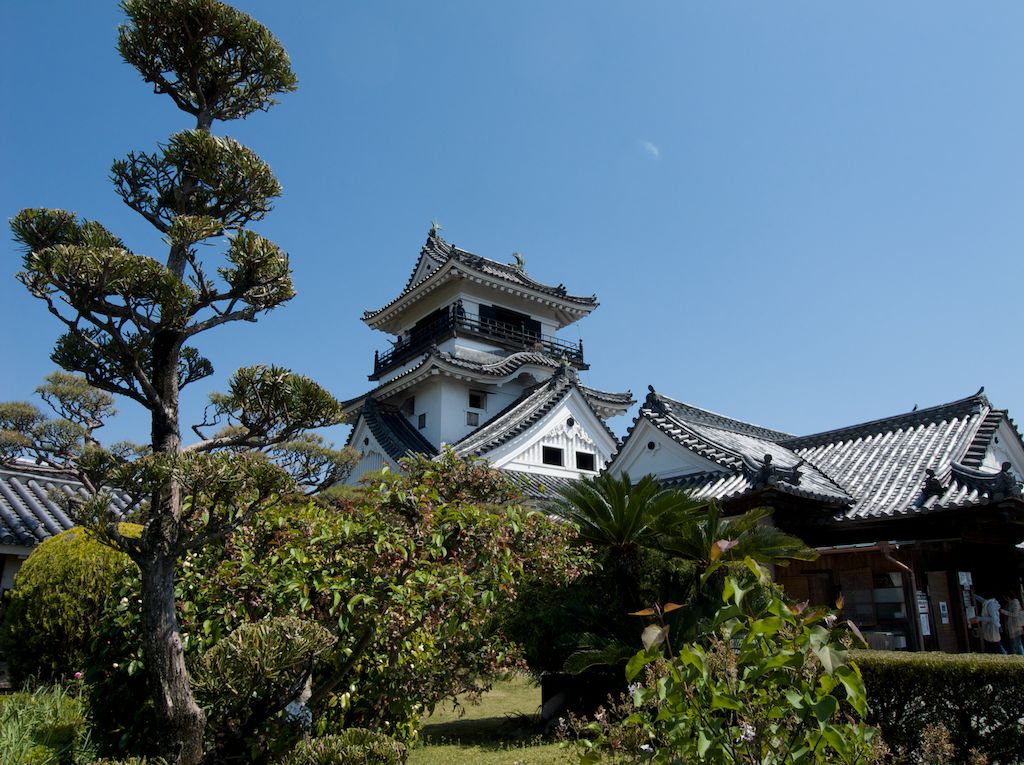 Kochi Castle is an Original Feudal-Era Castle in Kochi Japan. Kochi Castle in the City of Kochi on the Japanese island of Shikoku stands as one of the few original feudal-era castles remaining in Japan. Kochi Castle still has its original gates, storehouses and donjon, all made of stone foundations and wood structures.
Kochi Castle is one of twelve original-condition castles still intact in Japan. Through the centuries the hilltop castle survived earthquakes, fire, tsunamis and war. The five-story castle allows visitors access to a large number of rooms. Taking photos is permitted here, unlike some other castles we have toured. Several high quality dioramas recreate daily Edo-era Kochi life. The diorama depicting whaling captures my imagination with the detail and vigor portrayed.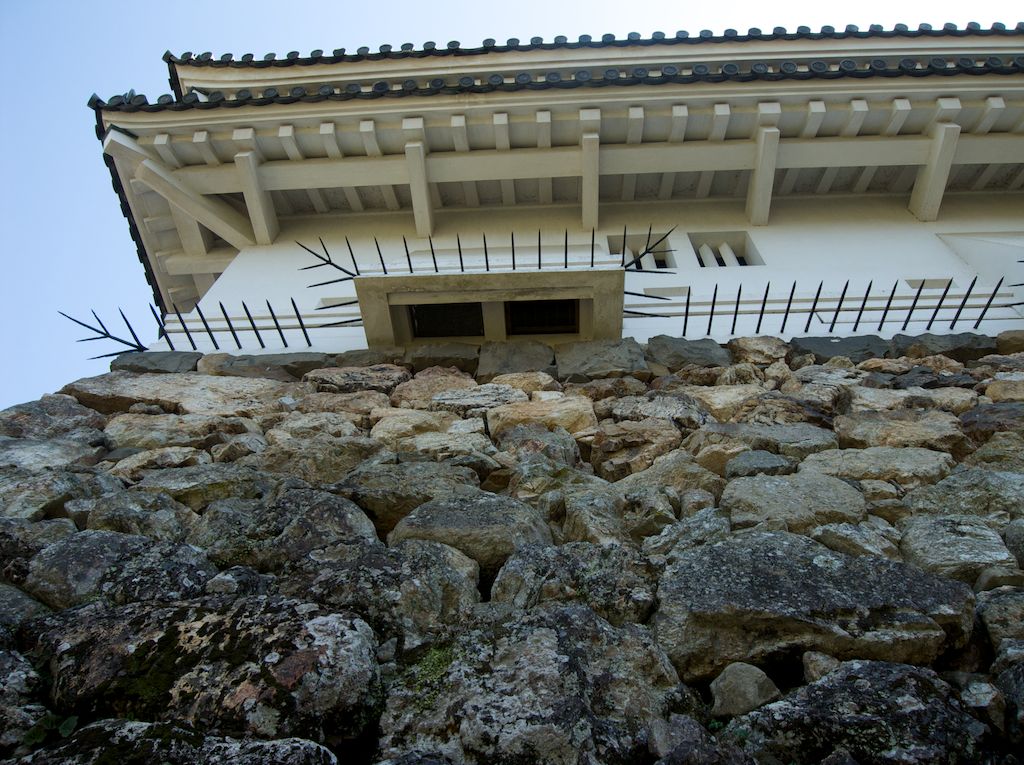 Kochi Castle Ninja Spikes. A seemingly vulnerable rock wall at Kochi Castle has sharp iron ninja spikes as an added layer of security against invaders. The castle also has a trick gate. Builders envisioned the need for canny methods for protection.
The castle features a trick gate, Tsumemon Gate, which appears to be an easy gate for invaders to overtake, but they end up in a dead end where castle defenders attack from three directions and drop things like rock or water on attackers from above through chutes in the flooring. Ninja spikes are another uncommon feature we had not seen beforehand. Pointed iron spikes protrude from a vulnerable wall where raiders might try to enter the castle by scaling the steep barrier.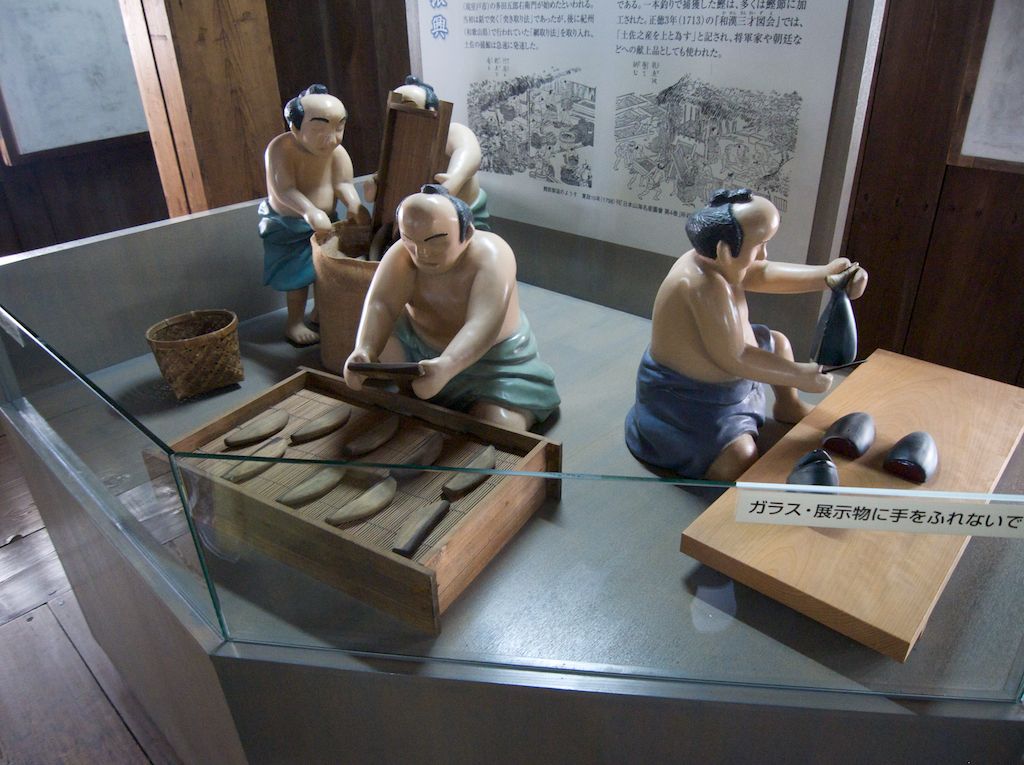 Diorama. Kochi Castle. Fisherman prepare their catch for sale in an exquisite diorama of castle-era life at Kochi Castle. Another diorama depicts the struggle between hunters and the hunted in a realistic whaling scene.
Another must-see is Harimaya Bridge, a picturesque bridge with a bittersweet history. It was constructed as a private bridge over a Kochi river in the 1600s by two local businessmen; it became public because of its heavy use by the general public. A young Buddhist priest fell in love with a local woman. His sect prohibited such liaisons. Someone saw him buying her a hairpin at a shop near the bridge which led to the discovery of their relationship. They were banished to separate locations, never to see each other again. A statue in front of the bridge where they would meet immortalizes their love story.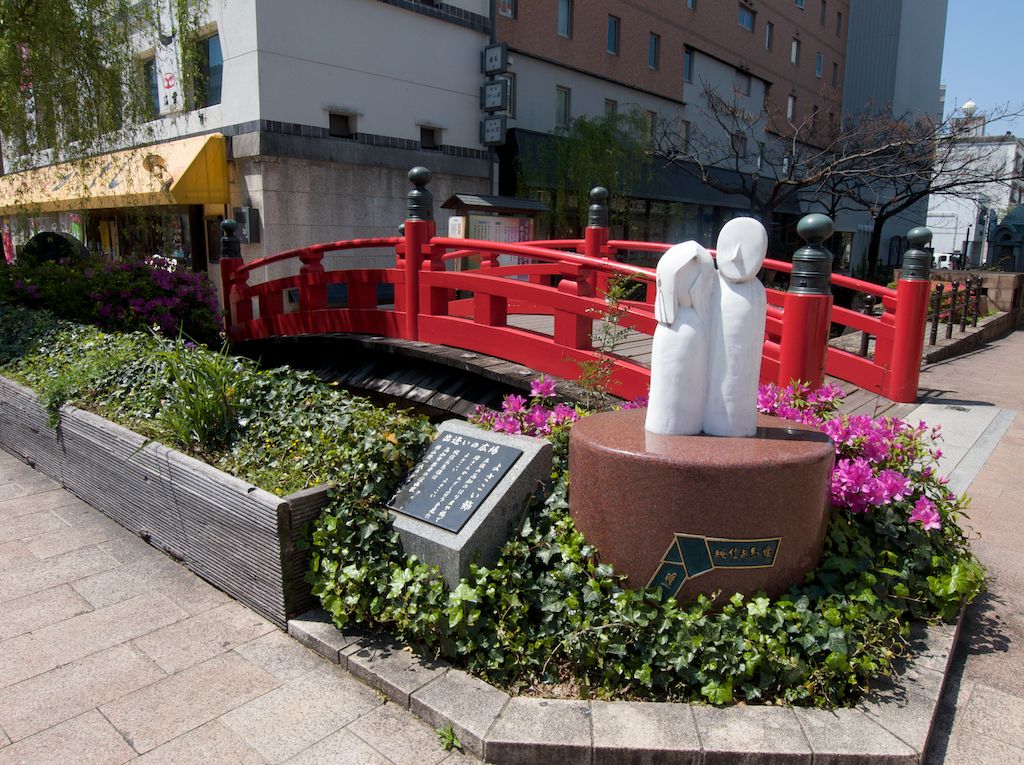 Harimaya Bridge. The stone statue immortalizes the true love story between a Buddhist priest and young woman who fell for each other which was forbidden. They met at Harimaya Bridge before being banished to separate locations.
The people of Kochi welcome international visitors with open arms. At the Welcome Center located at Kochi Station, guests with passports can purchase a one or two-day My Yu bus pass for half price. The bus makes a circular route to the most popular tourist attractions including Katsurahama Beach, Sakamoto Ryoma Memorial Museum, Katsurahama Aquarium, Tosa Fighting Dog Center, Mt. Godaisan Observatory, Makino Botanical Garden and Harimaya Bridge.
Take the bus to Mt. Godai to visit the extensive Makino Botanical Garden, a premier garden in Japan featuring over 3,000 species of plants many of which were discovered and named by the garden's founder and namesake, Tomitaro Makino. In 2010, a new tropical environment conservatory opened that spotlights rare imported varieties. Garden visitors enjoy scenic views of the surrounding Shikoku Mountains. Take lunch or tea at the museum cafe to savor the view. Chikurin-ji Temple, also known as the Bamboo Forest Temple, is situated on the side of Mt. Godai overlooking Kochi.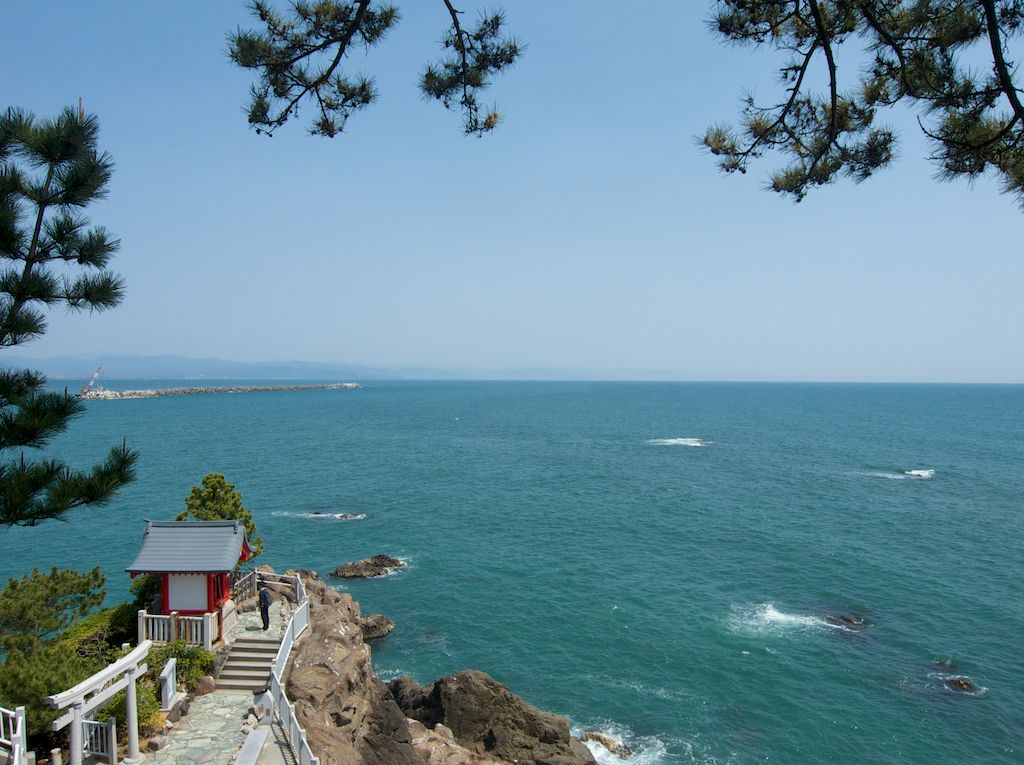 Looking East Across the Pacific. A tiny Shinto shrine perches atop a cliff overlooking the Pacific Ocean at Katsurahama Beach at Kochi. Hundreds of steps below, a paved sidewalk skirts the pea-sized gravel beachfront for a water level viewpoint of the surrounding ocean.
Reboard the bus for a coastal visit to Katsurahama Beach, a favorite spot for sunbathers and beach enthusiasts. To get there, the bus crosses a very high bridge. Katsurahama is at a higher elevation than Kochi City. We skipped the Tosa Fighting Dog center and went straight to the winding walkways above the beach. The Pacific Ocean is a deep aquamarine shade of blue with hints of green. The air is fresh and breezy. We could sit for hours on the high bluffs taking it all in—leggy palm trees, salt-tinged gentle wind, warm sunshine, ships on the horizon.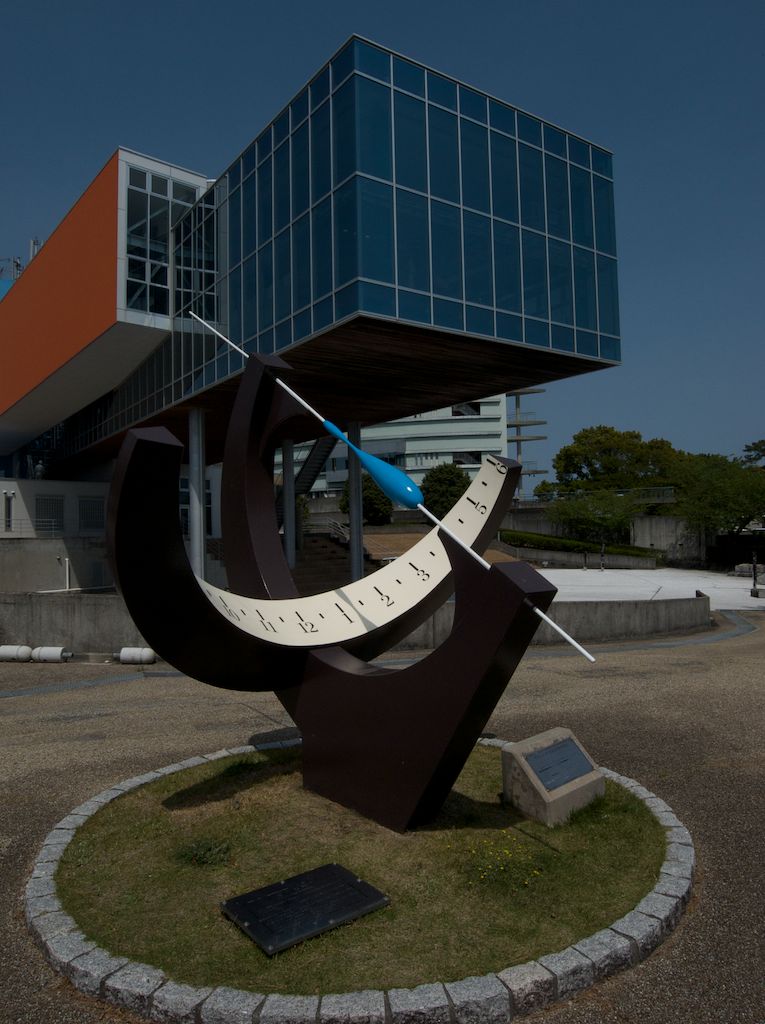 Sundial at Sakamoto Ryoma Memorial Museum. A contemporary sundial accents the ultra modern architectural design of Sakamoto Ryoma Memorial Museum at Katsurahama Beach in Kochi. On an adjacent hilltop, the crumbled remains of Urado Castle are barely detectable due to extreme weathering.
The ultra modern design of Sakamoto Ryoma Memorial Museum is a delightful contrast to the surroundings. Kochi's favorite son, samurai class Sakamoto Ryoma, challenged cultural norms of the mid 1800s by founding a trading company and proposing radical pro-Imperial political views before his murder at the age of 33 in Kyoto. View the exhibits in the visually stunning museum which tell his story. Most are in Japanese, but we were able to grasped the basic narrative. For a spectacular view of the Pacific, climb to the roof of the museum. It is the perfect spot for panoramic photographs.
Back in Kochi City, another favorite son is immortalized, Yokoyama Ryuichi. An early 1900's cartoonist, Yokoyama is the father of early manga. Three floors of Yokoyama Memorial Manga Museum house a library, memorabilia of Yokoyama's life and exhibits spotlighting other Kochi Prefecture cartoonists and manga artists.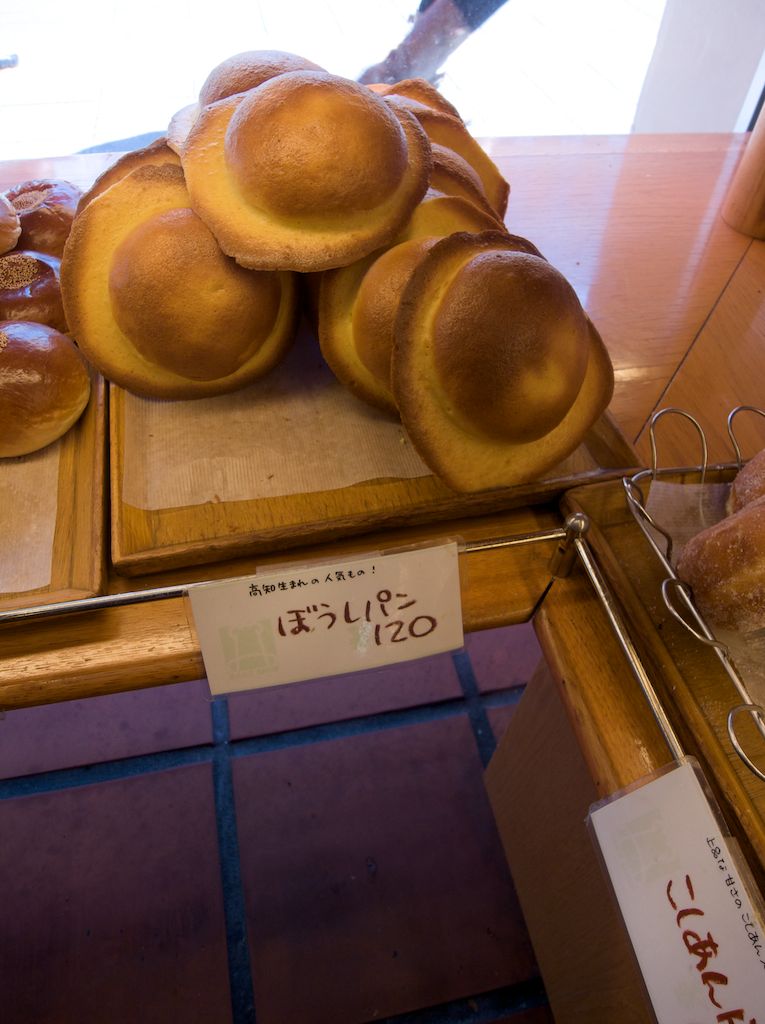 Kochi Hat Bread. Hat bread is a specialty of Kochi. It is a sweet flavored bread baked in the shape of a wide brim hat. You can find it at local bakeries and at the train station.
Hirome Market is a stall market for eating and shopping. A local recommended it to us, so we eat there our first night. Some 60 stalls offer a wide variety of food and drink. We browse and shop at the stalls. Many deliver to the tables, others you pick up yourself. Grab a seat and share a table in one of the common dining rooms. We share a table with three Japanese who welcome us to their table with ready smiles, but no English language. They linger over their meal with cigarettes, cold mugs of beer and sign language conversations with us. We go back for seconds of tasty gyoza—dumplings—which are freshly made while we watch. Leave the dishes at the table when finished; staff comes around to collect the dirty dishes. Later on we wander through the maze of stalls to discover clothing and souvenir shops and more food stalls. In warm weather it is open air, in cooler weather thick clear plastic sheets hang down to keep the warmth inside.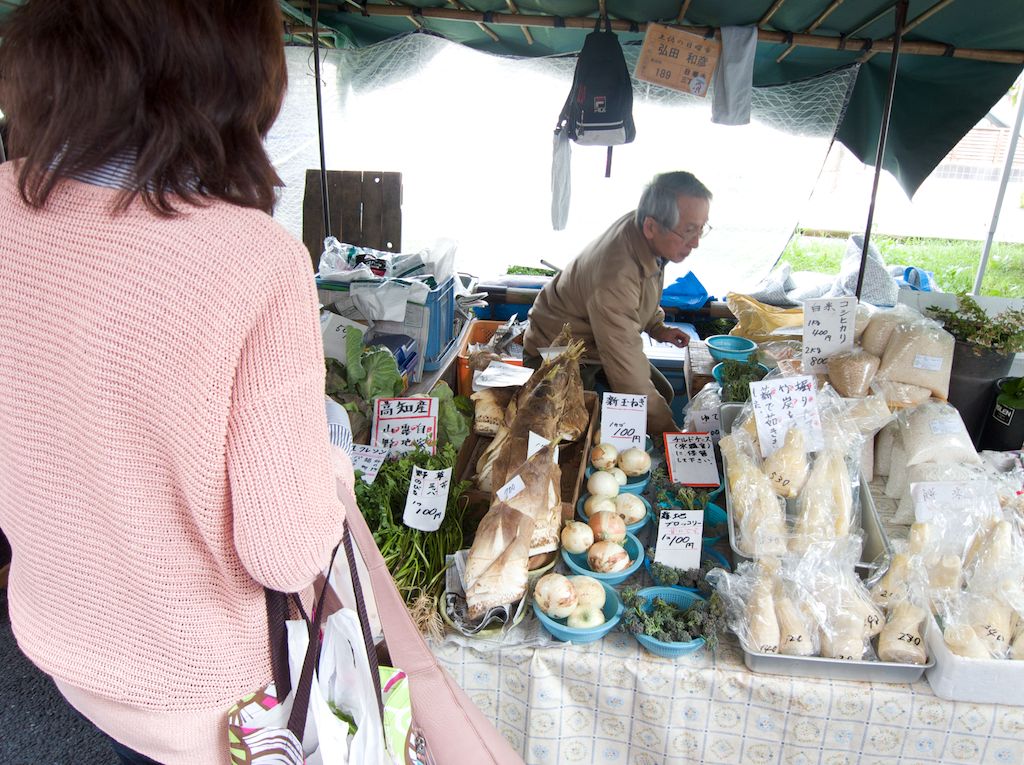 Vegetable Seller at Kochi Sunday Market. Vendors sell excellent quality vegetables and fruits at Kochi Sunday Market in Kochi. Other stalls feature flowers, handcrafts, nuts, fish, toys, clothing and much more.
Nichiyoichi, Sunday market, is another eating and shopping stall experience. Held each Sunday for the past 300 years on several cordoned off blocks of Otesuji-dori which leads up to the castle, Nichiyoichi is like a giant flea market. Hundreds of stalls sell everything you can imagine. We see fresh vegetables, fruit, fish, tea, cotton candy, nuts, plants, toys, handicrafts, second hand goods, flowers, ice cream, ready-to-eat food, knives, Japanese goods and hardware tools. We jostle our way down to the end and back again in two hours. Police help the crowds cross the few active intersections along the outdoor street market route.
Kochi is where we experience our first Japanese earthquake. I wake to a rattling sound in our hotel room and feel the bed jiggle slightly. No one else is awake and no alarm sounds, so I fall back to sleep. Later when we both awaken, we find that we have been in a 5.8 earthquake centered on an island offshore, Awaji Island. We feel a little nauseated, but no other aftereffects. Fortunately this earthquake causes no major damage or injury to anyone.
April to December is the peak whale watching season on Tosa Bay. Sperm, Bryde's, Humpback, Short-finned Pilot and Northern Right whales are commonly seen from charter boats. Land-based watching is possible from Cape Ashizuri or Cape Muroto.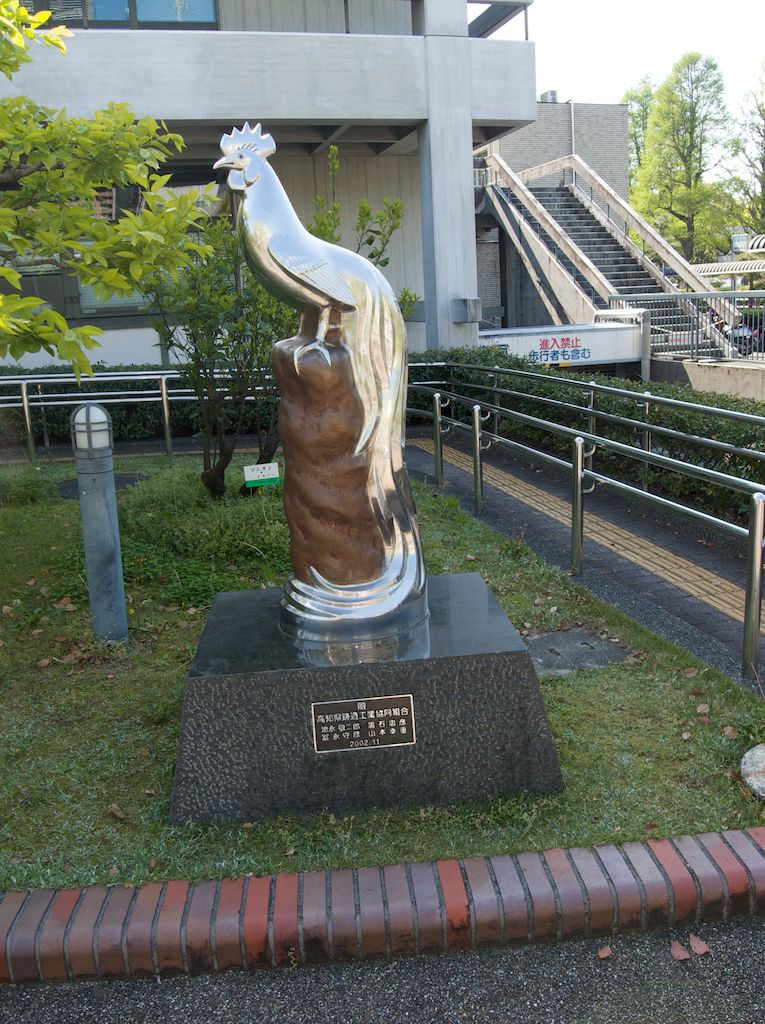 Ongadori long-tailed roosters at Kochi. Raising Ongadori, long-tailed roosters, dates from the Edo period. These uniquely Japanese birds grow tail feathers measuring as long as 32 feet. You might be able to see them at The Ongadori Center of Kochi.
In early August, the Yosakoi Matsuri Festival features 20,000 costumed dancers manipulating wooden clappers fill the streets to compete and celebrate as a team. There is a team for visitors and tourists if you wish to join the throng.
Outdoor sports such as kayaking, canoeing, white water rafting, spelunking, cycling, camping, hiking and mountain climbing abound in Kochi Prefecture. In season, visitors can kayak or canoe on the clear Shimanto River or white water raft the Yoshino River or explore Ryugado Cave, one of the three largest stalactite caves in Japan. Consider bicycling the prefecture backroads. Many hotels and hostels offer bikes for rent or loan.