How to Write Your Life Story
by Ralph Fletcher(New York: Collins, 2007. Pp. 102. Illustrations.)
by Nancy Kerstetter
How to Write Your Life Story by Ralph Fletcher is a lightweight look into writing your biography or memoirs. The author's intended audience is children, but I found his book very helpful for adults. Loaded with anecdotes from Fletcher's childhood, he shows, not just tells, how to communicate your story in an entertaining way.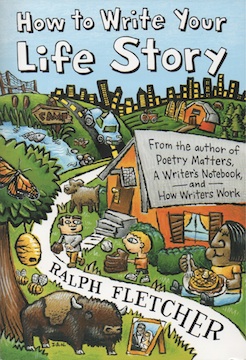 He breaks down some of the common misconceptions about writing an autobiography such as you need to be famous or have had incredible experiences to have a story worth sharing. Fletcher includes interviews with authors Jack Gantos, Jerry Spinelli and Kathi Appelt in which they discuss tips for writing memoirs.
There are plenty of howto's, a bibliography of memoirs for reading and reference, and Fletcher's own heart map.
"A heart map is similar to a map of your neighborhood, with a twist—it's an emotional map of what matters to you," writes Fletcher. He accompanies these notes with a whimsical map of his neighborhood growing up.
All in all, How to Write Your Life Story, is an informative and fun primer on writing your memoir. It is useful for both young writers and not-so-young writers.
You can obtain this book from your local library, inter-library loan or Amazon
.